Kridis, Dark Priestess
From Destinypedia, the Destiny wiki
Main
Kridis, Dark Priestess
Biographical information

Other name(s):

Kridis, the Priestess

Homeworld:

Species:

Gender:

Female

Political and military information

Affiliation:

House of Devils (formerly)
House of Salvation

Rank:

Notable info:

Dark Council Member
Worshipper of the Dark

 
Dark Priestess
Kridis, Dark Priestess
Biographical information

Species:

Faction:

Rank:

Class:

Gender:

Female

Combat information

Mission:

Weapon(s):

Stasis Blades

Abilities:

Defiled Servitor Bond
High Durability
Immunity Shield
Rapid Movement
Summon Fallen
Teleportation
Ultra Smash
Stasis Blast

 
"Eliksni! Kridis, the Priestess, cries out to you across the abyss! As we speak, the once-Shipstealer brings the promise of our people to pass. Soon we will rise to true prominence, united under one banner and one Kell—with no gods but ourselves."
— Kridis
Kridis, Dark Priestess is a Fallen Baroness from the House of Salvation and the Archon of its Prime Servitor, Yamiks Prime. She is a close friend of Eramis, Kell of Darkness and a member of her inner council who will stop at nothing to advance Eramis's cause.
Following her departure from the House of Devils, Kridis devoted herself to the study of the Darkness and became a skilled practitioner of Stasis. Later, she assumed leadership of House Salvation and attempted to rebuild her House and awake Eramis from her slumber.
Biography
[
edit
]
Search for Salvation
[
edit
]
Kridis was born into the House of Devils and endured through the Long Drift for generations as the Eliksni chased the Traveler through space in search of salvation. The cataclysmic Whirlwind crippled the Eliksni and slowly a new faith emerged in the veneration of Servitors. Kridis was raised on the belief that the Eliksni were meant for a higher purpose and clung on to their collective desire of evolving beyond their current forms. All the while she endured a life of subsistence as received succor of Ether from their Prime Servitor.[1]
Following their arrival into the Solar System, the Devils claimed the Cosmodrome of Old Russia as their territory. Kridis was stationed there alongside her friends, Eramis and Phylaks, and developed a close kinship with them. The formidable trio spent years raiding human settlements, and fending off members of rival Fallen Houses that attempted to encroach upon the Devils' territory. Each aspired Kellship as the three dreamt of ways to defeat their mighty Kell, Solkis, and take control of the House for themselves.[2]
Their Kell however demonstrated his superiority as the political leader and rallied his military and nobility into the Battle of Twilight Gap. Kridis fought in the battle alongside her Servitor, Eramis and Phylaks. In one instance Kridis nods to Eramis as she is shielded by her Servitor in a purple glow of Ether and turns to fire her rifle at group of Guardians. The trio slew many more Guardians and led a charge to the City walls with the aid of Taniks, the Scarred and House of Winter. However the crusade of Final Attempt ended in defeat as the alliance of Fallen Houses retreated against The Last City and ended their hopes of reclaiming the Great Machine from humanity.[3] Kridis and her friends survived the battle, but their Kell fell to Saint-14. The trio were broken up when Eramis was captured by the Reefborn Awoken during the Wolf Wars and imprisoned in the Prison of Elders. The whereabouts of Kridis and Phylaks remained a mystery.[2]
Rise of Salvation
[
edit
]
"So I entreat you, children of Riis. Come receive clarity for yourselves! Witness the greatness of the House Salvation and the Kell who leads it. Rejoice, for she who brought our Servitors low where they belong will do the same to the Great Machine!"
— Kridis, calling for all Eliksni to unite under Salvation's banner on Europa
Following the escape of Eramis, the Baroness sought to build a new empire by rallying those loyal to her and established a council. Kridis and Phylaks received word of her release and invited to join her council. The duo reunited with Eramis and joined by the young Atraks and Praksis who were eager to meet the veterans. As Phylaks embraced her old friend and Eramis reminisced, Kridis stood behind, tall and ethereal, and took to notice of a suspicious figure. Phylaks still distracted by joy quickly took notice of her gaze and proceeded to violently choke Variks, the Loyal and call him a "Traitor Dreg".
Eramis demanded that she let go of the former warden of the Prison of Elders who had betrayed the House of Wolves to the Awoken to the great disapproval of Kridis and Phylaks. As doubt began to creep into their minds, Eramis explains to them that despite his traitorous crimes against their kind, he was still the last surviving member of House Judgment. Kridis replied with skepticism saying Eramis had no special love for scribes, but pleased to hear her clever plan to keep Variks alive as he was able to draw the ear of the Eliksni residing by The Reef. Before they could ask further questions, Eramis changes the subject by saying she didn't gather them for politics and wanted show them what she built.[2]
Kridis journeyed to Europa alongside her fellow Council members; Phylaks, Kridis, Praksis and Variks, to witness the arrival of the obsidian ship. She watched her friend Eramis gain strength with the powers of Stasis from the Darkness who tells them to choose salvation. With a new ancient power at hand, Eramis elevated herself as the Kell of Darkness and forged a new dark empire in the form of House of Salvation and christened Kridis the "Priestess" of her new House.[4]
Later, the Priestess cried out to the children of Riis by broadcasting messages for her Eliksni kin to listen out amongst the stars. She urged her people to abandon their faith with the Great Machine and to believe only in themselves, as they survived the Whirlwind without it. She challenged her old faith by saying her people were afraid and clung to old promises of higher existence and knelt to the Servitors they created. She continues by denouncing the worship of Servitors as false idols built in the image of the Traveler and praised the ability of Eramis for bringing their status low and removing the Light that blinded her. With this new found clarity, Kridis concluded her messages by asking all Fallen to travel to Europa and join House Salvation in Riis-Reborn to reject the Light as it offered nothing and embrace the Darkness.[1]
Priest of Salvation
[
edit
]
"My people… your Kell sleeps, but she is not dead. The Darkness brings another gift: the means to rouse her from her slumber."
— Kridis, preaching to House Salvation to keep faith in Eramis
With the House of Salvation now rising to prominence on Europa, the Priestess attended a ceremony organised by Eramis to address their newly formed House. Held within the main chambers of Riis-Reborn Approach, Kridis stood alongside other Council members, but was absent of the traitorous Variks. The Council reformed themselves into the Dark Council as they embraced the Darkness. Kridis listened closely to Eramis who spoke out against the chains that have slaved the Eliksni race as they became servants to the Great Machine that abandoned them. She then helped Eramis present a Servitor to the audience as an idol built in its image. The Servitor is destroyed by Eramis through the use of Stasis as its destruction ushered in their freedom. Kridis then watched her close friend, Phylaks, gain the ability to use Stasis by retrieving a Splinter from a Crux. However the assembly is interrupted by the Guardians and Kridis left the scene to allow Phylaks chase them with her new found powers.[5]
Kridis continued sending more Radio transmissions on behalf of her Kell and called for more Eliksni to join their House. She claimed that the Traveler's morphing was a sign that it feared their growing force and their time for vengeance against it drew near. She decreed that they will have no gods, but themselves and highlighted their great strength by surviving many battles and the Whirlwind and crafting technology from ruins, while subsisting on Ether. Kridis also proclaimed that Eramis will unite their people under one banner as her Kell found a new promise that will elevate them to their true prominence.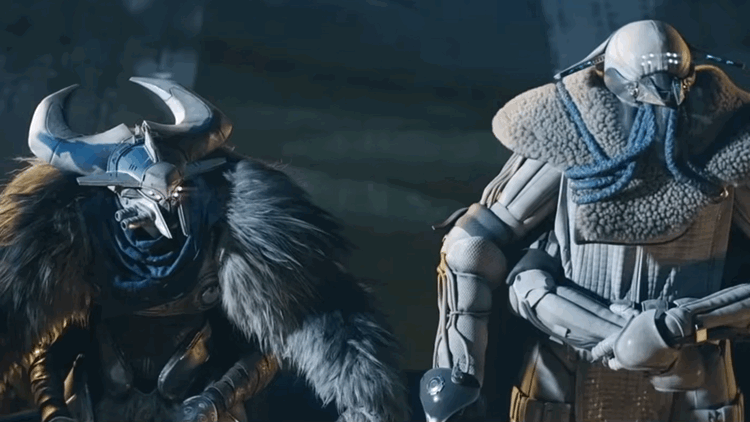 Later Eramis held an emergency meeting with Kridis and Atraks to inform them that Praksis and Phylaks were dead and they must retaliate. Eramis ordered Atraks to return to the Deep Stone Crypt and to prepare the body of Taniks as she and Kridis can handle the situation. As Atraks leaves the scene, Kridis asked her friend to take pause as they do not understand the power they wield. Eramis listened with frustration as Kridis explained how she is also impatient, but there is wisdom in caution. As Eramis considered the words of her close friend, she began losing control of her Stasis gauntlet and smashed the ice off it as Kridis watched with growing concern. Eramis retorts with anger that caution has done nothing for them as their enemies exploited their weakness and now is the time to act. Eramis leaves the scene after declaring to Kridis that she will give the Guardians the destruction they crave.[6]
However the erratic behaviour of Eramis led to her demise after her gauntlets malfunctioned and froze her into a Stasis statue during the battle against the Guardians. Unbeknownst to the Vanguard, Kridis assumed leadership from the shadows following her Kell's defeat. Commander Zavala sought take advantage of the Vex incursion within Riis Reborn and sent the Guardians to destabilise the House. However, the Salvation forces held up better than expected against the Vex and Variks suspected someone may have replaced Eramis as the Fallen appear more organised. Later, Kridis is found idle in a Stasis pose and mocked the machine spawns who thought they could defeat her Kell so easily. As the Guardians approached her, Kridis transmatted away and declared that Eramis will rise again and has only transformed. She then deployed Fallen reinforcements and a Salvation Walker imported from the Devils, but the Guardians defeated her forces and informed Zavala that she got away. Zavala replied that they cannot allow Kridis to rebuild the empire as she slipped through their radar before and enlisted Variks to help with his insider knowledge.[7]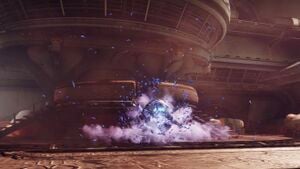 Variks believed that Kridis was drawn out of the shadows in search for power as she always had the ambition of being Kell-worthy and wished to triumph where Eramis failed. He provided intel from his spies that Kridis aimed to revive her House and her followers began hoarding remnants of the Dark for unknown reasons. The Guardians collected artifacts called Flecks of Dark from the Fallen in Cadmus Ridge to provide clues to Kridis' plan. Later more Fallen attempted to leave the rule of Kridis as her devotion to the Dark had swayed them to seek refuge with the House of Light and House of Dusk. The Archon Aspirants are deployed in Eventide Ruins to prevent a Skiff from leaving, but the Guardians would dispose of Kridis' Aspirants and freed the Skiff. Later it is discovered that Kridis was preparing a mysterious ritual by using Darkness.
As the Guardians journeyed to Riis Reborn to investigate her ritual, Variks claimed that unlike Eramis who wished to destroy gods, Kridis choose to search for meaning through the Darkness. Transmissions from Kridis are picked by the radio channels as she preached to her House that Eramiskel was merely asleep and the Darkness had granted her the gift to rouse her slumber. She declared that Eramis had only began as her Kell will unleash a "storm of blood and ice" upon their foes. She further claimed that Eramis' transformation was a means by which she was exploring the deeper secrets of the Darkness and she will return not as a Kell, but as a god. Kridis declared that the Darkness had granted her visions of Eramis' journey and named her as the escort to bring Eramis back to her faithful people. Followers of Kridis such as Sniksis and Piksis are defeated by the Guardians and later they encounter Yamiks Prime who was enlisted to guard the pathway due to the importance of recovering Eramis. The Prime Servitor attempted to fend off the Guardians with reinforcements, but fell at their hands.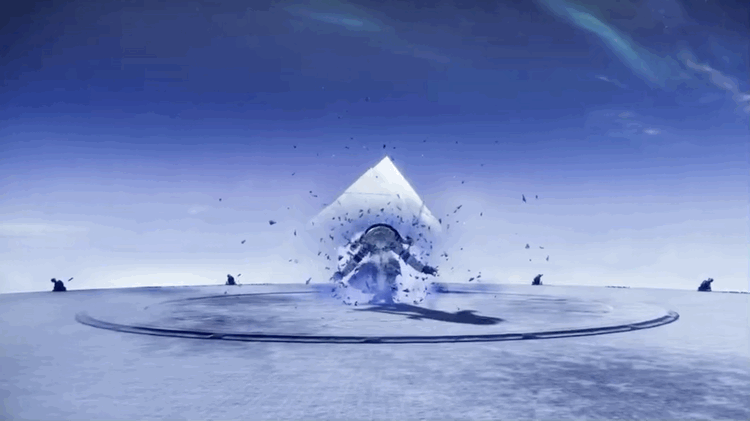 The Priestess now known as the Dark Priestess, an Archon of the Dark, greeted the Guardians as spawns of the Traitor Machine and asked if they had come to witness the ascension of a god through Eramis. Unlike her counterparts who relied on their gauntlets created by Praksis to wield Stasis, Kridis demonstrated higher mastery of Stasis by crafting a pair of crystal swords and choose to attach her Splinters to her helmet. She deployed reinforcements to tackle the Guardians and Defiled Servitors provided her an immunity shield as she blasted them with unique projectiles of Stasis. However despite her powers, Kridis was slain by the Guardians and brought the end to her plans and reign of the Kell of Darkness.[8]
Following her demise, the Disciples of Kridis roamed the expanses of Europa and followed her teachings through their use of Stasis. Later the Guardians, with help of House of Spider, retrieved an early prototype of a weapon called Salvation's Grip and uncovered more notes of Kridis. She wrote about her experiences with the Darkness and claimed that the powers of Dark was gifted to the Eliksni first similar to how the Great Machine visited them first and the Guardians were unlucky second borns. She described the Dark as a stillness where you are no longer bound to flesh and become a memory that is worthy of storied, but equated stillness to death and her people have not been still since the Long Drift. She aimed to unleash this stillness on humanity to ensure their stories are never forgotten and mark the worlds with the same scars that the Great Machine left on their homeworld.[9]
Personality and traits
[
edit
]
"I have not known an Eliksni like Kridis. Single-minded. Devoted. Even… obsessed. She has studied the Dark, and it has nourished her."
— Variks the Loyal[10]
Prior to joining the House of Salvation, Kridis had been a believer in the Great Machine and hoped it would provide salvation to her people. After embracing the Darkness she preached against that idea and assisted Eramis in degrading the Servitors of House Salvation.[1] Despite her fascination with Stasis, Kridis was also more cautious about its use than her fellow Dark Council members, advising Eramis that the power was not what they had expected.[6]
Kridis is a worshipper of the Darkness and studied the Dark to the point of being obsessed.[11][10] For this reason, not many Eliksni wish to follow her.[12] However, she is a proficient speaker capable of getting Eliksni to listen to her and has managed to gather a following of Eliksni who also worship the Dark.[13][14]
Gameplay
[
edit
]
The Dark Priestess
[
edit
]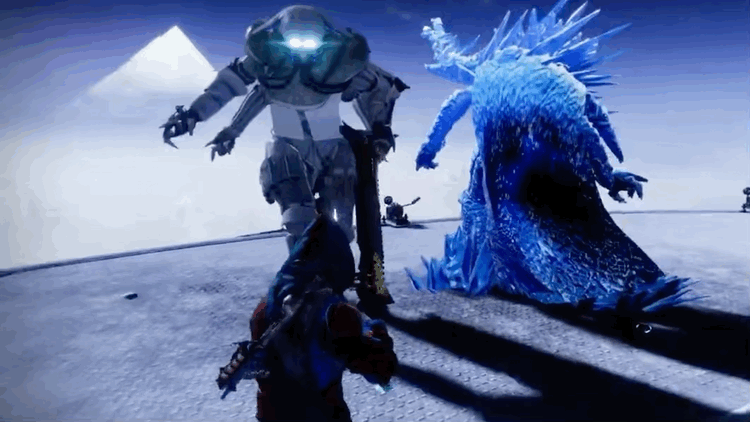 After defeating Yamiks Prime, a barrier will open to reveal the pathway to Kridis. The Dark Priestess is found within the middle of arena idle in a stasis pose and approaching her will initiate the encounter as rises from her stance and enters battle. She will spawn a wave of Marauders and Wretches to tackle Guardians and caution must be taken as Kridis will occasionally freeze players with her Stasis blasts while her reinforcements attack mercilessly.
Unlike Praksis who throws Stasis grenades and Phylaks who does a Stasis ground smash, Kridis is capable of generating special projectiles of Stasis and blast them to the direction of the Guardians. Players are advised to move swiftly, jump around or find cover to avoid getting trapped by the blasts. Kridis is also unique for her ability to generate Stasis swords and will follow players around as she attempts to inflict damage on them with her swords. She is also capable of unleashing a devastating Ultra Smash attack which can kill the players or launch off the arena to their eventual deaths.
As more of Kridis's health is depleted, she will encase herself with a white immunity shield and become safe from all damage. Three Defiled Servitors will spawn across three platform and each need to be defeated to disable her shielding. She will then spawn another wave of reinforcements and then create another immunity shield with more Defiled Servitors and this cycle will continue until she is defeated. Kridis is formidable foe and highly durable. In elected difficulties, she features the same gameplay mechanics, however her Stasis abilities pose a huge challenge and it is recommended players avoid getting frozen by her crystal blasts. They can seek refuge near the entrance of the arena as Kridis will not venture into that area. With a sustainable amount of firepower and understanding of her mechanics, Kridis can be defeated.
Radio Transmissions
"This morphing is a welcoming sign. The Traitor Machine trembles at our growing force. Our time for vengeance draws near."
"Eliksni! Kridis, on behalf of the Kell of Darkness, cries out to you across the abyss! As we speak, the Once-Shipstealer brings the promise of our people to pass. Soon, we will rise to true prominence, united under one banner and one Kell! With no gods but ourselves!"
"Who withstood the Whirlwind? Who pieced together Ketches and armories out of ruins and scraps? Who roamed the lost expanses for generations; subsisting on drips of Ether, and facing endless battle? Who SURVIVED? We did! Not the so-called "Great Machine". The Eliksni survived!"
Kridis and Eramis Cutscene
"Eramis. We must take pause."
"These powers are not what we expected."
"I, too, am impatient. But there is wisdom in caution."
The Aftermath
"Machine-spawn! Did you believe you could break our Kell so easily? She has merely transformed. And she will rise again."
The Dark Priestess
"My people… your Kell sleeps, but she is not dead. The Darkness brings another gift: the means to rouse her from her slumber."
"Eramiskel has not left you. Eramiskel has just begun. Eramiskel will return in a storm of blood and ice."
"In her slumber, Eramiskel seeks greater knowledge from the Darkness. She pledges herself to its mysteries. She journeys through its glorious depths. And she will return not as a Kell, but as a god."
"The Darkness sends visions of Eramiskel. It names me her escort out of the deep… back to you. Her people. Her faithful."
"Welcome, spawn of the Traitor Machine. Have you come to witness the rise of a god?"
Gallery
[
edit
]
Kridis, Dark Priestess
Trailer Images
Kridis is the only Stasis Baron to attack without any sort of weaponry, excluding her Stasis Blades, which are created through her powers rather than constructed out of Fallen technology.
Given her closeness to Eramis, her role as a priestess, and her association to Yamiks Prime, House Salvation, it is likely that Kridis is the Archon of her House.
Kridis is derived from the Greek word, Kritís, which means "judge".
Erika Ishii confirmed on Twitter that she voiced Kridis.[15]
List of appearances
[
edit
]
References
[
edit
]
Bosses
 

Destiny 2

Acanthos, Gate Lord

•

Achronos, Infinite Proxy

•

Agra, the Stalwart

•

Agoros, Gatekeeper

•

Ahamkara Illusion

•

An Ragaar, Son of Xivu Arath

•

Bakris, the Adamantine

•

Baurg, Blood Infernal

•

Besurith, Daughter of Crota

•

Brann, the Unbent Blade

•

Breviks, Dusk Baron

•

Bruiser Thurn

•

Brutiks, Lightbane

•

Calixte, System Ward Finality

•

Calus, The Disciple

•

Crorok, Will of Xivu Arath

•

Demented Abomination

•

Dendron, Root Mind

•

Dominus Ghaul

•

Drekaa, Warmonger Chieftain

•

Elikaa, Sworn to Vengeance

•

Enforcer Rusk

•

Entangled Mind

•

Eramis, Kell of Darkness

•

Ergoth, Infinite Proxy

•

Eriviks, the Waking

•

Erruk, the Taken

•

Eye of the Swarm

•

Factory Brig

•

Factory Walker

•

Final Guard Straff

•

Garaask, Undying Inferno

•

Garmurg

•

Golur the Plagued

•

Gothrax, Protector of the Swarm

•

Hadak the Devoted

•

Hapax, the Convergent Mind

•

Hasaak, Venom of Xivu Arath

•

H'Kullna, Stained by Darkness

•

Inquisitor Mind

•

Imperial Deserter

•

Ioneion, System Control Flow

•

Ir Yun, Cult of Megor

•

Irausk, Herald of Savathûn

•

Jaliks, Fallen Captain

•

Kaaron, Blood Infernal

•

Kamak, A-Block Scar

•

Kar'uul, Indomitable Champion

•

Kavauust, Reverent of the Witness

•

Khartion, Archival Mind

•

Kiriks-16

•

Kreth, the Living Skyfire

•

Kridis, Dark Priestess

•

Kruvii, Subversive Chieftain

•

Mahesh, the Bitter

•

Maksor, Starving Scavenger

•

Megor, Spawn of Xivu

•

Methodios, Module Proxy

•

Modular Sigma

•

Modular Upsilon

•

Mukor, Soulkeeper

•

Network Protector

•

Nightmare of Crota, Son of Oryx

•

Nightmare of Dominus Ghaul

•

Nightmare of the Fanatic

•

Nokris, Herald of Xol

•

Norr, the Taken

•

Om Alir, Ascendant Sentinel

•

Orm Vashyx

•

Panoptes, Infinite Mind

•

Pashk, the Searing Will

•

Phylaks, the Warrior

•

Piksis, House Salvation

•

Praksis, the Technocrat

•

Purifier Vurst

•

Querim, the Waking

•

Ruithe, Sworn to Xivu Arath

•

Saarut, Blood Infernal

•

Savathûn's Right Hand

•

Savathûn, the Witch Queen

•

Scorn of the Fanatic

•

Scorn Walker

•

Skirvaa, Abhorred Chieftain

•

Skriviks, the Sharp-Eyed

•

Sniksis, House Salvation

•

Sugroth, Shield of Xivu Arath

•

Taldriks, Infinite Proxy

•

Teksis, Ascendant Sentinel

•

Teleks-5

•

Termiiks, Invasive Warrant

•

The Fanatic

•

The Machinist

•

The Shieldbreaker

•

Theratos, Archersbane

•

Thumos, the Unbroken

•

Tikkis, Diminished Scrapper

•

Tir Balok, Daughter of Xivu Arath

•

Tulkor, Ferocity of Xivu Arath

•

Tyranos, Gatekeeper

•

Ubara, Hive Prince

•

Ugroth, Soulkeeper

•

Urrot, Hammer of Nokris

•

Val Belyx, Gauntlet of Incaru

•

Val Bho'kaurl

•

Val Pros, Tower Sentry

•

Valus Dralgur, the Exiled

•

Valus Thuun

•

Voice of Riven

•

Vul'ourn, Shadow Legion Supply Master

•

Wyr, the Taken

•

Xaras, Greed of Xivu Arath

•

Xavan, Daughter of Xivu Arath

•

Xavoth, the Waking

•

Xirash, Keeper of Memory

•

Xol, Will of the Thousands

•

Yamaat, Ascendant Sentinel

•

Zruhh, Stained by Darkness

Aegion, Deductive Mind

•

Aethiks, Instrument of Xivu Arath

•

Agioktis, Martyr Mind

•

Alak'nar, Retainer of Savathûn

•

Anarchist Captain, Kell's Scourge

•

Anarchist Marauder, Kell's Scourge

•

Anarchist Servitor, Kell's Scourge

•

Aulith, Oblative Postulant

•

Auloc, Oblative Postulant

•

Azshradat, Celebrant of Xivu Arath

•

Bab'dotek, the Abhorrent

•

Ei Haaruz, Retainer of Savathûn

•

Elūnash, Oblative Adherent

•

Emperor Calus, Herald of the Witness

•

Enkaar, the Anointed

•

Eramis, Kell of Darkness

•

Fading Nightmare of Ghaul

•

Fading Nightmare of Kethiks

•

Fading Nightmare of the Fanatic

•

Galagos, Kell's Scourge

•

Hastokk, Oblative Aspirant

•

High Celebrant of Xivu Arath

•

Hive Wrathborn

•

House of Rain Servitor

•

House of Rain Walker

•

Ir Dollox, Talon of Xivu Arath

•

Ir Garza, Scourge of Earth

•

Ir Hanal, Scourge of the Dakaua

•

Ir Kaza, Talon of Xivu Arath

•

Ir Nithra, Scourge of the Ammonite

•

J4W-S, Wrath-Hunter Servitor

•

Keelhaal of House Salvation

•

Kelgorath, Risen from Bones

•

Kelgorath, Taken from Bones

•

Kholks, Taken of Xivu Arath

•

Kikliss, Murderer

•

Kruutiks, Reefbane

•

Kudazad, Bound to Xivu Arath

•

Kzelkis, Kell's Scourge

•

Leviathan-Eater, Bane of the Ammonites

•

Nokris, Supplicant to Savathûn

•

Piraksis, Kell's Scourge

•

Prevailing Mind

•

Prevenient Mind

•

Proto-Sentinel Galedrix, Forge Saboteur

•

Proximate Mind

•

Pthasos, Kell's Scourge

•

Rhungatt, Might of Xivu Arath

•

Rilliks, Instrument of Xivu Arath

•

Savathûn's Witness

•

Scream of Xivu Arath

•

Serekis-9, Kell's Scourge

•

Siviks, Lost to None

•

Subjugated Curator

•

Sumok, Ravager of Torobatl

•

Techwizard Malykuh, Salvation's Warden

•

Telksis the Pillager, Kell's Scourge

•

Tziksis, Kell's Scourge

•

Unrelenting Nightmare

•

Vereziia, Reverent of the Witness

•

Xirixis, the Unknowable

•

Xronos, Kell's Scourge

Alak-Hul, the Lightblade

•

Antikytheran Mind

•

Apaktos, Oxidizing Mind

•

Ashorc, Temple Claimant

•

Avakrii, Temple Claimant

•

Baimogg, Unchained Wrath

•

Baurisk, Envoy of Savathûn

•

Belmon, Transcendent Mind

•

Bracus Ghir

•

Bracus Rulaitl

•

Bracus Zahn

•

Brakion, Genesis Mind

•

Cadori, Lightscourge

•

Cornea

•

Defiled Reysk, the Waning Light

•

Dendron, Root Mind

•

Devoted of Nokris

•

Dolos, the Datamine

•

Dishonored Valus

•

Edyx, Exothermic Mind

•

Episkeptis, the Uninvited

•

Fikrul, the Fanatic

•

Golden Age Looter

•

Grask, the Consumed

•

Gor'ath Gath

•

Hashladûn, Daughter of Crota

•

Heimiks, Warden of the Harvest

•

Ignovun, Chosen of Caiatl

•

In Anânh, Brood Queen

•

Irûn, Bound to Sedia

•

Juraag, the Waylaid

•

Kargen, the Technocrat

•

Kataskopos

•

Kendriks-7

•

Khartion, Archival Mind

•

Khirin, Blinding Captain

•

Krothion

•

Lillix, Lightscourge

•

Logath, the Ruptured

•

Magnar the Rockjaw

•

Nakoix, Lightscourge

•

Naksis, Devil Baron

•

Navôta, Eir Spawn

•

Nokris, Herald of Xol

•

Optus Taxaat

•

Optus Vocca

•

Orm Duluz, Bound to Sedia

•

Osmium Traitor

•

Parthenios, Drifting Mind

•

Protheon, Modular Mind

•

Retina

•

S.A.B.E.R.-2

•

Samaa, the Deserter

•

Savathûn's Song

•

Sedia, the Corrupted

•

Sepiks Prime

•

Sepiks-23

•

Shrieker, Bound to Sedia

•

Shuttered Mind

•

Siege Minotaur

•

Šimmumah ur-Nokru

•

Son of In Anânh

•

Supplicant of Xol

•

Ta'aul, Disgraced Colossus

•

Taken Asphyxiator

•

Taken Exsanguinator

•

Taken Fracturer

•

Taurg, Disguised by the Emperor

•

Thaviks, the Depraved

•

Toniq, Imprint of Nezarec

•

The Mad Warden

•

The Navigator's Claw

•

The Vengeful Hand

•

Thelodron, Bound to Sedia

•

The Fragment

•

Thûl, the Monstrous

•

Val Cempas

•

Val Cunqu'us

•

Val Ghuusk

•

Val Gruuk, Bound to Sedia

•

Val Kladior

•

Val Prosk, Bound to Sedia

•

Val Talacanth, Bound to Sedia

•

Val Trekitus

•

Val Veorthus

•

Val Vinca'ar

•

Val Urgus

•

Valus Ozysas

•

Valus Pra'urg

•

Valus Thuun

•

Vazimos, the Ensnaring

•

Whisper of Oryx

•

Xol, Will of the Thousands

•

Yächaar, Bound to Sedia

•

Yateth, Taken Stain

•

Yatiks, Bound to Sedia

•

Zebios, the Ensnaring

•

Zhagal, Disgraced Colossus

Ablazed Glory, Kell's Scourge

•

Atheon, Time's Conflux

•

Atraks-1, Fallen Exo

•

Consecrated Mind, Sol Inherent

•

Crota, Son of Oryx

•

Crypt Security

•

Dul'na, the Dissector

•

Emperor Calus

•

Gahlran's Deception

•

Gahlran, the Sorrow-Bearer

•

Golgoroth

•

Gorgon

•

Insurrection Prime, Kell's Scourge

•

Ir Anûk, Deathsinger

•

Ir Halak, Deathsinger

•

Ir Yût, the Deathsinger

•

Kalli, the Corrupted

•

Mar'y'n, the Devourer

•

Morgeth, the Spirekeeper

•

Nezarec, Final God of Pain

•

Oryx, the Taken King

•

Rhulk, Disciple of the Witness

•

Riven of a Thousand Voices

•

Royal Beasts

•

Sanctified Mind, Sol Inherent

•

Shuro Chi, the Corrupted

•

Taniks, the Abomination

•

The Caretaker

•

The Templar

•

Warpriest

•

Xeno'doti, the Scavenger

•

Zo'aurc, Explicator of Planets

Alak-Tor, Fatesmith of Incaru

•

Asterion, Set Apart

•

Ba-Kuur, Fatesmith of Incaru

•

Captain Avarokk, the Covetous

•

Dûl Incaru, the Eternal Return

•

Ecthar, the Shield of Savathûn

•

Eriviks, the Waking

•

Fallen Shield

•

Gaurog, Fatesmith of Incaru

•

Grisprax, Bosun of Avarokk

•

Kell Echo

•

Nightmare of Caiatl, Princess-Imperial

•

Nightmare of Emonut, Sworn of Moli Imoli

•

Nightmare of Gahlran, Sorrow Bearer

•

Nightmare of Hou'dal, Failed Assassin

•

Nightmare of Ka'hok, Sworn of Umun'arath

•

Nightmare of Ka'nok, Failed Assassin

•

Nightmare of Regor, Failed Assassin

•

Nightmare of Uroa, Sworn of Shayotet

•

Phalanx Echo

•

Phry'zhia, the Insatiable

•

Querim, the Waking

•

R-M80, Loyal to Avarokk

•

Šimmumah ur-Nokru, Lucent Necromancer

•

Theratos, Archersbane

•

Thul-Ar, Acolyte of Nokris

•

Volmâr, the Tempted

•

Vorgeth, the Boundless Hunger

•

Vorlog, Risen in Heresy

•

Xavoth, the Waking

•

Zulmak, Instrument of Torment

Azyrax, Exalted Conjurer

•

Blood Cleaver

•

Curator Arrox

•

Cyronax

•

Defender Born

•

Defender Hahn

•

Drusk, the Crushing Fist

•

Elyksul, Assault Leader

•

Enforcer Karch

•

Herald of Savathûn, Proxy

•

Investigator Prurg

•

Investigator Tosusk

•

Iraz, Eye of Savathûn

•

Jagad, the Overwhelming Surge

•

Kagathos, Empathic Mind

•

Merix-5

•

Nalcthor, the Crystaline

•

Network Minotaur

•

Ordnance Keeper Tulg

•

Prusk, the Unequaled Maul

•

Raktar, the Unrelenting

•

Relentless Grak

•

S.A.B.E.R.-0.6

•

Salvaged Walker

•

Security Chief Kolg

•

Skexis, Outcast Captain

•

Spekkis, Pike Captain

•

Taksor, Scavenger Raider

•

Takul-Dar, the Unbreakable

•

Taskmaster Vazar

•

Teliks, Bandit Captain

•

Tekton, Constructive Mind

•

The Hangman

•

The Mad Bomber

•

The Mindbender

•

The Rider

•

The Rifleman

•

The Trickster

•

Valus Traud, Proxy

•

Vex Warden

•

Viadon, Inquisitor Mind

•

Warden Derg

Agon, Strategic Hydra

•

Ak-Baral, Rival of Navôta

•

Alkestis, Sacrificial Mind

•

Azilis, Dusk Marauder

•

Bar-Zel, Tutelary of Savathûn

•

Calzar, Scarred Captain

•

Deksis-5, Taskmaster

•

Devourer Darg

•

Dread Tatsrekaa

•

Drekthas, Metal Captain

•

Dust-Choked Thrag

•

Fortifier Yann

•

Garut Gra'am

•

Ghalar, The Fugitive

•

Golmuut

•

Graxus, Blind Captain

•

Hathrek, the Glasweard

•

Inkasi, Disciple of Quria

•

Inquisitor Hydra

•

Kalsis, Sunless Captain

•

Karugul

•

Keldrik, Drained Captain

•

Kurg, the All-Seeing Force

•

Mazan, Lost Captain

•

Nariks Reborn

•

Nightmare of Arguth, the Tormented

•

Nightmare of Kelnix Reborn

•

Nightmare of Reyiks, Actuator

•

Nightmare of Rizaahn, the Lost

•

Pakrion

•

Pandrok, Pillar of Nothing

•

Phyzann, Drowned Captain

•

Primus Cal'aug

•

Qeldron, Keeper

•

Rannix, Drenched Captain

•

Ruined Mind

•

Segrex, the Tainted

•

Subterranean Mind

•

Talas, Dusk Captain

•

Teliks, House Salvation

•

Thaan'Hul

•

Thyrdron

•

Ur Haraak, Disciple of Quria

•

Valus Dravusk, Shadow Legion

•

Valus Dulurc

•

Valus Tharum, Gladiatorial Overseer

•

Varghul, Fragment of Oryx

•

Vendraxis, Shadow of Oryx

•

Vilzii, Scorn Chieftain

•

Yirksii, Subversive Chieftain

•

Zerz, the Unstoppable Weight

•

Zetix-7

Au'gor, Devoted of Calus

•

Bakken, the Relentless

•

Barit, Imprisoned Flayer

•

Blighted Centurion

•

Bracus Ghurm

•

Bracus Payne, the Called Hand

•

Captain Taksisaa

•

Elite Mercury Defender

•

Falysion, Frenzied Mind

•

Fanatic's Chosen

•

Gate Lord

•

Ghalsis, Pilferer Captain

•

Ilheru Xolborne

•

Ir Olena, Moth Keeper

•

Jai'ek, Supplicant of Calus

•

Kiphoris, the Eclipsed

•

Kudazad, Binder of Savathûn

•

Loyalist Sentinel Commander

•

Lurg, the Burning Shield

•

Malura, the Fated

•

Monitor Hydra

•

Naktal, Fury of Savathûn

•

Nightmare of Carun, Beastmaster

•

Nightmare of Cek'ik, Seeker of the Deep

•

Nightmare of Evoks, the Burned

•

Nightmare of Gothrax, Swarm Protector

•

Nightmare of Ha'lok, the Shield

•

Nightmare of Horkis, Fear of Mithrax

•

Nightmare of Jaxx, Claw of Xivu Arath

•

Nightmare of Kra'lok, the Sword

•

Nightmare of Ky'leks, the Docked

•

Nightmare of Loronvis, Council Hand

•

Nightmare of Qalec, the Sniper

•

Nightmare of Rovikis, Council Hand

•

Nightmare of Sek're, Echo of the Voice

•

Nightmare of Seresis, Council Hand

•

Nightmare of Sy'ad, the Unending

•

Nightmare of Tlazat, Fed to Beasts

•

Nightmare of Uaoc, Spine Breaker

•

Nightmare of Xortal, Sworn of Crota

•

Overlord

•

Paradii, The Vigilant

•

Pauurc, the Farseer's Heir

•

Quartermaster

•

Ralniks, Blood of Kells

•

Ropymion, Delirious Mind

•

Rudoc, Imprisoned Flayer

•

S.A.B.E.R.-0.1, House Salvation

•

S.A.B.E.R.-X, House Salvation

•

Secret of Severed Flesh

•

Shun'gath, the Excised

•

Technorunner

•

Techno Squad Leader

•

Terminus Keeper

•

The Drowned

•

The Forgotten

•

The Sunken

•

Tirksnii, Corsairbane

•

Ubartu-ana

•

Ultorg, Breath of Xol

•

Vendetta Shank

•

Viadion, Cleansing Mind

•

Viadion, Transformed Mind

•

Vrees, Imprisoned Flayer

•

Watchful Harpy

•

Wyvern Venator

•

Yalsis, the Igniter

•

Yer'ot the Forgotten

•

Zeteon, Redemptive Mind

Abyssal Champion

•

Abyssal Sorcerer

•

Arsenal Walker

•

Atan Maht, Margrave of Erasure

•

Blightmaker

•

Bracus Eratl

•

Consul Partisan

•

Demented Abomination

•

Disciple of Kridis

•

Drenksis

•

Ereshkel, Insight of Savathûn

•

Ether Abomination

•

Exhara, Ambassador of Savathûn

•

Excavation Valus

•

Excavator Valus

•

Fallen Commodore

•

Fanatic's Chosen

•

Gee'yom, Resonant Saboteur

•

Glomus, the Severing Slash

•

Golgoth, Ichor of Xol

•

Hemolymph Repair Shank

•

Infernal Ogre

•

Infiltrator Valus

•

Integration Mind

•

Kashur, the Infinite Blaze

•

Korgath

•

Ksimikaa the Painsmith

•

Minotaur Supernumeros

•

Moag, the Deafening Volley

•

Naaruz, Third Seeker of Silence

•

Pallas Siegebreaker

•

Phry'zhia, the Insatiable

•

Prime Ether Servitor

•

Prince of Yul

•

Ransack Captain

•

Reanimated Machinist

•

Resonant Shepherd

•

Resonant Thief

•

Rynax, Resonant Bulwark

•

Thox, the Smoldering Wasp

•

Tortured Abomination

•

Ul-Heru, Envoy of Savathûn

•

Vakarsik, Grasp of Quria

•

Vanbaluk, Trusted of Savathûn

•

Vex Gate Lord

•

Visiraa

•

War Hound

•

Wretch Captain

•

Xegonion, Warped Mind

Brandaks Prime

•

Commander Truvul

•

Drensik, Venom of Oryx

•

Elatiox, Beloved of Quria

•

Empathic Sentinel

•

Hagios, Reverent Mind

•

Haraal, Venom of Oryx

•

Ir Arok, Tongue of Quria

•

Kraug, the Undeterred

•

Mithrax, the Forsaken

•

Raksil, Archon Priest

•

Serkuleks, the Fount

•

Val Bulgur

•

Val Garurc

•

Zarik, the Booming Voice

Akorith, Lightdrinker of Savathûn

•

Ba'aruk, Dissident

•

Conceptual Mind

•

Darkmind Abominations

•

Data Nullifier

•

Devoted of Ir Yût

•

Digital Variant Neutralizer

•

Digital Variant Tracker

•

Drevis, Aspect of Darkness

•

Dusk Walker

•

Eriviks, the Dreaming

•

Graam, Born of the Hellmouth

•

Haroktha, Scourge of the Helium Drinkers

•

Haviks, Dusk Baron

•

Ir Absuul, First Aria

•

Ir Airâm, Deathsinger

•

Ir Nagash, Second Aria

•

Ir Sûfra, Third Aria

•

Ishrasek, Lightbinder of Savathûn

•

Korusk, Lighteater of Savathûn

•

Khull, Executioner Knight

•

Locus of Communion

•

Lurking Abominations

•

Mimiks-0, Devil's Scion

•

Mimiks-1, Devil's Scion

•

Mant Yût, Born of the Hellmouth

•

Nightmare Servant of Ir Yût

•

Omen, Blade of the Black Terrace

•

Posthüm of the Deep

•

Querim, the Dreaming

•

Praksis the Defiled

•

Qabix, Insurgent

•

Siriks, Loyal to Eramis

•

Ta'aurc, Aspect of War

•

Tarusk, Lighteater of Savathûn

•

Urzok, Aspect of Hate

•

Variant Stalker Brakion, Repurposed Mind

•

Xavoth, the Dreaming

•

Yulog of the Deep

Belhor, Herald of the Plague

•

Cragur, Plague of the Well

•

Inomina, Plague of the Well

•

Itzlii, Herald of the Plague

•

Kakos, Herald of the Plague

•

Kydoimos, Herald of the Plague

•

Macuii, Herald of the Plague

•

Mholoch, Herald of the Plague

•

Oxus, Herald of the Plague

•

Sikariis, Plague of the Well

•

Teraph, Herald of the Plague

•

Tezcaa, Herald of the Plague

•

Varkuuriis, Plague of the Well

Abstract Hydra

•

Brig, House Salvation

•

Deniks, House Salvation

•

Drapsis-3, House Salvation

•

Kridis, Dark Priestess

•

Phylaks, the Warrior

•

Piksis, House Salvation

•

Praksis, the Technocrat

•

Principle Wyvern

•

Riliks, House Salvation

•

Sniksis, House Salvation

•

Yamiks Prime, House Salvation

•

Zedraks-6, House Salvation