Kaniks, the Mad Bomber
From Destinypedia, the Destiny wiki
Kaniks, the Mad Bomber
Biographical information

Other names:

The Mad Bomber
Kaniks Two-Fingers
Kaniks, the Detonator

Species:

Faction:

House of Exile (formerly)
Scorn

Rank:

Gender:

Male

Combat information

Mission:

Weapon(s):

Abilities:

Activate Splinter Mines
Summon Scorn
High Durability
Rapid Movement
Teleportation
Ultra Smash

 
"Yahahahehheheheehhehehaha!!"
— Kaniks, the Mad Bomber [1]
Kaniks, the Mad Bomber[2] is a Baron of the Scorn.
Biography
[
edit
]
The exact origins of Kaniks madness is unknown, however the horrors he witnessed within the Fallen House system may have driven his mind to crack. While others speculate that it was his harsh life within the Tangled Shore that drove him to insanity. Or he was always just mad and revelled in spreading destruction and chaos as he scattered vast minefields throughout the Reef.
His madness cost the lives of many Awoken as he bombed various institutions such as the Origin Libraries to fuel his adrenaline high. His tyranny would end when he was captured alongside his fellow Barons and imprisoned deep within the Prison of Elders.
Following the Red War, Kaniks was freed by Uldren Sov and witnessed the murder of Cayde-6 at his hand.[1] Later the Mad Bomber would meet his end at the hands of the Guardians who sought vengeance. His death is hard to rejoice as the suffering and tragedies caused by his terrorisms far outweigh his death.[3]
Personality
[
edit
]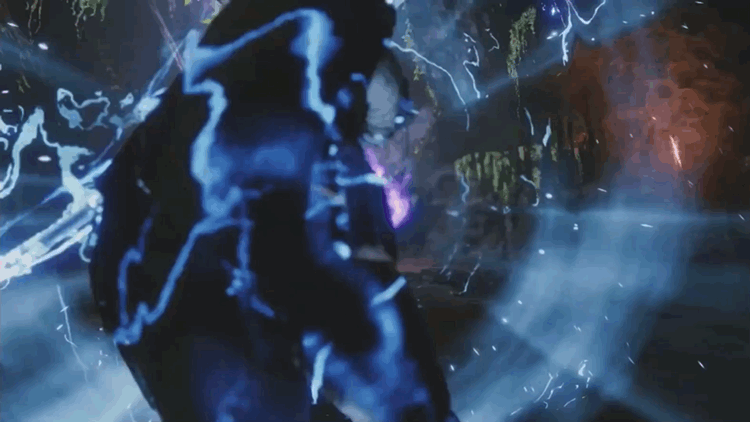 "Emphasis on "mad.""
Kaniks is arguably the least sane of the Scorn Barons. He behaves in a very childish manner, treating the Guardian's pursuit of him as a game, mocking the Guardian and Cayde-6 in an immature fashion, and generally speaking in a simplified manner. To further cement his childlike demeanor, his laughter is considerably more goofy and light-hearted than the insane cackling of Araskes or the boastful gloating of Pirrha. In spite of his mindset, he is shown to not be completely incapable of reason or logical thought, as he seems to share Fikrul's beliefs regarding Guardian's relationship with the Eliksni, and has demonstrated that he regards the Guardian as a serious enough threat that he would detonate the entire area they're in so as to ensure their death.
Gameplay
[
edit
]
Kaniks' main explosive weapon of choice is the Scorn Grenade, which he throws at The Guardian to continuously bombard their position, breaking their shields in just a handful of explosions, and not taking much longer to outright kill them afterward.
He also moves rapidly and teleports to random locations as well, making him an erratic target. Occasionally, he will disappear from the area and transmat a Splinter Mine, which will immediately kill all Guardians in the vicinity if it is not defused. When defusing the mines, lesser Scorn units such as Screebs and Ravagers will assault the player on all sides and must be taken care of. While fighting Kaniks, it is best to keep one's distance and remain mobile, as to avoid the detonations as well as the Ultra Smash at close range.
"Ooh, what luck! What fortune! A playmate appear! Hello! Hello, hello!"
"To begin-a gift! A gift just at you, from ME, good friend Kaniks!"
"BEST friend Kaniks! Go, go, go! Open gift!"
"Sur-PRIIIIISE! Gift... is DEATH!"
"Ah-ah-ah! Game go on! Close your eye and COUNT DOWN."
"Where am I hide? Ugly, stupid Cabal can knowing-but not you! YEE-HEE-HEE-HEE-HEE-HEE-HEE!"
"Lightbearer, Lightbearer, I see you, yesss, I dooo..."
"Ooh, WHEE! Now a game truly begin!"
"Friend Cayde? No fun to play with, no fun at all. Such a boring boy to kill-kill-KILL."
"Cayde beg and beg and beg. HEE-HEE-HEE-HEE!! "Mercy, please, Prince Uldren! Oh pretty, pretty please, oh please!" ...SAD."
"Cayde MURDER Eliksni. Think you DIFFERENT, think you HERO? Joke at you."
Gallery
[
edit
]
Kaniks is the fifth Fallen known to speak English, as well as the third antagonist to do so.
Kaniks is the second known Fallen to have three arms instead of the contemporary four or two. The first being Vosik, the Archpriest.
List of appearances
[
edit
]
References
[
edit
]
Bosses
 

Destiny 2

Acanthos, Gate Lord

•

Achronos, Infinite Proxy

•

Agra, the Stalwart

•

Agoros, Gatekeeper

•

Ahamkara Illusion

•

An Ragaar, Son of Xivu Arath

•

Baurg, Blood Infernal

•

Besurith, Daughter of Crota

•

Brann, the Unbent Blade

•

Breviks, Dusk Baron

•

Bruiser Thurn

•

Brutiks, Lightbane

•

Calixte, System Ward Finality

•

Calus, The Disciple

•

Crorok, Will of Xivu Arath

•

Demented Abomination

•

Dendron, Root Mind

•

Dominus Ghaul

•

Drekaa, Warmonger Chieftain

•

Enforcer Rusk

•

Entangled Mind

•

Eramis, Kell of Darkness

•

Ergoth, Infinite Proxy

•

Eriviks, the Waking

•

Erruk, the Taken

•

Eye of the Swarm

•

Final Guard Straff

•

Garaask, Undying Inferno

•

Garmurg

•

Golur the Plagued

•

Gothrax, Protector of the Swarm

•

Hadak the Devoted

•

Hapax, the Convergent Mind

•

Hasaak, Venom of Xivu Arath

•

H'Kullna, Stained by Darkness

•

Inquisitor Mind

•

Imperial Deserter

•

Ioneion, System Control Flow

•

Ir Yun, Cult of Megor

•

Irausk, Herald of Savathûn

•

Jaliks, Fallen Captain

•

Kaaron, Blood Infernal

•

Kamak, A-Block Scar

•

Kar'uul, Indomitable Champion

•

Kavauust, Reverent of the Witness

•

Khartion, Archival Mind

•

Kiriks-16

•

Kreth, the Living Skyfire

•

Kridis, Dark Priestess

•

Kruvii, Subversive Chieftain

•

Mahesh, the Bitter

•

Maksor, Starving Scavenger

•

Megor, Spawn of Xivu

•

Methodios, Module Proxy

•

Modular Sigma

•

Modular Upsilon

•

Mukor, Soulkeeper

•

Network Protector

•

Nightmare of Crota, Son of Oryx

•

Nightmare of Dominus Ghaul

•

Nightmare of the Fanatic

•

Nokris, Herald of Xol

•

Norr, the Taken

•

Om Alir, Ascendant Sentinel

•

Orm Vashyx

•

Panoptes, Infinite Mind

•

Pashk, the Searing Will

•

Phylaks, the Warrior

•

Piksis, House Salvation

•

Praksis, the Technocrat

•

Purifier Vurst

•

Querim, the Waking

•

Ruithe, Sworn to Xivu Arath

•

Saarut, Blood Infernal

•

Savathûn's Right Hand

•

Savathûn, the Witch Queen

•

Scorn of the Fanatic

•

Scorn Walker

•

Skirvaa, Abhorred Chieftain

•

Skriviks, the Sharp-Eyed

•

Sniksis, House Salvation

•

Sugroth, Shield of Xivu Arath

•

Taldriks, Infinite Proxy

•

Teksis, Ascendant Sentinel

•

Teleks-5

•

Termiiks, Invasive Warrant

•

The Fanatic

•

The Machinist

•

Theratos, Archersbane

•

Thumos, the Unbroken

•

Tikkis, Diminished Scrapper

•

Tir Balok, Daughter of Xivu Arath

•

Tulkor, Ferocity of Xivu Arath

•

Tyranos, Gatekeeper

•

Ubara, Hive Prince

•

Ugroth, Soulkeeper

•

Urrot, Hammer of Nokris

•

Val Belyx, Gauntlet of Incaru

•

Val Bho'kaurl

•

Val Pros, Tower Sentry

•

Valus Dralgur, the Exiled

•

Valus Thuun

•

Voice of Riven

•

Vul'ourn, Shadow Legion Supply Master

•

Wyr, the Taken

•

Xaras, Greed of Xivu Arath

•

Xavan, Daughter of Xivu Arath

•

Xavoth, the Waking

•

Xirash, Keeper of Memory

•

Xol, Will of the Thousands

•

Yamaat, Ascendant Sentinel

•

Zruhh, Stained by Darkness

Aegion, Deductive Mind

•

Aethiks, Instrument of Xivu Arath

•

Agioktis, Martyr Mind

•

Anarchist Captain, Kell's Scourge

•

Anarchist Marauder, Kell's Scourge

•

Anarchist Servitor, Kell's Scourge

•

Bab'dotek, the Abhorrent

•

Emperor Calus, Herald of the Witness

•

Eramis, Kell of Darkness

•

Fading Nightmare of Ghaul

•

Fading Nightmare of Kethiks

•

Fading Nightmare of the Fanatic

•

High Celebrant of Xivu Arath

•

Hive Wrathborn

•

House of Rain Servitor

•

House of Rain Walker

•

Ir Garza, Scourge of Earth

•

Ir Hanal, Scourge of the Dakaua

•

Ir Nithra, Scourge of the Ammonite

•

Keelhaal of House Salvation

•

Kelgorath, Risen from Bones

•

Kholks, Taken of Xivu Arath

•

Kikliss, Murderer

•

Kruutiks, Reefbane

•

Nokris, Supplicant to Savathûn

•

Proto-Sentinel Galedrix, Forge Saboteur

•

Rhungatt, Might of Xivu Arath

•

Rilliks, Instrument of Xivu Arath

•

Savathûn's Witness

•

Serekis-9, Kell's Scourge

•

Siviks, Lost to None

•

Subjugated Curator

•

Sumok, Ravager of Torobatl

•

Techwizard Malykuh, Salvation's Warden

•

Telksis the Pillager, Kell's Scourge

•

Unrelenting Nightmare

•

Vereziia, Reverent of the Witness

•

Xirixis, the Unknowable

Alak-Hul, the Lightblade

•

Antikytheran Mind

•

Apaktos, Oxidizing Mind

•

Ashorc, Temple Claimant

•

Avakrii, Temple Claimant

•

Baimogg, Unchained Wrath

•

Baurisk, Envoy of Savathûn

•

Belmon, Transcendent Mind

•

Bracus Ghir

•

Bracus Rulaitl

•

Bracus Zahn

•

Brakion, Genesis Mind

•

Cadori, Lightscourge

•

Cornea

•

Defiled Reysk, the Waning Light

•

Dendron, Root Mind

•

Devoted of Nokris

•

Dolos, the Datamine

•

Dishonored Valus

•

Edyx, Exothermic Mind

•

Episkeptis, the Uninvited

•

Fikrul, the Fanatic

•

Golden Age Looter

•

Grask, the Consumed

•

Gor'ath Gath

•

Hashladûn, Daughter of Crota

•

Heimiks, Warden of the Harvest

•

Ignovun, Chosen of Caiatl

•

In Anânh, Brood Queen

•

Irûn, Bound to Sedia

•

Juraag, the Waylaid

•

Kargen, the Technocrat

•

Kataskopos

•

Kendriks-7

•

Khartion, Archival Mind

•

Khirin, Blinding Captain

•

Krothion

•

Lillix, Lightscourge

•

Logath, the Ruptured

•

Magnar the Rockjaw

•

Nakoix, Lightscourge

•

Navôta, Eir Spawn

•

Nokris, Herald of Xol

•

Optus Taxaat

•

Optus Vocca

•

Orm Duluz, Bound to Sedia

•

Osmium Traitor

•

Parthenios, Drifting Mind

•

Protheon, Modular Mind

•

Retina

•

Samaa, the Deserter

•

Savathûn's Song

•

Sedia, the Corrupted

•

Shrieker, Bound to Sedia

•

Shuttered Mind

•

Siege Minotaur

•

Šimmumah ur-Nokru

•

Son of In Anânh

•

Supplicant of Xol

•

Ta'aul, Disgraced Colossus

•

Taken Asphyxiator

•

Taken Exsanguinator

•

Taken Fracturer

•

Taurg, Disguised by the Emperor

•

Thaviks, the Depraved

•

Toniq, Imprint of Nezarec

•

The Mad Warden

•

The Navigator's Claw

•

The Vengeful Hand

•

Thelodron, Bound to Sedia

•

The Fragment

•

Thûl, the Monstrous

•

Val Cempas

•

Val Cunqu'us

•

Val Ghuusk

•

Val Gruuk, Bound to Sedia

•

Val Kladior

•

Val Prosk, Bound to Sedia

•

Val Talacanth, Bound to Sedia

•

Val Trekitus

•

Val Veorthus

•

Val Vinca'ar

•

Val Urgus

•

Valus Ozysas

•

Valus Pra'urg

•

Valus Thuun

•

Vazimos, the Ensnaring

•

Whisper of Oryx

•

Xol, Will of the Thousands

•

Yächaar, Bound to Sedia

•

Yateth, Taken Stain

•

Yatiks, Bound to Sedia

•

Zebios, the Ensnaring

•

Zhagal, Disgraced Colossus

Ablazed Glory, Kell's Scourge

•

Atheon, Time's Conflux

•

Atraks-1, Fallen Exo

•

Consecrated Mind, Sol Inherent

•

Crypt Security

•

Dul'na, the Dissector

•

Emperor Calus

•

Gahlran's Deception

•

Gahlran, the Sorrow-Bearer

•

Golgoroth

•

Gorgon

•

Insurrection Prime, Kell's Scourge

•

Ir Anûk, Deathsinger

•

Ir Halak, Deathsinger

•

Kalli, the Corrupted

•

Mar'y'n, the Devourer

•

Morgeth, the Spirekeeper

•

Nezarec, Final God of Pain

•

Oryx, the Taken King

•

Rhulk, Disciple of the Witness

•

Riven of a Thousand Voices

•

Royal Beasts

•

Sanctified Mind, Sol Inherent

•

Shuro Chi, the Corrupted

•

Taniks, the Abomination

•

The Caretaker

•

The Templar

•

Warpriest

•

Xeno'doti, the Scavenger

•

Zo'aurc, Explicator of Planets

Alak-Tor, Fatesmith of Incaru

•

Asterion, Set Apart

•

Ba-Kuur, Fatesmith of Incaru

•

Captain Avarokk, the Covetous

•

Dûl Incaru, the Eternal Return

•

Ecthar, the Shield of Savathûn

•

Eriviks, the Waking

•

Fallen Shield

•

Gaurog, Fatesmith of Incaru

•

Grisprax, Bosun of Avarokk

•

Kell Echo

•

Nightmare of Caiatl, Princess-Imperial

•

Nightmare of Emonut, Sworn of Moli Imoli

•

Nightmare of Gahlran, Sorrow Bearer

•

Nightmare of Hou'dal, Failed Assassin

•

Nightmare of Ka'hok, Sworn of Umun'arath

•

Nightmare of Ka'nok, Failed Assassin

•

Nightmare of Regor, Failed Assassin

•

Nightmare of Uroa, Sworn of Shayotet

•

Phalanx Echo

•

Phry'zhia, the Insatiable

•

Querim, the Waking

•

R-M80, Loyal to Avarokk

•

Šimmumah ur-Nokru, Lucent Necromancer

•

Theratos, Archersbane

•

Volmâr, the Tempted

•

Vorgeth, the Boundless Hunger

•

Vorlog, Risen in Heresy

•

Xavoth, the Waking

•

Zulmak, Instrument of Torment

Azyrax, Exalted Conjurer

•

Blood Cleaver

•

Curator Arrox

•

Cyronax

•

Defender Born

•

Defender Hahn

•

Drusk, the Crushing Fist

•

Elyksul, Assault Leader

•

Enforcer Karch

•

Herald of Savathûn, Proxy

•

Investigator Prurg

•

Investigator Tosusk

•

Iraz, Eye of Savathûn

•

Jagad, the Overwhelming Surge

•

Kagathos, Empathic Mind

•

Merix-5

•

Nalcthor, the Crystaline

•

Network Minotaur

•

Ordnance Keeper Tulg

•

Prusk, the Unequaled Maul

•

Raktar, the Unrelenting

•

Relentless Grak

•

S.A.B.E.R.-0.6

•

Salvaged Walker

•

Security Chief Kolg

•

Skexis, Outcast Captain

•

Spekkis, Pike Captain

•

Taksor, Scavenger Raider

•

Takul-Dar, the Unbreakable

•

Taskmaster Vazar

•

Teliks, Bandit Captain

•

Tekton, Constructive Mind

•

The Hangman

•

The Mad Bomber

•

The Mindbender

•

The Rider

•

The Rifleman

•

The Trickster

•

Valus Traud, Proxy

•

Vex Warden

•

Viadon, Inquisitor Mind

•

Warden Derg

Agon, Strategic Hydra

•

Alkestis, Sacrificial Mind

•

Azilis, Dusk Marauder

•

Bar-Zel, Tutelary of Savathûn

•

Calzar, Scarred Captain

•

Devourer Darg

•

Dread Tatsrekaa

•

Drekthas, Metal Captain

•

Dust-Choked Thrag

•

Fortifier Yann

•

Garut Gra'am

•

Golmuut

•

Graxus, Blind Captain

•

Hathrek, the Glasweard

•

Inkasi, Disciple of Quria

•

Inquisitor Hydra

•

Kalsis, Sunless Captain

•

Karugul

•

Keldrik, Drained Captain

•

Kurg, the All-Seeing Force

•

Mazan, Lost Captain

•

Nariks Reborn

•

Nightmare of Arguth, the Tormented

•

Nightmare of Kelnix Reborn

•

Nightmare of Reyiks, Actuator

•

Nightmare of Rizaahn, the Lost

•

Pakrion

•

Pandrok, Pillar of Nothing

•

Phyzann, Drowned Captain

•

Primus Cal'aug

•

Qeldron, Keeper

•

Rannix, Drenched Captain

•

Ruined Mind

•

Segrex, the Tainted

•

Subterranean Mind

•

Talas, Dusk Captain

•

Teliks, House Salvation

•

Thaan'Hul

•

Thyrdron

•

Ur Haraak, Disciple of Quria

•

Valus Dravusk, Shadow Legion

•

Valus Dulurc

•

Valus Tharum, Gladiatorial Overseer

•

Varghul, Fragment of Oryx

•

Vendraxis, Shadow of Oryx

•

Vilzii, Scorn Chieftain

•

Yirksii, Subversive Chieftain

•

Zerz, the Unstoppable Weight

•

Zetix-7

Au'gor, Devoted of Calus

•

Bakken, the Relentless

•

Barit, Imprisoned Flayer

•

Bracus Ghurm

•

Captain Taksisaa

•

Elite Mercury Defender

•

Falysion, Frenzied Mind

•

Fanatic's Chosen

•

Gate Lord

•

Ghalsis, Pilferer Captain

•

Ilheru Xolborne

•

Ir Olena, Moth Keeper

•

Jai'ek, Supplicant of Calus

•

Kiphoris, the Eclipsed

•

Kudazad, Binder of Savathûn

•

Loyalist Sentinel Commander

•

Lurg, the Burning Shield

•

Monitor Hydra

•

Naktal, Fury of Savathûn

•

Nightmare of Carun, Beastmaster

•

Nightmare of Cek'ik, Seeker of the Deep

•

Nightmare of Evoks, the Burned

•

Nightmare of Gothrax, Swarm Protector

•

Nightmare of Ha'lok, the Shield

•

Nightmare of Horkis, Fear of Mithrax

•

Nightmare of Jaxx, Claw of Xivu Arath

•

Nightmare of Kra'lok, the Sword

•

Nightmare of Ky'leks, the Docked

•

Nightmare of Loronvis, Council Hand

•

Nightmare of Qalec, the Sniper

•

Nightmare of Rovikis, Council Hand

•

Nightmare of Sek're, Echo of the Voice

•

Nightmare of Seresis, Council Hand

•

Nightmare of Sy'ad, the Unending

•

Nightmare of Tlazat, Fed to Beasts

•

Nightmare of Uaoc, Spine Breaker

•

Nightmare of Xortal, Sworn of Crota

•

Overlord

•

Paradii, The Vigilant

•

Pauurc, the Farseer's Heir

•

Ropymion, Delirious Mind

•

Rudoc, Imprisoned Flayer

•

Secret of Severed Flesh

•

Terminus Keeper

•

The Drowned

•

The Forgotten

•

The Sunken

•

Tirksnii, Corsairbane

•

Ubartu-ana

•

Ultorg, Breath of Xol

•

Viadion, Cleansing Mind

•

Viadion, Transformed Mind

•

Vrees, Imprisoned Flayer

•

Watchful Harpy

•

Wyvern Venator

•

Yalsis, the Igniter

•

Yer'ot the Forgotten

•

Zeteon, Redemptive Mind

Abyssal Champion

•

Abyssal Sorcerer

•

Arsenal Walker

•

Atan Maht, Margrave of Erasure

•

Blightmaker

•

Bracus Eratl

•

Consul Partisan

•

Demented Abomination

•

Disciple of Kridis

•

Drenksis

•

Ereshkel, Insight of Savathûn

•

Ether Abomination

•

Exhara, Ambassador of Savathûn

•

Excavation Valus

•

Excavator Valus

•

Fanatic's Chosen

•

Gee'yom, Resonant Saboteur

•

Glomus, the Severing Slash

•

Golgoth, Ichor of Xol

•

Hemolymph Repair Shank

•

Infernal Ogre

•

Infiltrator Valus

•

Integration Mind

•

Kashur, the Infinite Blaze

•

Korgath

•

Ksimikaa the Painsmith

•

Minotaur Supernumeros

•

Moag, the Deafening Volley

•

Naaruz, Third Seeker of Silence

•

Pallas Siegebreaker

•

Phry'zhia, the Insatiable

•

Prime Ether Servitor

•

Prince of Yul

•

Ransack Captain

•

Reanimated Machinist

•

Resonant Shepherd

•

Resonant Thief

•

Rynax, Resonant Bulwark

•

Thox, the Smoldering Wasp

•

Tortured Abomination

•

Ul-Heru, Envoy of Savathûn

•

Vakarsik, Grasp of Quria

•

Vanbaluk, Trusted of Savathûn

•

Vex Gate Lord

•

Visiraa

•

War Hound

•

Wretch Captain

•

Xegonion, Warped Mind

Brandaks Prime

•

Commander Truvul

•

Drensik, Venom of Oryx

•

Elatiox, Beloved of Quria

•

Empathic Sentinel

•

Hagios, Reverent Mind

•

Haraal, Venom of Oryx

•

Ir Arok, Tongue of Quria

•

Kraug, the Undeterred

•

Mithrax, the Forsaken

•

Raksil, Archon Priest

•

Serkuleks, the Fount

•

Val Bulgur

•

Val Garurc

•

Zarik, the Booming Voice

Akorith, Lightdrinker of Savathûn

•

Ba'aruk, Dissident

•

Conceptual Mind

•

Data Nullifier

•

Digital Variant Neutralizer

•

Digital Variant Tracker

•

Drevis, Aspect of Darkness

•

Dusk Walker

•

Exfiltration Walker

•

Graam, Born of the Hellmouth

•

Haroktha, Scourge of the Helium Drinkers

•

Haviks, Dusk Baron

•

Ishrasek, Lightbinder of Savathûn

•

Korusk, Lighteater of Savathûn

•

Locus of Communion

•

Might of Riven

•

Mimiks-0, Devil's Scion

•

Mimiks-1, Devil's Scion

•

Mant Yût, Born of the Hellmouth

•

Praksis the Defiled

•

Qabix, Insurgent

•

Siriks, Loyal to Eramis

•

Ta'aurc, Aspect of War

•

Tarusk, Lighteater of Savathûn

•

Urzok, Aspect of Hate

•

Variant Stalker Brakion, Repurposed Mind

Belhor, Herald of the Plague

•

Cragur, Plague of the Well

•

Inomina, Plague of the Well

•

Itzlii, Herald of the Plague

•

Kakos, Herald of the Plague

•

Kydoimos, Herald of the Plague

•

Macuii, Herald of the Plague

•

Mholoch, Herald of the Plague

•

Oxus, Herald of the Plague

•

Sikariis, Plague of the Well

•

Teraph, Herald of the Plague

•

Tezcaa, Herald of the Plague

•

Varkuuriis, Plague of the Well

Abstract Hydra

•

Brig, House Salvation

•

Deniks, House Salvation

•

Drapsis-3, House Salvation

•

Kridis, Dark Priestess

•

Phylaks, the Warrior

•

Piksis, House Salvation

•

Praksis, the Technocrat

•

Principle Wyvern

•

Riliks, House Salvation

•

Sniksis, House Salvation

•

Yamiks Prime, House Salvation

•

Zedraks-6, House Salvation