Araskes, the Trickster
From Destinypedia, the Destiny wiki
Araskes, the Trickster
Biographical information

Other names:

Araskes, the Wit
Butcher of Bamberga
Slayer of the Psyche Hordes
Terminus of the Gray Legion
Sliver of the Shadowed Veil
Bandit of Old Bassa
Dire Siren of Valian's Reprieve

Species:

Faction:

Scorn
House of Exile (formerly)

Rank:

Class:

Gender:

Female [1]

Combat information

Mission:

Weapon(s):

Abilities:

Ether Smoke Dash
Summon Scorn
High Durability
Rapid Movement
Teleportation
Ultra Smash

 
"Whatever you do, don't trust anything she touches. I promise you, it'll bite."
— Cayde-6.[2]
Araskes, the Trickster, is a Baron of the Scorn. It seems that the Trickster takes on the form of a Raider, as she is able to use an Ether Smoke Dash to escape the player.
Biography
[
edit
]
Little is known about her beyond legends of her own creation. As the spokesman and envoy of the Scorn, she is often the first to strike. Utilizing cloaking technology and leaving traps for unsuspecting enemies, Araskes has little skill in all-out battle beyond her ability to avoid it.[2]
She bartered with the Spider and nearly cost him his life, she swindled numerous Hunter Bounties and profited off of them, she won battles where there is none, killed more rivals than could challenge her. At one point, she is known for her gambling habits in the Tangled Shore, it wasn't until Cayde's Six came along to eliminate her, though she managed to get away. Unbeknownst to her, Cayde planted a tracking device that would lead them to the other Barons.
She was captured later alongside the other Scorn Barons and imprisoned within the Prison of Elders. A year after the events of the Red War she was freed by Uldren Sov and was witness to the murder of Cayde-6 at his hand.[2] She established herself in Diaviks Mine afterward, attempting a shipment of rigged engrams to The Last City, but was stopped by the Guardian.
Personality
[
edit
]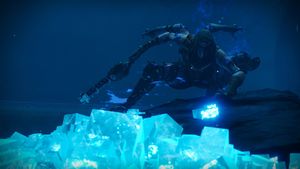 "A liar and a schemer. Friendly advice: Trust nothing that she touches."
Araskes has demonstrated herself to be quite sadistic, as she seems to take perverse joy in duping the Guardian and cackling insanely whenever they fall for one of her traps. She also seems to be quite unhinged, frequently laughing in her dialogue, speaking in a maniacal, almost sing-song voice, and calling herself pronouns such as "our" or "we" rather than "me" or "I". She also seems to be quite overconfident, as she lured the Guardian directly into her lair in the hopes that the Guardian would fall at the hands of another trap, which ultimately lead to her death.
Her greatest weapon is the dissolution of truth, she gives people certainty, only to reshuffle the deck, she grants us desire only to come to regret it. She is described as the "first among devils to gods", where she is unknowable, unpure and her tongue would cut down anyone before their body fell, makes you question your own actions and the depths of her deceit, whether or not if we really killed the Trickster or if her trap is set.[3]
Gameplay
[
edit
]
True to her nature, Araskes engages in little direct combat, preferring to use her smoke dash ability to escape trouble. She will also deploy Web Mines disguised as loot as well as bombs made to resemble Exotic Engrams, both as a means to distract and trick Guardians as she is chased down. When cornered, she will chip away at The Guardian's health from a distance with her Scorn Rifle, stomp the ground when faced at close range, teleport to evade or flank her opponent, and call for aid from lesser Scorn units. Due to her tendency to slip away from an engagement, it is best to keep watch of her by following her smoke trails. Once spotted again, one must keep the attack on her as to not let her escape.
[laughs] Oh no... it found our factory of delights. If only we planned for this... [laughs]
[laughs] Welcome, minion of Cayde-6. [laughs]
[laughs] It wants revenge? Yes, we deserve it. Here is some ammo for you. [laughs]
Gallery
[
edit
]
Araskes is the second shortest member of the Scorn Barons.
Araskes is the first female Fallen to be seen speaking English, second being Elykris, the Machinist.
According to dialogue from the Warden of Nothing strike, The Drifter had some relation with Araskes.
The Trickster tampered with the chest and panel it sits on, in the old treasure room from the old prison of Elders activities.
List of appearances
[
edit
]
References
[
edit
]
Bosses
 

Destiny 2

Acanthos, Gate Lord

•

Achronos, Infinite Proxy

•

Agra, the Stalwart

•

Agoros, Gatekeeper

•

Ahamkara Illusion

•

An Ragaar, Son of Xivu Arath

•

Bakris, the Adamantine

•

Baurg, Blood Infernal

•

Besurith, Daughter of Crota

•

Brann, the Unbent Blade

•

Breviks, Dusk Baron

•

Bruiser Thurn

•

Brutiks, Lightbane

•

Calixte, System Ward Finality

•

Calus, The Disciple

•

Crorok, Will of Xivu Arath

•

Demented Abomination

•

Dendron, Root Mind

•

Dominus Ghaul

•

Drekaa, Warmonger Chieftain

•

Elikaa, Sworn to Vengeance

•

Enforcer Rusk

•

Entangled Mind

•

Eramis, Kell of Darkness

•

Ergoth, Infinite Proxy

•

Eriviks, the Waking

•

Erruk, the Taken

•

Eye of the Swarm

•

Factory Brig

•

Factory Walker

•

Final Guard Straff

•

Garaask, Undying Inferno

•

Garmurg

•

Golur the Plagued

•

Gothrax, Protector of the Swarm

•

Hadak the Devoted

•

Hapax, the Convergent Mind

•

Hasaak, Venom of Xivu Arath

•

H'Kullna, Stained by Darkness

•

Inquisitor Mind

•

Imperial Deserter

•

Ioneion, System Control Flow

•

Ir Yun, Cult of Megor

•

Irausk, Herald of Savathûn

•

Jaliks, Fallen Captain

•

Kaaron, Blood Infernal

•

Kamak, A-Block Scar

•

Kar'uul, Indomitable Champion

•

Kavauust, Reverent of the Witness

•

Khartion, Archival Mind

•

Kiriks-16

•

Kreth, the Living Skyfire

•

Kridis, Dark Priestess

•

Kruvii, Subversive Chieftain

•

Mahesh, the Bitter

•

Maksor, Starving Scavenger

•

Megor, Spawn of Xivu

•

Methodios, Module Proxy

•

Modular Sigma

•

Modular Upsilon

•

Mukor, Soulkeeper

•

Network Protector

•

Nightmare of Crota, Son of Oryx

•

Nightmare of Dominus Ghaul

•

Nightmare of the Fanatic

•

Nokris, Herald of Xol

•

Norr, the Taken

•

Om Alir, Ascendant Sentinel

•

Orm Vashyx

•

Panoptes, Infinite Mind

•

Pashk, the Searing Will

•

Phylaks, the Warrior

•

Piksis, House Salvation

•

Praksis, the Technocrat

•

Purifier Vurst

•

Querim, the Waking

•

Ruithe, Sworn to Xivu Arath

•

Saarut, Blood Infernal

•

Savathûn's Right Hand

•

Savathûn, the Witch Queen

•

Scorn of the Fanatic

•

Scorn Walker

•

Skirvaa, Abhorred Chieftain

•

Skriviks, the Sharp-Eyed

•

Sniksis, House Salvation

•

Sugroth, Shield of Xivu Arath

•

Taldriks, Infinite Proxy

•

Teksis, Ascendant Sentinel

•

Teleks-5

•

Termiiks, Invasive Warrant

•

The Fanatic

•

The Machinist

•

The Shieldbreaker

•

Theratos, Archersbane

•

Thumos, the Unbroken

•

Tikkis, Diminished Scrapper

•

Tir Balok, Daughter of Xivu Arath

•

Tulkor, Ferocity of Xivu Arath

•

Tyranos, Gatekeeper

•

Ubara, Hive Prince

•

Ugroth, Soulkeeper

•

Urrot, Hammer of Nokris

•

Val Belyx, Gauntlet of Incaru

•

Val Bho'kaurl

•

Val Pros, Tower Sentry

•

Valus Dralgur, the Exiled

•

Valus Thuun

•

Voice of Riven

•

Vul'ourn, Shadow Legion Supply Master

•

Wyr, the Taken

•

Xaras, Greed of Xivu Arath

•

Xavan, Daughter of Xivu Arath

•

Xavoth, the Waking

•

Xirash, Keeper of Memory

•

Xol, Will of the Thousands

•

Yamaat, Ascendant Sentinel

•

Zruhh, Stained by Darkness

Aegion, Deductive Mind

•

Aethiks, Instrument of Xivu Arath

•

Agioktis, Martyr Mind

•

Alak'nar, Retainer of Savathûn

•

Anarchist Captain, Kell's Scourge

•

Anarchist Marauder, Kell's Scourge

•

Anarchist Servitor, Kell's Scourge

•

Aulith, Oblative Postulant

•

Auloc, Oblative Postulant

•

Azshradat, Celebrant of Xivu Arath

•

Bab'dotek, the Abhorrent

•

Ei Haaruz, Retainer of Savathûn

•

Elūnash, Oblative Adherent

•

Emperor Calus, Herald of the Witness

•

Enkaar, the Anointed

•

Eramis, Kell of Darkness

•

Fading Nightmare of Ghaul

•

Fading Nightmare of Kethiks

•

Fading Nightmare of the Fanatic

•

Galagos, Kell's Scourge

•

Hastokk, Oblative Aspirant

•

High Celebrant of Xivu Arath

•

Hive Wrathborn

•

House of Rain Servitor

•

House of Rain Walker

•

Ir Dollox, Talon of Xivu Arath

•

Ir Garza, Scourge of Earth

•

Ir Hanal, Scourge of the Dakaua

•

Ir Kaza, Talon of Xivu Arath

•

Ir Nithra, Scourge of the Ammonite

•

J4W-S, Wrath-Hunter Servitor

•

Keelhaal of House Salvation

•

Kelgorath, Risen from Bones

•

Kelgorath, Taken from Bones

•

Kholks, Taken of Xivu Arath

•

Kikliss, Murderer

•

Kruutiks, Reefbane

•

Kudazad, Bound to Xivu Arath

•

Kzelkis, Kell's Scourge

•

Leviathan-Eater, Bane of the Ammonites

•

Nokris, Supplicant to Savathûn

•

Piraksis, Kell's Scourge

•

Prevailing Mind

•

Prevenient Mind

•

Proto-Sentinel Galedrix, Forge Saboteur

•

Proximate Mind

•

Pthasos, Kell's Scourge

•

Rhungatt, Might of Xivu Arath

•

Rilliks, Instrument of Xivu Arath

•

Savathûn's Witness

•

Scream of Xivu Arath

•

Serekis-9, Kell's Scourge

•

Siviks, Lost to None

•

Subjugated Curator

•

Sumok, Ravager of Torobatl

•

Techwizard Malykuh, Salvation's Warden

•

Telksis the Pillager, Kell's Scourge

•

Tziksis, Kell's Scourge

•

Unrelenting Nightmare

•

Vereziia, Reverent of the Witness

•

Xirixis, the Unknowable

•

Xronos, Kell's Scourge

Alak-Hul, the Lightblade

•

Antikytheran Mind

•

Apaktos, Oxidizing Mind

•

Ashorc, Temple Claimant

•

Avakrii, Temple Claimant

•

Baimogg, Unchained Wrath

•

Baurisk, Envoy of Savathûn

•

Belmon, Transcendent Mind

•

Bracus Ghir

•

Bracus Rulaitl

•

Bracus Zahn

•

Brakion, Genesis Mind

•

Cadori, Lightscourge

•

Cornea

•

Defiled Reysk, the Waning Light

•

Dendron, Root Mind

•

Devoted of Nokris

•

Dolos, the Datamine

•

Dishonored Valus

•

Edyx, Exothermic Mind

•

Episkeptis, the Uninvited

•

Fikrul, the Fanatic

•

Golden Age Looter

•

Grask, the Consumed

•

Gor'ath Gath

•

Hashladûn, Daughter of Crota

•

Heimiks, Warden of the Harvest

•

Ignovun, Chosen of Caiatl

•

In Anânh, Brood Queen

•

Irûn, Bound to Sedia

•

Juraag, the Waylaid

•

Kargen, the Technocrat

•

Kataskopos

•

Kendriks-7

•

Khartion, Archival Mind

•

Khirin, Blinding Captain

•

Krothion

•

Lillix, Lightscourge

•

Logath, the Ruptured

•

Magnar the Rockjaw

•

Nakoix, Lightscourge

•

Naksis, Devil Baron

•

Navôta, Eir Spawn

•

Nokris, Herald of Xol

•

Optus Taxaat

•

Optus Vocca

•

Orm Duluz, Bound to Sedia

•

Osmium Traitor

•

Parthenios, Drifting Mind

•

Protheon, Modular Mind

•

Retina

•

S.A.B.E.R.-2

•

Samaa, the Deserter

•

Savathûn's Song

•

Sedia, the Corrupted

•

Sepiks Prime

•

Sepiks-23

•

Shrieker, Bound to Sedia

•

Shuttered Mind

•

Siege Minotaur

•

Šimmumah ur-Nokru

•

Son of In Anânh

•

Supplicant of Xol

•

Ta'aul, Disgraced Colossus

•

Taken Asphyxiator

•

Taken Exsanguinator

•

Taken Fracturer

•

Taurg, Disguised by the Emperor

•

Thaviks, the Depraved

•

Toniq, Imprint of Nezarec

•

The Mad Warden

•

The Navigator's Claw

•

The Vengeful Hand

•

Thelodron, Bound to Sedia

•

The Fragment

•

Thûl, the Monstrous

•

Val Cempas

•

Val Cunqu'us

•

Val Ghuusk

•

Val Gruuk, Bound to Sedia

•

Val Kladior

•

Val Prosk, Bound to Sedia

•

Val Talacanth, Bound to Sedia

•

Val Trekitus

•

Val Veorthus

•

Val Vinca'ar

•

Val Urgus

•

Valus Ozysas

•

Valus Pra'urg

•

Valus Thuun

•

Vazimos, the Ensnaring

•

Whisper of Oryx

•

Xol, Will of the Thousands

•

Yächaar, Bound to Sedia

•

Yateth, Taken Stain

•

Yatiks, Bound to Sedia

•

Zebios, the Ensnaring

•

Zhagal, Disgraced Colossus

Ablazed Glory, Kell's Scourge

•

Atheon, Time's Conflux

•

Atraks-1, Fallen Exo

•

Consecrated Mind, Sol Inherent

•

Crota, Son of Oryx

•

Crypt Security

•

Dul'na, the Dissector

•

Emperor Calus

•

Gahlran's Deception

•

Gahlran, the Sorrow-Bearer

•

Golgoroth

•

Gorgon

•

Insurrection Prime, Kell's Scourge

•

Ir Anûk, Deathsinger

•

Ir Halak, Deathsinger

•

Ir Yût, the Deathsinger

•

Kalli, the Corrupted

•

Mar'y'n, the Devourer

•

Morgeth, the Spirekeeper

•

Nezarec, Final God of Pain

•

Oryx, the Taken King

•

Rhulk, Disciple of the Witness

•

Riven of a Thousand Voices

•

Royal Beasts

•

Sanctified Mind, Sol Inherent

•

Shuro Chi, the Corrupted

•

Taniks, the Abomination

•

The Caretaker

•

The Templar

•

Warpriest

•

Xeno'doti, the Scavenger

•

Zo'aurc, Explicator of Planets

Alak-Tor, Fatesmith of Incaru

•

Asterion, Set Apart

•

Ba-Kuur, Fatesmith of Incaru

•

Captain Avarokk, the Covetous

•

Dûl Incaru, the Eternal Return

•

Ecthar, the Shield of Savathûn

•

Eriviks, the Waking

•

Fallen Shield

•

Gaurog, Fatesmith of Incaru

•

Grisprax, Bosun of Avarokk

•

Kell Echo

•

Nightmare of Caiatl, Princess-Imperial

•

Nightmare of Emonut, Sworn of Moli Imoli

•

Nightmare of Gahlran, Sorrow Bearer

•

Nightmare of Hou'dal, Failed Assassin

•

Nightmare of Ka'hok, Sworn of Umun'arath

•

Nightmare of Ka'nok, Failed Assassin

•

Nightmare of Regor, Failed Assassin

•

Nightmare of Uroa, Sworn of Shayotet

•

Phalanx Echo

•

Phry'zhia, the Insatiable

•

Querim, the Waking

•

R-M80, Loyal to Avarokk

•

Šimmumah ur-Nokru, Lucent Necromancer

•

Theratos, Archersbane

•

Thul-Ar, Acolyte of Nokris

•

Volmâr, the Tempted

•

Vorgeth, the Boundless Hunger

•

Vorlog, Risen in Heresy

•

Xavoth, the Waking

•

Zulmak, Instrument of Torment

Azyrax, Exalted Conjurer

•

Blood Cleaver

•

Curator Arrox

•

Cyronax

•

Defender Born

•

Defender Hahn

•

Drusk, the Crushing Fist

•

Elyksul, Assault Leader

•

Enforcer Karch

•

Herald of Savathûn, Proxy

•

Investigator Prurg

•

Investigator Tosusk

•

Iraz, Eye of Savathûn

•

Jagad, the Overwhelming Surge

•

Kagathos, Empathic Mind

•

Merix-5

•

Nalcthor, the Crystaline

•

Network Minotaur

•

Ordnance Keeper Tulg

•

Prusk, the Unequaled Maul

•

Raktar, the Unrelenting

•

Relentless Grak

•

S.A.B.E.R.-0.6

•

Salvaged Walker

•

Security Chief Kolg

•

Skexis, Outcast Captain

•

Spekkis, Pike Captain

•

Taksor, Scavenger Raider

•

Takul-Dar, the Unbreakable

•

Taskmaster Vazar

•

Teliks, Bandit Captain

•

Tekton, Constructive Mind

•

The Hangman

•

The Mad Bomber

•

The Mindbender

•

The Rider

•

The Rifleman

•

The Trickster

•

Valus Traud, Proxy

•

Vex Warden

•

Viadon, Inquisitor Mind

•

Warden Derg

Agon, Strategic Hydra

•

Ak-Baral, Rival of Navôta

•

Alkestis, Sacrificial Mind

•

Azilis, Dusk Marauder

•

Bar-Zel, Tutelary of Savathûn

•

Calzar, Scarred Captain

•

Deksis-5, Taskmaster

•

Devourer Darg

•

Dread Tatsrekaa

•

Drekthas, Metal Captain

•

Dust-Choked Thrag

•

Fortifier Yann

•

Garut Gra'am

•

Ghalar, The Fugitive

•

Golmuut

•

Graxus, Blind Captain

•

Hathrek, the Glasweard

•

Inkasi, Disciple of Quria

•

Inquisitor Hydra

•

Kalsis, Sunless Captain

•

Karugul

•

Keldrik, Drained Captain

•

Kurg, the All-Seeing Force

•

Mazan, Lost Captain

•

Nariks Reborn

•

Nightmare of Arguth, the Tormented

•

Nightmare of Kelnix Reborn

•

Nightmare of Reyiks, Actuator

•

Nightmare of Rizaahn, the Lost

•

Pakrion

•

Pandrok, Pillar of Nothing

•

Phyzann, Drowned Captain

•

Primus Cal'aug

•

Qeldron, Keeper

•

Rannix, Drenched Captain

•

Ruined Mind

•

Segrex, the Tainted

•

Subterranean Mind

•

Talas, Dusk Captain

•

Teliks, House Salvation

•

Thaan'Hul

•

Thyrdron

•

Ur Haraak, Disciple of Quria

•

Valus Dravusk, Shadow Legion

•

Valus Dulurc

•

Valus Tharum, Gladiatorial Overseer

•

Varghul, Fragment of Oryx

•

Vendraxis, Shadow of Oryx

•

Vilzii, Scorn Chieftain

•

Yirksii, Subversive Chieftain

•

Zerz, the Unstoppable Weight

•

Zetix-7

Au'gor, Devoted of Calus

•

Bakken, the Relentless

•

Barit, Imprisoned Flayer

•

Blighted Centurion

•

Bracus Ghurm

•

Bracus Payne, the Called Hand

•

Captain Taksisaa

•

Elite Mercury Defender

•

Falysion, Frenzied Mind

•

Fanatic's Chosen

•

Gate Lord

•

Ghalsis, Pilferer Captain

•

Ilheru Xolborne

•

Ir Olena, Moth Keeper

•

Jai'ek, Supplicant of Calus

•

Kiphoris, the Eclipsed

•

Kudazad, Binder of Savathûn

•

Loyalist Sentinel Commander

•

Lurg, the Burning Shield

•

Malura, the Fated

•

Monitor Hydra

•

Naktal, Fury of Savathûn

•

Nightmare of Carun, Beastmaster

•

Nightmare of Cek'ik, Seeker of the Deep

•

Nightmare of Evoks, the Burned

•

Nightmare of Gothrax, Swarm Protector

•

Nightmare of Ha'lok, the Shield

•

Nightmare of Horkis, Fear of Mithrax

•

Nightmare of Jaxx, Claw of Xivu Arath

•

Nightmare of Kra'lok, the Sword

•

Nightmare of Ky'leks, the Docked

•

Nightmare of Loronvis, Council Hand

•

Nightmare of Qalec, the Sniper

•

Nightmare of Rovikis, Council Hand

•

Nightmare of Sek're, Echo of the Voice

•

Nightmare of Seresis, Council Hand

•

Nightmare of Sy'ad, the Unending

•

Nightmare of Tlazat, Fed to Beasts

•

Nightmare of Uaoc, Spine Breaker

•

Nightmare of Xortal, Sworn of Crota

•

Overlord

•

Paradii, The Vigilant

•

Pauurc, the Farseer's Heir

•

Quartermaster

•

Ralniks, Blood of Kells

•

Ropymion, Delirious Mind

•

Rudoc, Imprisoned Flayer

•

S.A.B.E.R.-0.1, House Salvation

•

S.A.B.E.R.-X, House Salvation

•

Secret of Severed Flesh

•

Shun'gath, the Excised

•

Technorunner

•

Techno Squad Leader

•

Terminus Keeper

•

The Drowned

•

The Forgotten

•

The Sunken

•

Tirksnii, Corsairbane

•

Ubartu-ana

•

Ultorg, Breath of Xol

•

Vendetta Shank

•

Viadion, Cleansing Mind

•

Viadion, Transformed Mind

•

Vrees, Imprisoned Flayer

•

Watchful Harpy

•

Wyvern Venator

•

Yalsis, the Igniter

•

Yer'ot the Forgotten

•

Zeteon, Redemptive Mind

Abyssal Champion

•

Abyssal Sorcerer

•

Arsenal Walker

•

Atan Maht, Margrave of Erasure

•

Blightmaker

•

Bracus Eratl

•

Consul Partisan

•

Demented Abomination

•

Disciple of Kridis

•

Drenksis

•

Ereshkel, Insight of Savathûn

•

Ether Abomination

•

Exhara, Ambassador of Savathûn

•

Excavation Valus

•

Excavator Valus

•

Fallen Commodore

•

Fanatic's Chosen

•

Gee'yom, Resonant Saboteur

•

Glomus, the Severing Slash

•

Golgoth, Ichor of Xol

•

Hemolymph Repair Shank

•

Infernal Ogre

•

Infiltrator Valus

•

Integration Mind

•

Kashur, the Infinite Blaze

•

Korgath

•

Ksimikaa the Painsmith

•

Minotaur Supernumeros

•

Moag, the Deafening Volley

•

Naaruz, Third Seeker of Silence

•

Pallas Siegebreaker

•

Phry'zhia, the Insatiable

•

Prime Ether Servitor

•

Prince of Yul

•

Ransack Captain

•

Reanimated Machinist

•

Resonant Shepherd

•

Resonant Thief

•

Rynax, Resonant Bulwark

•

Thox, the Smoldering Wasp

•

Tortured Abomination

•

Ul-Heru, Envoy of Savathûn

•

Vakarsik, Grasp of Quria

•

Vanbaluk, Trusted of Savathûn

•

Vex Gate Lord

•

Visiraa

•

War Hound

•

Wretch Captain

•

Xegonion, Warped Mind

Brandaks Prime

•

Commander Truvul

•

Drensik, Venom of Oryx

•

Elatiox, Beloved of Quria

•

Empathic Sentinel

•

Hagios, Reverent Mind

•

Haraal, Venom of Oryx

•

Ir Arok, Tongue of Quria

•

Kraug, the Undeterred

•

Mithrax, the Forsaken

•

Raksil, Archon Priest

•

Serkuleks, the Fount

•

Val Bulgur

•

Val Garurc

•

Zarik, the Booming Voice

Akorith, Lightdrinker of Savathûn

•

Ba'aruk, Dissident

•

Conceptual Mind

•

Darkmind Abominations

•

Data Nullifier

•

Devoted of Ir Yût

•

Digital Variant Neutralizer

•

Digital Variant Tracker

•

Drevis, Aspect of Darkness

•

Dusk Walker

•

Eriviks, the Dreaming

•

Graam, Born of the Hellmouth

•

Haroktha, Scourge of the Helium Drinkers

•

Haviks, Dusk Baron

•

Ir Absuul, First Aria

•

Ir Airâm, Deathsinger

•

Ir Nagash, Second Aria

•

Ir Sûfra, Third Aria

•

Ishrasek, Lightbinder of Savathûn

•

Korusk, Lighteater of Savathûn

•

Khull, Executioner Knight

•

Locus of Communion

•

Lurking Abominations

•

Mimiks-0, Devil's Scion

•

Mimiks-1, Devil's Scion

•

Mant Yût, Born of the Hellmouth

•

Nightmare Servant of Ir Yût

•

Omen, Blade of the Black Terrace

•

Posthüm of the Deep

•

Querim, the Dreaming

•

Praksis the Defiled

•

Qabix, Insurgent

•

Siriks, Loyal to Eramis

•

Ta'aurc, Aspect of War

•

Tarusk, Lighteater of Savathûn

•

Urzok, Aspect of Hate

•

Variant Stalker Brakion, Repurposed Mind

•

Xavoth, the Dreaming

•

Yulog of the Deep

Belhor, Herald of the Plague

•

Cragur, Plague of the Well

•

Inomina, Plague of the Well

•

Itzlii, Herald of the Plague

•

Kakos, Herald of the Plague

•

Kydoimos, Herald of the Plague

•

Macuii, Herald of the Plague

•

Mholoch, Herald of the Plague

•

Oxus, Herald of the Plague

•

Sikariis, Plague of the Well

•

Teraph, Herald of the Plague

•

Tezcaa, Herald of the Plague

•

Varkuuriis, Plague of the Well

Abstract Hydra

•

Brig, House Salvation

•

Deniks, House Salvation

•

Drapsis-3, House Salvation

•

Kridis, Dark Priestess

•

Phylaks, the Warrior

•

Piksis, House Salvation

•

Praksis, the Technocrat

•

Principle Wyvern

•

Riliks, House Salvation

•

Sniksis, House Salvation

•

Yamiks Prime, House Salvation

•

Zedraks-6, House Salvation