Reksis Vahn, the Hangman
From Destinypedia, the Destiny wiki
Reksis Vahn, the Hangman
Biographical information

Other names:

The Hangman
Reksis, the Scathe
The Godslayer

Species:

Faction:

Rank:

Class:

Gender:

Male

Combat information

Mission:

Weapon(s):

Abilities:

Censer Burn
Flaming Vents
Teleportation
Rapid Movement
High Durability
Summon Scorn
Ultra Smash

 
"He likes it. Too much."
— Cayde-6[1]
Reksis Vahn, the Hangman[2] is a Scorn Baron. He is a Ravager class Scorn with a strong distaste for Servitors.
Biography
[
edit
]
Reksis had a tragic upbringing as he was abandoned at birth. Due to this he became very depraved and a twisted executioner who developed strong hatred of Servitors and their esteemed role in Fallen culture. He denounced the worship of Servitors after watching his superiors grow in strength while he and his siblings starved. In his suffering he found clarity as he sought to bring the destruction of Servitors as others were driven to insanity due to their poverty of Ether. He quickly gained a reputation as a heretic and was even ousted from the House of Exiles.
The outcast Dreg found refuge within the Tangled Shore as the harsh land shaped him, and set up a base in the Quitter's Well. Later the Hangman carried out what he intended to do by siphoning Ether from Servitors and use it to feed his fellow Barons, creating a joyous frenzy.[3]
His obsessive hate did not stop there as Vahn gained even more notoriety by exterminating the last remaining Servitors from the House of Wolves, dooming them into extinction. His anger did not stop there as it lingered and festered until others felt his pain him.
With a new twisted ambition and persona, he found a new purpose to release his wrath. At one point, he came into conflict with Elykris, the Machinist who hoarded Servitors from her raids. The Hangman had different ambitions as he sought to torture and kill them. As tension grew between the two, Fikrul, the Fanatic stepped in and saw a new means of motivations. He would gently caress a Servitor, only to brutally kill it to show their intent to kill all those bound to a Fallen House.[4]
Later, he would be imprisoned deep within the Prison of Elders alongside his fellow Barons, but freed by Uldren Sov. He was present at the murder of Cayde-6 and inflicted a crucial blow that allowed Cayde to die at Sov's hand.[1] The Guardians in vengeance would track him down and killed him with his own fire.
Personality
[
edit
]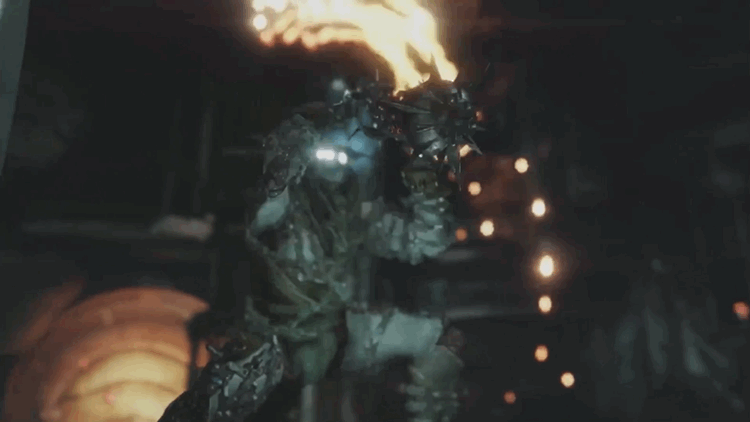 Reksis was a deranged, belligerent and sadistic psychopath who enjoyed causing pain and suffering, especially to Servitors. He was ruthless in his ambitions to destroy Servitors as he believed this would be his method of destroying Fallen culture. His twisted ambitions saw him brutally murder countless Servitors at the point of exhausting the House of Wolves of their ether supply. His tryanny did not stop there as he came to an ideological clash with the second in command of Scorn, Elykris, the Machinist. The Hangman wanted nothing but destruction, while the Machinist sought to preserve Fallen technology.
This however would be detrimental to the Hangman as his siphoning of the Spider's Servitors gained the attention of the Spider's Syndicate and the Guardians who brought his demise.
Gameplay
[
edit
]
Reksis Vahn is an aggressive melee combatant. He prefers to charge into battle directly with his large Flame Cauldron, swinging it around and dishing out high amounts of damage with each strike. When at farther ranges, he will smash his censer on the ground to create a large, wide line of flames which quickly burn away at a Guardian's shield and health, and if at point-blank range, he will slam his censer on the floor, creating a shockwave knocks Guardians around and deals massive damage if it hits directly. Vents will also emit flames throughout the arena for area denial. Occasionally, Reksis Vahn will teleport away from the arena and summon lesser Scorn units for reinforcements, but soon afterward, he will reappear and continue his assault. The small circular arena makes ranged combat difficult. Therefore, one should turn to their grenades, Supers, or high-impact weapons as a reliable method of damaging Reksis Vahn safely.
Gallery
[
edit
]
List of appearances
[
edit
]
References
[
edit
]
 

Bosses in Destiny 2

Acanthos, Gate Lord

•

Agoros, Gatekeeper

•

Besurith, Daughter of Crota

•

Brann, the Unbent Blade

•

Bruiser Thurn

•

Dominus Ghaul

•

Elykris, the Machinist

•

Enforcer Rusk

•

Entangled Mind

•

Erruk, the Taken

•

Eye of the Swarm

•

Fikrul, the Fanatic

•

Final Guard Straff

•

Garmurg

•

Gothrax, Protector of the Swarm

•

Hapax, the Convergent Mind

•

Irausk, Herald of Savathûn

•

Jaliks, Fallen Captain

•

Khartion, Archival Mind

•

Kiriks-16

•

Kreth, the Living Skyfire

•

Mahesh, the Bitter

•

Maksor, Starving Scavenger

•

Methodios, Module Proxy

•

Modular Sigma

•

Modular Upsilon

•

Network Protector

•

Nokris, Herald of Xol

•

Norr, the Taken

•

Panoptes, Infinite Mind

•

Pashk, the Searing Will

•

Purifier Vurst

•

Scorn of the Fanatic

•

Scorn Walker

•

Skriviks, the Sharp-Eyed

•

Teleks-5

•

Telksis the Pillager, Kell's Scourge

•

Thumos, the Unbroken

•

Tikkis, Diminished Scrapper

•

Tyranos, Gatekeeper

•

Ubara, Hive Prince

•

Voice of Riven

•

Wyr, the Taken

•

Xol, Will of the Thousands

•

Phylaks, the Warrior

•

Praksis, the Technocrat

•

Eramis, Kell of Darkness

•

Kridis, Dark Priestess

•

Brutiks, Lightbane

•

Imperial Deserter

•

Valus Dralgur, the Exiled

•

Termiiks, Invasive Warrant

•

Ahamkara Illusion

•

Savathûn, the Witch Queen

Baurisk, Envoy of Savathûn

•

Belmon, Transcendent Mind

•

Bracus Zahn

•

Brakion, Genesis Mind

•

Dendron, Root Mind

•

Fikrul, the Fanatic

•

Grask, the Consumed

•

Hashladûn, Daughter of Crota

•

In Anânh, Brood Queen

•

Ignovun, Chosen of Caiatl

•

Kargen, the Technocrat

•

Navôta, Eir Spawn

•

Nokris, Herald of Xol

•

Protheon, Modular Mind

•

Savathûn's Song

•

Sedia, the Corrupted

•

Thaviks, the Depraved

•

The Mad Warden

•

Valus Thuun

•

Xol, Will of the Thousands

•

Alak-Hul, the Lightblade

•

Heimiks, Warden of the Harvest

Royal Beasts

•

Emperor Calus

•

Shuro Chi, the Corrupted

•

Kalli, the Corrupted

•

Morgeth, the Spirekeeper

•

Riven of a Thousand Voices

•

Ablazed Glory, Kell's Scourge

•

Insurrection Prime, Kell's Scourge

•

Gahlran's Deception

•

Gahlran, the Sorrow-Bearer

•

Consecrated Mind, Sol Inherent

•

Sanctified Mind, Sol Inherent

•

Crypt Security

•

Atraks-1, Fallen Exo

•

Taniks, the Abomination

•

The Caretaker

•

Rhulk, Disciple of the Witness

Araskes, the Trickster

•

Azyrax, Exalted Conjurer

•

Blood Cleaver

•

Curator Arrox

•

Cyronax

•

Defender Born

•

Defender Hahn

•

Drusk, the Crushing Fist

•

Elyksul, Assault Leader

•

Enforcer Karch

•

Herald of Savathûn, Proxy

•

Hiraks, the Mindbender

•

Investigator Prurg

•

Investigator Tosusk

•

Iraz, Eye of Savathûn

•

Jagad, the Overwhelming Surge

•

Kagathos, Empathic Mind

•

Kaniks, the Mad Bomber

•

Merix-5

•

Nalcthor, the Crystaline

•

Network Minotaur

•

Ordnance Keeper Tulg

•

Pirrha, the Rifleman

•

Prusk, the Unequaled Maul

•

Raktar, the Unrelenting

•

Relentless Grak

•

Reksis Vahn, the Hangman

•

S.A.B.E.R.-0.6

•

Security Chief Kolg

•

Skexsis, Outcast Captain

•

Spekkis, Pike Captain

•

Taksor, Scavenger Raider

•

Taskmaster Vazar

•

Teliks, Bandit Captain

•

Tekton, Constructive Mind

•

Valus Traud, Proxy

•

Vex Warden

•

Viadon, Inquisitor Mind

•

Warden Derg

•

Yaviks, the Rider

Azilis, Dusk Marauder

•

Calzar, Scarred Captain

•

Devourer Darg

•

Drekthas, Metal Captain

•

Dust-Choked Thrag

•

Fortifier Yann

•

Garut Gra'am

•

Golmuut

•

Graxus, Blind Captain

•

Inkasi, Disciple of Quria

•

Kalsis, Sunless Captain

•

Karugul

•

Keldrik, Drained Captain

•

Kurg, the All-Seeing Force

•

Mazan, Lost Captain

•

Nariks Reborn

•

Nightmare of Arguth, the Tormented

•

Nightmare of Kelnix Reborn

•

Nightmare of Reyiks, Actuator

•

Nightmare of Rizaahn, the Lost

•

Pakrion

•

Pandrok, Pillar of Nothing

•

Phyzann, Drowned Captain

•

Primus Cal'aug

•

Qeldron, Keeper

•

Rannix, Drenched Captain

•

Ruined Mind

•

Segrex, the Tainted

•

Talas, Dusk Captain

•

Thaan'Hul

•

Thyrdron

•

Ur Haraak, Disciple of Quria

•

Varghul, Fragment of Oryx

•

Vendraxis, Shadow of Oryx

•

Vilzii, Scorn Chieftain

•

Yirksii, Subversive Chieftain

•

Zerz, the Unstoppable Weight

•

Zetix-7

Abyssal Champion

•

Abyssal Sorcerer

•

Arsenal Walker

•

Barit, Imprisoned Flayer

•

Blightmaker

•

Choking Blade

•

Demented Abomination

•

Elite Mercury Defender

•

Empathic Sentinel

•

Ereshkel, Insight of Savathûn

•

Excavator Valus

•

Falysion, Frenzied Mind

•

Fanatic's Chosen

•

Ghalsis, Pilferer Captain

•

Glomus, the Severing Slash

•

Hemolymph Repair Shank

•

Infiltrator Valus

•

Integration Mind

•

Kashur, the Infinite Blaze

•

Kathok, Roar of Xol

•

Kiphoris, the Eclipsed

•

Kudazad, Binder of Savathûn

•

Lurg, the Burning Shield

•

Mercury Conqueror

•

Mercury Defender

•

Moag, the Deafening Volley

•

Naktal, Fury of Savathûn

•

Nur Abath, Crest of Xol

•

Prime Ether Servitor

•

Rudoc, Imprisoned Flayer

•

Salvaged Walker

•

Shambling Torrent

•

Soaring Keen

•

Subterranean Mind

•

Terminus Keeper

•

Thox, the Smoldering Wasp

•

Vanbaluk, Trusted of Savathûn

•

Vex Gate Lord

•

Viadion, Cleansing Mind

•

Viadion, Transformed Mind

•

War Hound

•

Watchful Harpy

•

Vrees, Imprisoned Flayer

•

Wretch Captain

•

Xegonion, Warped Mind

•

Yalsis, the Igniter

Brandaks Prime

•

Commander Truvul

•

Drensik, Venom of Oryx

•

Elatiox, Beloved of Quria

•

Hagios, Reverent Mind

•

Haraal, Venom of Oryx

•

Ir Arok, Tongue of Quria

•

Kraug, the Undeterred

•

Mithrax, the Forsaken

•

Raksil, Archon Priest

•

Serkuleks, the Fount

•

Val Bulgur

•

Val Garurc

•

Zarik, the Booming Voice