PsiOps Battlegrounds
From Destinypedia, the Destiny wiki

This article is a stub. You can help Destinypedia by expanding it.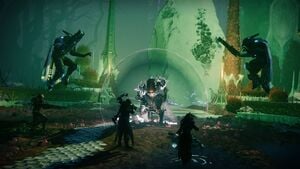 PsiOps Battlegrounds are three-player match-made battleground activities that were released with Season of the Risen, alongside The Witch Queen expansion.
Originally, in order to access PsiOps Battlegrounds, players had to complete the first mission of The Witch Queen campaign then interact with a flag in the Tower hanger.
Background
[
edit
]
Following the discovery of Hive Lightbearers during the Witch Queen campaign, Commander Zavala, Saladin Forge, The Guardian, and Crow meet up with Empress Caiatl in order to discuss battle plans. Zavala requests Imperial Cabal support in dealing with Savathûn, the Witch Queen's new weapons, to which Caiatl agrees. The joint coalition begins to work together in order to capture and research Hive Lightbearers using the powers of Psions. The Guardian is sent in order to assist with the capture of three Lightbearers.
Gameplay
[
edit
]
There are three versions of PsiOps Battlegrounds, taking place in three different locations in Sol and fighting with one of the different Lightbearer variants.
References
[
edit
]