Curse of Osiris
From Destinypedia, the Destiny wiki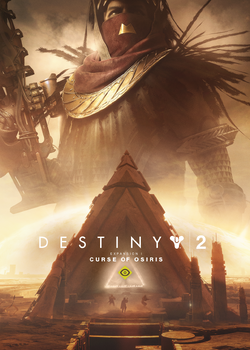 Curse of Osiris was the first DLC expansion for Destiny 2, and was released on December 5, 2017. Curse of Osiris takes place on Mercury and follows the Guardian's efforts to rescue Osiris from the Vex in order to avert a dark future.[1][2][3] The expansion's plot also focuses on the relationship between Osiris and his disciple, Ikora Rey.[1][4]
After the defeat of the Red Legion, the battered Last City starts to rebuild all they lost. However, when a terrible Vex plot threatens Mercury, the legendary warlock Osiris calls upon the Guardian to prevent the Vex from assimilating the entire universe.
Appearances
[
edit
]
This article is a stub. You can help Destinypedia by expanding it.
Features
[
edit
]
Story missions
[
edit
]
Adventures
[
edit
]
Strikes
[
edit
]
Crucible maps
[
edit
]
Locations
[
edit
]
World Quest
[
edit
]
The Story missions A Garden World and Tree of Probabilities were reused as the two new Strikes in this expansion, drawing the ire of many players.
The World Quest for Mercury had been teased prior to the expansion's release. It is obtainable after completing Verse 10 at the Lighthouse's forge.
Curse of Osiris is the first Vex-focused expansion in the Destiny series. The second being Season of the Undying.
It is also considered to be one of the most unpopular expansions in the history of Destiny due to its minimal impact on the game and the meager amount of content it added in comparison to previous expansions such as The Dark Below or The Taken King.
References
[
edit
]
Timeline
[
edit
]