April Update
From Destinypedia, the Destiny wiki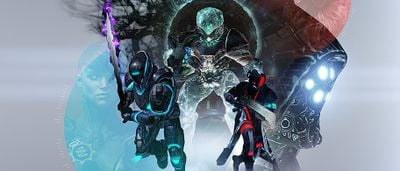 The April Update (sometimes referred to as Destiny Update 2.2.0[1] or The Taken Spring) is a free content update for Destiny: The Taken King that was released on April 12, 2016. The Update features a continuation of The Taken King's storyline, as Guardians aid Variks in tracking down Malok, Pride of Oryx, a pretender to Oryx' vacant throne as the Taken War rages on.[2][3]
Content Updates
[
edit
]
Story missions
[
edit
]
Strikes
[
edit
]
Activities
[
edit
]
Sterling Treasure - Contains Chroma and Taken-themed items. Can be acquired weekly by visiting the Postmaster after a weekly reset, completing a Level 41 Prison of Elders activity, or completing a match in the Weekly Crucible Playlist. Additional Sterling Treasures can be purchased at the Eververse Trading Company.
Legendary items

Desolate Armor - Taken-themed armor sets for Guardians, acquiring a full set unlocks the "Shiver" Emote.
Spektar Armor - Chroma-compatible armor sets
Year Two versions of Prison of Elders-themed armor and weapons
Year Two versions of fan-favorite Year One Legendary weapons
PlayStation exclusive legendary items:
Exotics

Improved Year One Weapons
Improved Year One Armor
1 New Year Two Exotic Weapon
Miscellaneous
[
edit
]
Vault space is increased even further to three pages each for weapons and armor, and two pages for general items
Rebalancing for various individual weapons, weapon types, and all three Warlock subclasses
New Chroma feature for certain sets of armor and weapons, players can select the color of an accent light (White, Blue, Yellow, or Red)
Two new kiosks added to the Vestian Outpost for the Eververse Trading Company and abandoned quests
Infusion mechanics changed: Infusion now upgrades gear to the existing Light of the consumed item directly
All Prison of Elders loot chests will no longer require Treasure Keys to open
Increased special ammo drop rate in PvE; player reserve ammo for machine guns, shotguns, and sniper rifles is reduced
Player HUDs will be removable
Vanguard and Crucible reputation gains are increased
PvP rebalancing:

The player revive radius is reduced
A 7-second extension is added to the revive timer each time a player dies, so subsequent revivals of that player take longer
Special ammo is redistributed: players have special ammo at match start again, and special ammo crates drop at three minutes after start followed by two minute intervals (does not apply to Mayhem)
Heavy ammo crates now only drop once during a match, at the five minute mark (does not apply to Mayhem)

Maximum Light level increase to 335, and activities will drop loot at new Light levels:
The April Update is lovingly called "The Taken Spring" by the Destiny fandom.
The April Update was revealed over a series of Livestreams via Bungie's Twitch account. [4]
Gallery
[
edit
]
References
[
edit
]
 

Destiny series

Year 4

Year 5

Year 6

Year 7

Year 8

Year 9

Year 10

Bold italics indicate games. Italic text indicates expansions and content updates.