Season of the Lost
From Destinypedia, the Destiny wiki
This article is a stub. You can help Destinypedia by expanding it.
Season of the Lost

Start date:

August 24th, 2021

End date:

February 21st, 2022

Mode(s):

Previous season:

Next season:

 
Season of the Lost is the fifteenth season of Destiny 2 and the final seasonal content of Beyond Light, released on August 24th, 2021 and concluded on February 21st, 2022. It is longer than Season of Arrivals at 6 months, therefore making it the longest concurrent season of Destiny. During the season, Guardians must rescue the lost Techeuns from the Ascendant Realm as Queen Mara Sov prepares to exorcise a captive Savathûn of her Worm, all while fending off the forces of Xivu Arath.
Description
[
edit
]
Story: The Return

"Mara Sov, Queen of the Awoken. It would be an understatement to say that much has transpired in her absence. Her brother, last seen lying in rest, walks among the Guardians wearing a new name; Xivu Arath's forces rally in the shadow of the Black Fleet; and Savathûn has been revealed at the heart of the Endless Night. And so, it is now, under the light of a long-awaited sun, that Mara Sov returns to her Dreaming City and seeks an audience with the Witch Queen."
Story: Savathûn, the Witch Queen

"Sister to Xivu Arath and Oryx, this family of gods have challenged humanity for centuries. It was Savathûn who defied the Black Fleet, even as it drove a wedge between her and her sister. Although her motive remains obscured, Savathûn's involvement with the Endless Night demands answers."
A Doorway Opens

"The crackling of energy echoes throughout the H.E.L.M. as a dark portal makes its presence known within the newly constructed Awoken Wing. Master the tools found here and blur the line between technology and magic."
Activities: Save the Lost Awoken

"6-Player Matchmade Activity: Astral Alignment
Breathe life into slumbering Awoken technology and triumph over those who fear the Light. Align the ley-line network and chart a path to rescue Mara Sov's lost tech witches from the Shattered Realm."

"Weekly Mission: Shattered Realm
Wayfind through the Shattered Realm in search of Mara Sov's lost tech witches. Rescue them and use the power they bestow to see this mysterious landscape with new eyes – to reach the unreachable."
Exotic Weapon Quest: Ager's Scepter

"A weapon of great power, locked away by Mara Sov for her brother Uldren. The hands that hold Ager's Scepter hold the keys to areas of the Shattered Realm previously barred. Untangle the layers of Awoken security and reach the Exotic weapon before it falls into the wrong hands."
Cross Play

"Play with and against your fellow Guardians across the solar system, regardless of platform. Cross Play is here and free for all players."
Gear: Armaments

"Shatter in Case of Emergency
Over 25 new and reprised weapons including new Legendary Stasis weapons."

"Radiant Dance Machines
Dodge one attack. Then another. Why stop there?"

"No Backup Plans
Get dressed. You're going to a Shotgun party and your fists are invited."

"Nothing Manacles
Finely tuned destruction and strength in the splintering."
Gear: Season Pass

"Gear, XP, rewards! Get the Season Pass and instantly unlock the new Exotic Linear Fusion Rifle. Also get XP boosts that speed up Seasonal ranks and reward track unlocks."

"Exotic Linear Fusion Rifle
The Lorentz Driver utilizes advanced targeting and precision telemetry to deliver perfectly-placed implosions."

"Wayfinder's Compass
Increase your Power and discover new builds by earning Seasonal mods to customize your playstyle."

"Universal Ornaments
Collect new Season of the Lost universal ornaments and stay at the forefront of Last City fashion trends."[1]
Seasonal roadmap
[
edit
]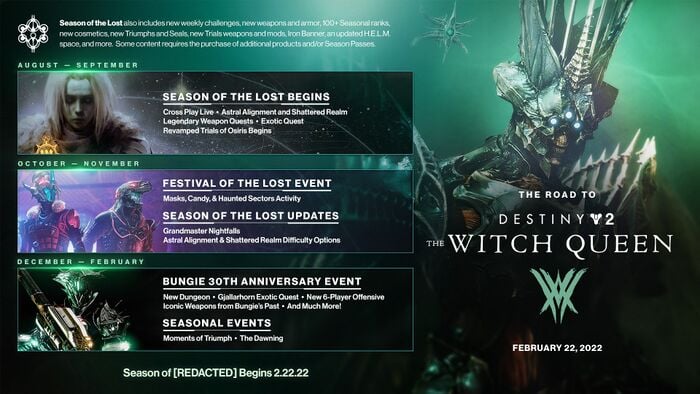 August - September:

Season of the Lost Begins: Cross Play Live, Astral Alignment and Shattered Realm, Legendary Weapon Quests, Exotic Quest, Revamped Trials of Osiris Begins

October - November:

Festival of the Lost Event: Masks, Candy, & Haunted Sectors Activity
Season of the Lost Updates: Grandmaster Nightfalls, Astral Alignment and Shattered Realm Difficulty Options

December - February:

Bungie 30th Anniversary Event: New Dungeon, Gjallarhorn Exotic Quest, New 6-Player Offensive, Iconic Weapons from Bungie's Past, And Much More
Seasonal Events: Moments of Triumph, The Dawning
Features
[
edit
]
New Story mission
[
edit
]
Shattered Realm
[
edit
]
New six-player activity: Offensive
[
edit
]
Appearances
[
edit
]
Marketing
[
edit
]
Destiny 2: Season of the Lost Trailer
Destiny 2: Season of the Lost - Ager's Scepter - Exotic Quest
Promotional images
[
edit
]
---
References
[
edit
]
 

Destiny series

Year 4

Year 5

Year 6

Year 7

Year 8

Year 9

Year 10

Bold italics indicate games. Italic text indicates expansions and content updates.