Season of the Lost
From Destinypedia, the Destiny wiki
This article is a stub. You can help Destinypedia by expanding it.
Season of the Lost
Start date:

Aug 24th, 2021

End date:

Feb 22nd, 2022

Previous season:
Next season:

TBA

 
Season of the Lost is the fifteenth season of Destiny 2, released on August 24th, 2021. It is longer than Season of Arrivals at 6 months, therefore making it the longest concurrent season of destiny.
Description
[
edit
]
The Return
Mara Sov, Queen of the Awoken. It would be an understatement to say that much has transpired in her absence. Her brother, last seen lying in rest, walks among the Guardians wearing a new name; Xivu Arath's forces rally in the shadow of the Black Fleet; and Savathûn has been revealed at the heart of the Endless Night. And so, it is now, under the light of a long-awaited sun, that Mara Sov returns to her Dreaming City and seeks an audience with the Witch Queen.
Savathûn, the Witch Queen
Sister to Xivu Arath and Oryx, this family of gods have challenged humanity for centuries. It was Savathûn who defied the Black Fleet, even as it drove a wedge between her and her sister. Although her motive remains obscured, Savathûn's involvement with the Endless Night demands answers.
Seasonal Roadmap
[
edit
]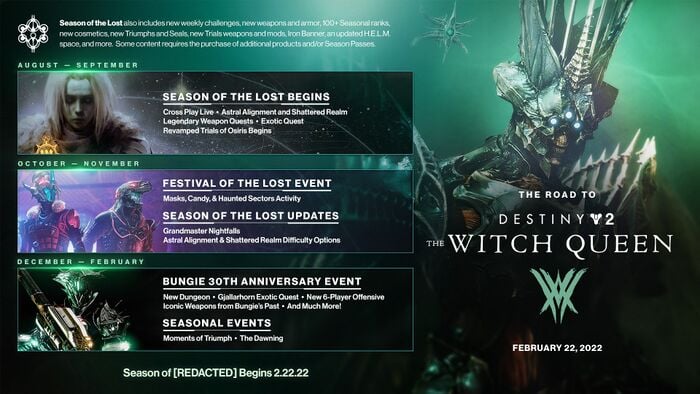 August - September:

Season of the Lost Begins: Cross Play Live, Astral Alignment and Shattered Realm, Legendary Weapon Quests, Exotic Quest, Revamped Trials of Osiris Begins

October - November:

Festival of the Lost Event: Masks, Candy, & Haunted Sectors Activity
Season of the Lost Updates: Grandmaster Nightfalls, Astral Alignment and Shattered Realm Difficulty Options

December - February:

Bungie 30th Anniversary Event: New Dungeon, Gjallarhorn Exotic Quest, New 6-Player Offensive, Iconic Weapons from Bungie's Past, And Much More
Seasonal Events: Moments of Triumph, The Dawning
Features
[
edit
]
New Story Mission
[
edit
]
Shattered Realm
[
edit
]
New Six-player Activity: Offensive
[
edit
]
Appearances
[
edit
]
Marketing
[
edit
]
Promotional Images
[
edit
]
---
References
[
edit
]
 

Destiny series

Year One

Year Two

Year Three

Year Four

Year Five

Year Six

Year Seven

Year Eight

Year Nine

Year Ten

Bold italics indicate games. Italic text indicates expansions and content updates.