Season of the Undying
From Destinypedia, the Destiny wiki
This article is a stub. You can help Destinypedia by expanding it.
Season of the Undying

Start date:

October 1st, 2019

End date:

December 10th, 2019

Mode(s):

Vex Invasion Public Events
Vex Offensive

Previous season:

Next season:

 
| | | |
| --- | --- | --- |
| " | The life in the Garden called out a question. The Vex are the answer. | " |
Season of the Undying is the eighth Season of Destiny 2 and the first (and flagship) seasonal content for Shadowkeep. It released on October 1st, 2019 and ended on December 10th, 2019. Running in tandem with events after the expansion's campaign and the raid, Ikora Rey and the Guardians must stop an invasion of Sol Divisive Vex from taking over the Moon and destroy their leader, The Undying Mind.
Description
[
edit
]
Story & Activites: End The Vex Invasion

"As Guardians delve into the Black Garden, portals open allowing timeless Vex war machines to strike back with their own counter-offensive on the Moon. They won't stop until the moon becomes another one of their strongholds. Find a way to end the invasion."
Story & Activites: Stop The Vex Offensive
"Help The Vanguard
Work with Ikora Rey to hunt down the source of the Vex invasion and put a stop to it."

"New Matchmade Activity
Fight back the Vex in an all-new 6-player matchmade activity: Vex Offensive."

"Unlock New Weapons
Choose which weapon you want to add to your arsenal and complete the associated Pursuit to claim it."
Seasonal Artifact: The Gate Lord's Eye

"Upgrade The Gate Lord's Eye to increase your Power and unlock seasonal gameplay mods."
Exotics & Gears: Season Pass Rewards

"Instantly unlock the Eriana-3's Vow Exotic Hand Cannon + Exclusive Seasonal Armor Sets when you get the Season Pass."[1]
Seasonal roadmap
[
edit
]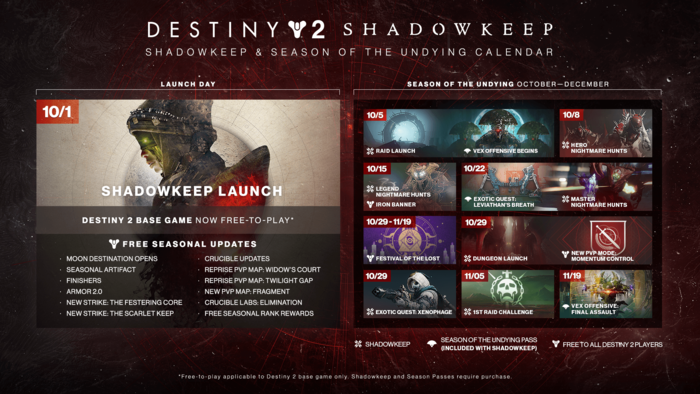 October 1 – Shadowkeep Launch: Moon Destination opens, Seasonal Artifact, Finishers, Armor 2.0, The Festering Core and The Scarlet Keep Strikes, New Fragment and Reprised Widow's Court and Twilight Gap maps, Crucible updates, Crucible Labs: Elimination, Free Seasonal Rank Rewards; Destiny 2 base game now Free-to-Play, Cross Save Live
October 5 – Season of the Undying Begins: Garden of Salvation raid launches, Vex Offensive begins
October 8 – Hero Nightmare Hunts
October 15 – Legend Nightmare Hunts, Iron Banner
October 22 – Exotic Quest: Leviathan's Breath, Master Nightmare Hunts
Octorber 29 – Festival of the Lost, Pit of Heresy dungeon launch, Exotic Quest: Xenophage, Altars of Sorrow Public Event, New PVP Mode: Momentum Control
November 5 – First Garden of Salvation raid challenge
November 19– Festival of the Lost ends, Vex Offensive: Final Assault begins
Weapons
[
edit
]
Sparrows
[
edit
]
Ghost Shells
[
edit
]
Marketing
[
edit
]
Destiny 2: Shadowkeep - Season of the Undying Trailer
Promotional images
[
edit
]
Season of the Undying was the first Season with a rewards track.

It was also the second Vex-focused expansion. The first being Curse of Osiris.
References
[
edit
]