Season of the Worthy
From Destinypedia, the Destiny wiki
Season of the Worthy is the tenth season of Destiny 2 and the third seasonal content of Shadowkeep, starting from March 10th, 2020 and ending June 9th, 2020. The season focuses on the Guardians working with Commander Zavala and Ana Bray to rearm the Warmind Rasputin and prevent the derelict Almighty from crashing into the Last City. It also features the return of the Trials of Osiris activity, featuring Saint-14 as its vendor.[1]
Description
[
edit
]
Story & Activites: Save The Last City

"With the Sundial freed from the clutches of the Red Legion, one escaped Psion Flayer enacts a desperate ploy for revenge against the Last City. Guardians of the Light must set aside old differences to band together with unlikely allies and save the City from total destruction."
Story & Activites: Power Up Rasputin

"Time Is Running Out
Race against time to save the Last City from destruction."

"Seraph Towers
Join your fellow Guardians and prepare Rasputin's defenses in shared public events."

"Bounties & Bunkers
Rise to Rasputin's Challenge and clear bunkers throughout the system to reestablish communication with the Warmind."
PVP - Trials of Osiris

"The Cult of Osiris seeks Guardians with flawless execution and incomparable teamwork. Is the challenge of a perfect victory too daunting or does your fireteam have the edge to reign? Exclusive rewards await those who never lose."
"Here to Stay
The pinnacle of PvP is back and it's here to stay. Fight for victory every weekend in this Power-enabled 3v3 Crucible playlist."

"Free to Play
All Guardians at Power level 960 or greater can compete."

"Perfection Rewarded
Get multiple wins in a row to earn Pinnacle gear. Win seven in a row to earn additional rewards and special access to The Lighthouse."
Exotic Weapon: Tommy's Matchbook

"Tommy the Ghost presents us with a token of goodwill. Sure, it might just be a match, but all a Guardian needs to light up the darkness is a spark."
Seasonal Artifact: Warmind Khanjali

"Increase your Power and unlock powerful Seasonal mods each time you upgrade this sacred blade. Only you decide how much Power is enough."
Gear & Rewards: Season Pass

"Gear, XP, rewards! Get the Season Pass and instantly unlock the new Seventh Seraph armor sets and the new Exotic Auto Rifle, Tommy's Matchbook. You also get an XP boost that speeds up your Seasonal ranks and Exotic engram unlocks."[2]
Seasonal roadmap
[
edit
]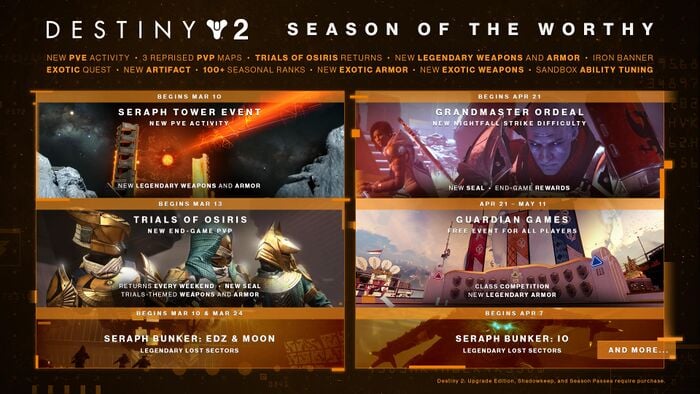 March 10 – Season of the Worthy Begins: Seraph Tower Public Event, New Legendary Weapons & Armor, Seraph Bunker: EDZ, Legendary EDZ Lost Sectors, Reprised Exodus Blue, The Cauldron and The Anomaly maps, Seasonal Artifact: Warmind Khanjali, New Exotic Armor, New Seal, Sandbox Ability Tuning
March 13 – Trials of Osiris launch, New Seal, New Trials-Themed Weapons & Armor
March 17 – Exotic Quest: The Fourth Horseman
March 24 – Seraph Bunker: Moon, Legendary Moon Lost Sectors, Iron Banner
April 7 – Seraph Bunker: Io, Legendary Io Lost Sectors
April 14 – Iron Banner
April 21 – Guardian Games, Grandmaster-difficulty Nightfalls, New Seal, New PVE Endgame Rewards
May 12 – Guardian Games ends, Community Event: The Lie, Iron Banner
June 6 – Season Finale
Weapons
[
edit
]
Appearances
[
edit
]
Marketing
[
edit
]
Destiny 2: Season of the Worthy - Gameplay Trailer
Destiny 2: Season of the Worthy – Gameplay Preview
Season of the Worthy is the third Cabal-focused expansion in the Destiny series.

The Red Legion also returns a second time as the main enemy faction.
This marks the second time the Psions as the main antagonist.
References
[
edit
]
 

Destiny series

Year 4

Year 5

Year 6

Year 7

Year 8

Year 9

Year 10

Bold italics indicate games. Italic text indicates expansions and content updates.