Season of the Splicer
From Destinypedia, the Destiny wiki
Season of the Splicer
Start date:

May 11th, 2021

End date:

Aug 24th, 2021

Previous season:
Next season:
 
"Deep within the Vex Network lies the power to extinguish Humanity once and for all."
Season of the Splicer is the fourteenth season of Destiny 2, released on May 11th, 2021.
Description
The Vex have plunged the Last City into an endless night, threatening the safety once found beneath the watchful presence of the Traveler. It is here, bathed in perpetual moonlight, that Ikora reveals the identity of an unlikely ally that may hold the keys to triumphing over this attack.
Mithrax, Kell of the House of Light, leads a small group of Eliksni who wish to be closer to the Traveler. As a Sacred Splicer, he possesses the knowledge needed to combat the Vex technology that ensnares the Last City. There is a bond of Light shared here… will it be enough?
Stored away, deep in the Vault of Glass on Venus is Atheon, Time's Conflux. No one knows what this Vex is. Guardians must access the Vault, navigate the fractures in space and time, and terminate Atheon before it can become an unstoppable threat.
Seasonal Roadmap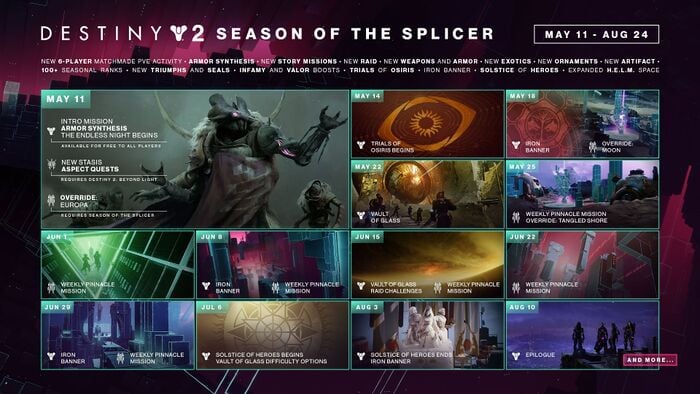 May 11 – Intro missions, Armor Synthesis, The Endless Night Begins
May 11 – New Stasis Aspects quests (Beyond Light required)
May 11 – Override: Europa (Season Pass required)
May 14 – Trials of Osiris begins
May 18 – Iron Banner, Override: Moon
May 22 – Vault of Glass
May 25 – Weekly Pinnacle Mission, Override: Tangled Shore
Jun 1 – Weekly Pinnacle Mission
Jun 8 – Iron Banner, Weekly Pinnacle Mission
Jun 15 – Vault of Glass Raid Challenges, Weekly Pinnacle Mission
Jun 22 – Weekly Pinnacle Mission
Jun 29 – Weekly Pinnacle Mission, Iron Banner
Jul 6 – Solstice of Heroes, Vault of Glass Difficulty Options
Aug 3 – Solstice of Heroes ends, Iron Banner
Aug 10 – Epilogue
Features
New Story Mission
New Pinnacle Mission
New Six-player Activity: Override
Raid
Appearances
Marketing
Promotional Images
The Fallen
The Vex
Seasonal Activities
Weapons and Armour
Black Armory
---
References
 

Destiny series

Year One

Year Two

Year Three

Year Four

Year Five

Year Six

Year Seven

Year Eight

Year Nine

Year Ten

Bold italics indicate games. Italic text indicates expansions and content updates.