H.E.L.M.
From Destinypedia, the Destiny wiki
This article is a stub. You can help Destinypedia by expanding it.
The H.E.L.M. or Hub for Emergency Logistics and Maneuvers is a Vanguard operations outpost set up on a large ship, originally docked within a hangar of The Last City.
It is staffed by Vanguard Frames and opened shortly after the Arrival of the Black Fleet. It first came into operation to deal with the arrival of Empress Caiatl's fleet in the Sol System.
Features
[
edit
]
War Table
[
edit
]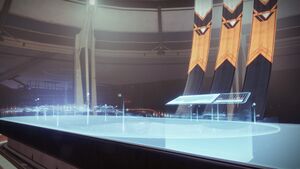 The centerpiece of the H.E.L.M., the war table offers real-time tactical information on the current conflict the Vanguard is monitoring. A terminal on the table can be used to read messages and receive incoming transmissions from Vanguard agents for briefings and reports from the field. Members of Vanguard task forces frequently meet at the war table to discuss ongoing operations.[1]
Umbral Decoder
[
edit
]
Confiscated from Drifter by the Cryptarchy, the Umbral Decoder and Prismatic Recaster have been refined and studied by the Cryptarchs in their ongoing effort to further understand Umbral Engrams which began to appear after the Black Fleet arrived.[2]
Other Features
[
edit
]
The H.E.L.M. has a post box for items lost in the field for recovery, along with a terminal for accessing a Guardian's Vault. Additionally, a terminal containing intercepted messages and Vanguard reports is near the post box.
Eliksni Wing
[
edit
]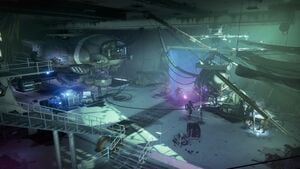 Main article: Eliksni Wing
"Guardian, I greet you in the Light. It is I, Misraaks... or "Mithrax," as your people say. I speak to you through a Servitor..."
— Mithrax, Kell of Light
The Eliksni Wing was the main operational hub for the House of Light located within the H.E.L.M. It prominently housed the Splicer Servitor which was modified to supply Ether to their encampment.
Awoken Wing
[
edit
]
Main article: Awoken Wing
The Awoken Wing was the main operational hub for the Reefborn Awoken within the H.E.L.M. It prominently housed the Wayfinder's Compass, a portal to Mara Sov's chambers and was guarded by a number of Corsairs.
Psisorium
[
edit
]
This wing of the HELM was a former containment unit for all Hive lieutenants of the Lucent Brood, shut down after the success of Operation Elbrus in stopping the capturing of the Moon by the Lucent Hive.
Crown of Sorrow Quarantine Wing
[
edit
]
This wing houses the Crown of Sorrow and is outfitted with heavy quarantine equipment and a decontamination unit at the entrance with two Imperial Guard Legionaries right outside. Egregore can be seen around this wing inside the quarantined area, plus a Hive Tombship. The Tombship serves as a containment unit for the Crown of Sorrow, in the event it needs to be transported, or ejected from the H.E.L.M should it grow too strong to contain.
As the Guardians make progress in severing Calus's connections to the Lunar Pyramid, the egregore begins to spread outside of the quarantined area the crown is placed in. By the time of the final severance ritual, the dark flora had spread to the Quarantine Wing's entrance.
Radio messages
[
edit
]
Season of the Chosen
Caiatl's Address
Amanda's Cosmodrome Report
Caiatl's Message to Zavala
Saladin's Message to Zavala
Qalec's Execution
Season of the Splicer
Crow's message to Zavala
"Can't say I'm enjoying lying low, Commander. Reminds me of the old days. But hey, I'm nothing if not good at following orders. If it was my choice, I'd be there helping you get the Eliksni settled in the City. Might be hard to believe, but they're more like us than you think. Just… give them a chance. Like you did for me. "Velask." That's how they say hello. Just so you know."
Lakshmi's first broadcast
"The Last City has always been a place of refuge. For centuries, the vulnerable have found shelter and security under the watchful eye of the Traveler. Now, it seems that includes Fallen. Once they sieged our walls, and now, Ikora Rey throws open the gates. A charitable act from a compassionate leader. But is it the right thing to do? Can we really spare the energy and resources to shelter our enemies while we are under Vex attack? Can we afford to extend a peaceful hand to those who might bite it? As leader of the Future War Cult, I have foreseen violence and strife within our walls. This is not the first time. I warned you all of Ghaul before the Red Legion took our City during the Red War. I am warning you again now. Are these newcomers the cause of our visions? That, we do not yet know. What we do know is that the Vanguard owes the people an honest and transparent explanation."
Ikora's address
"People of the Last City: Commander Zavala and I have been touched by the generosity and kindness you've shown toward our new Eliksni neighbors. We also understand the reluctance some have shown toward their resettlement. To those who mistrust our arrangement, let me remind you that this very city was founded by refugees. We sought shelter not only from alien aggressors, but from other Humans. The bandits and warlords that profited from our suffering. So it is with the Eliksni. For the first time in our shared history, we need the Eliksni, and they need us. Together with Mithrax and his Sacred Splicers, we can end the Endless Night. But only if we stand united for the betterment of all."
Lakshmi's second broadcast
"People of the Last City: we are governed by a consensus. A democracy where the people have a say over what happens in their city. Or so we thought. But did you agree to shelter a mob of dangerous Fallen? The same Fallen that spent a century stealing from us, besieging our city, and destroying our families? Did you agree to suddenly forgive and forget? No. Ikora Rey decided, without the people's consent, to allow House Light inside our walls. These are not the actions of a democratic leader. She claims that this "Mithrax" can end the Vex curse. Then why has he not done so? Perhaps because he has no such power. Or perhaps because he's simply biding his time… I have gazed into the future using Vex technology and have seen only strife and conflict with the Fallen. Unless we change course immediately, bloodshed is inevitable."
Lakshmi's third broadcast
"People of the Last City: The Vanguard protects us from enemies outside our walls. But did you know they also protect us from information? Did you know that the Fallen unleashed the Vex on Europa? That they corrupt our Guardians with the poisoned gift of Stasis, tempting them to wield the Darkness? These same Fallen are now inside our city, at the invitation of the Vanguard. Ikora Rey knows all this and more. Her Hidden spies report as much. Yet she continues to support these false alliances over her own people! Whether her lies are born of malice or incompetence matters not. What matters is that I have gazed into the future and foreseen bodies in our streets. Make no mistake: an invasion is coming. And if we are to triumph, we must first take back our city."
Mithrax and Ikora's first address
Mithrax:
"Eliksni of the House Light, hear Misraaks now. I know many of you feared this place. You have seen death at the hands of the Guardians. It was right to expect death in their house. But I said, and say again, that if we help them, they will help us. And here we are, alive. It is true that some of us have attacked our new home. It is true that some try to share their hate with us. It is always so. But if Eliksni feel Darkness inside, only look up to see the Great Machine, and know that House of Light is blessed."
Ikora:
"We're all blessed to have such friends in dark times. Humanity will not allow these hateful and ignorant acts to define us. We will prove it by bringing those responsible to justice."
Mithrax:
"Walk the path of hardship with joy in your hearts. Be brave."
Lakshmi's forth broadcast
Lakshmi:
"People of the Last City: I come to you with an emergency announcement. One that the Vanguard leadership wishes to keep from you. Future War Cult has learned, from Guardians sources, that the Endless Night is the work of the Hive God of Deceit... This is a grave development, but we cannot give into despair. Instead, let it propel us into action! We must demand accountability from Vanguard leadership! We cannot allow Zavala and Ikora Rey to sell our city to the Fallen while-[Static]"
Ikora:
"Enough! This is Ikora Rey. I will NOT stand by while this hateful rhetoric goes unchallenged. I understand it's hard to put the violence of the past behind us, but the Vanguard's responsibility is to preserve a just peace. Not for some, but for all. Lakshmi would have you live in fear. Fear of the Eliksni. Fear of the future. I propose something much stronger: faith. Faith that bravery is not just a Human quality. Faith that we are stronger together. With that, the Vanguard and our Eliksni allies will break the Vex hold on our city. And we'll do it united, as one, for the good of all."
Lakshmi's fifth broadcast
"People of the Last City: the last time I spoke to you, I was silenced. Clearly, Ikora fears the ugly truth: the Vanguard have betrayed you. You need not take my word for it. Simply look at their actions. The Vanguard have turned their backs on the Light, and now openly wield the Darkness. They force you to shelter a horde of Eliksni, led by a fugitive with ties to the Vex. And finally, they tried to cover up Savathûn's involvement in it all! Ikora Rey claimed that the Fallen could stop the Endless Night. But on the contrary, they have only made things worse. It's even possible that the Witch Queen walks among them! Unfortunately, the current Vanguard will stop at nothing to protect their place in their ivory tower. They don't understand the people of the Last City. And their actions prove it. Future War Cult and New Monarchy say: enough! We intend to return this city to its people. If the Vanguard won't protect you, then we will."
Mithrax and Ikora's second address
Mithrax:
"Eliksni of House Light. After the fall of Riis, we have had many homes, and in every new home, culture evolves. We hang new banners. We follow new Kells. We weave new traditions. And here, under the Great Machine, is a new custom called "Solstice of Heroes.""
Ikora:
"The Solstice is a reminder that our victories belong not only to us, but to those who gave their lives along the way. Asher, Sloane... Cayde. Sagira... even Brother Vance, and for the first time, we will share Solstice traditions with our Eliksni allies who risked their lives to free us from the Endless Night."
Mithrax:
"Misraaks likes this tradition. Eliksni, too, have many heroes. Without them, House of Light would die on Europa far from the Great Machine. Now is the time for all to join in the Solstice so past heroes can bring peace to the living."
Ikora:
"May our heroes unite us and lead us toward a brighter future. Together."
Lakshmi's final broadcast
"People of the Last City: we have endured many great tragedies thanks to our strength and a steadfast commitment to humanity. The Traveller chose us. It abandoned the Fallen because they are unfit, unworthy of the Light. They would take it from us if they could. The Vanguard has lost their way. They embrace the Darkness. Welcome Eramis's followers into our midst with open arms. Force us to celebrate our lost heroes alongside those who murdered them. Yes, the Endless Night is over. But now, Mithrax and his House will use this opportunity to do what the Fallen have always done. Covet. Cheat. Steal. Kill. I have seen the future with my own eyes, and it has not changed. Doom still builds on the horizon like a terrible storm. Right now, loyalists to the Future War Cult and New Monarchy have rounded up the Fallen in our city. With the aid of Osiris, I have learned how to safely command the power of the Vex. I will use it to do what the Vanguard will not. I will tear open a rift: banish the Fallen to the depths of space from where they came. We alone will save humanity. I have seen the darkest of futures, and with this act, I will - No. NO! [agonized scream]"
Mithrax and Ikora's third address
Ikora Rey:
"People of the Last City: I have some troubling news to share. As some of you know, a portal was opened in the Eliksni Quarter of the City allowing Vex to breach our walls for the first time. Thankfully Guardians, working together with Eliksni Splicers, were able to repel the assault. We've since discovered that Lakshmi-2, former leader of the Future War Cult, was responsible for the security breach. Regrettably, Lakshmi was killed by Vex during the assault. It seems that the other faction leaders were culpable, if not responsible. Executor Hideo and Arach Jalaal have fled taking the remainder of their factions with them. In their absence, we are now one people: stronger, thanks to our alliance with House Light."
Mithrax:
"House of Light is forever in your debt. You stood by us when we had no one. Now, we stand by the people of the Last City in the grace of the Traveler, come what may. The Light provides."
Ikora Rey:
"The Light provides."
Season of the Lost
Ikora and Mara's first discussion
Ikora Rey:
"And you're certain she's contained?"
Queen Mara Sov:
"Certainty is a necessity. It is your doubts we should fear with Savathûn among us."
Ikora Rey:
"Be straight with me."
Queen Mara Sov:
"Remember who you are speaking to. I hold all the keys to all your futures. I would not let them dangle carelessly without attention."
Ikora Rey:
"Savathûn's never been a one-track type of opponent. She's playing you."
Queen Mara Sov:
"We are not the same, Ikora. This is a plan long set in motion. She is contained, and soon to be dead."
Ikora Rey:
"Was Osiris's capture part of your plan, then? Sagira's death?"
Queen Mara Sov:
"Navigating the future is not always clear."
Ikora Rey:
"If you're willing to sacrifice my people for your plans... how can I be sure you'll wait to see Osiris returned before slitting the Witch Queen's throat?"
Queen Mara Sov:
"I mourn for Sagira. I have every intention to see Osiris returned safely. It's more than you did for me. If my assurances mean nothing to you, let me offer a warning instead: you are following your doubts into Savathûn's trap."
Ikora Rey:
"Your arrogance might kill another one of my friends... if he isn't dead already."
Queen Mara Sov:
"Had I more wishes, things would not be as they are."
Ikora Rey:
"Had you more wishes, they'd be much worse."
Ikora and Saint-14's discussion
Saint-14:
"Osiris. I will not abandon you. As I speak, Guardians of the City patrol across the system searching for you. I am searching for you. No amount of Hive spawn or Savathûn's trickery will stand between us. You will see freedom. You will return. It is not your way to die. Wait for me, as I did for you. You have never practiced patience, but hold on a few moments more."
Ikora Rey:
"Saint."
Saint-14:
"Have the Hidden found him?"
Ikora Rey:
"Saint. You don't have to broadcast these live."
Saint-14:
"I see. This is true."
Ikora Rey:
"Geppetto can establish a repeating signal. It will forward any response directly to you. Besides, I could use you in the field."
Saint-14:
"Yes. I am, if nothing else, useful."
Ikora Rey:
"More than that. You are needed."
Saint-14:
"I knew it was not him, but I would not listen to my heart."
Ikora Rey:
"Compassion can be abused. Optimism has its pitfalls. Flaws don't make them worthless. Even lies can be learned from."
Saint-14:
"Do not worry. I think I will not be using compassion next time Savathûn stands before me."
Ikora Rey:
"No, I think we will have a whole different set of emotions to deal with that moment. Osiris is out there. We will find him."
Ikora's address
"People of the Last City. Recently, the Vanguard has been scrutinized for a lack of transparency, and we've paid for it. I hope this broadcast represents our efforts to the contrary. Many of you came to me having witnessed the Vex attack. Many of you claim to have seen... Osiris was present there. We now know this was a deception; an illusion spread by our enemies to turn us against each other. It worked, for a time. And we mourn those lost to the senseless violence unleashed in our streets. But we have overcome that fear, and we now stand united: Humanity, Eliksni and the Awoken of the Reef. Our allegiance is what the Witch Queen fears. It is what she meant to stop by sewing discord. It is what will lead us to victory. Know that this battle is not one we are bringing to your doorstep, but it is one we fight to keep the City out of the line of fire. The Vanguard asks for your patience, and understanding... if you can offer those, we will offer what insights we can offer to your questions. You are always welcome in the Tower, but I will be in the streets."
Ikora and Mara's second discussion
Queen Mara Sov:
"How long have your Hidden been privy to Uldren's resurrection?"
Ikora Rey:
"Long enough to watch over him in your absence."
Queen Mara Sov:
"And you didn't direct him home. Why?"
Ikora Rey:
"There was a concern he'd pick up some old habits."
Queen Mara Sov:
Ikora Rey:
"It's true I made mistakes, out of an idea of justice... out of grief. Are you leveling this same scrutiny toward Petra? Wasn't she supposed to be watching his grave?"
Queen Mara Sov:
"Petra has paid her dues. The Vanguard murdered him and has yet to pay theirs."
Ikora Rey:
"We both lost family. I am sorry for my part in yours, but... Crow has been treated —"
Queen Mara Sov:
"My brother is dead. He was exhumed; his body twisted into caricature. You had your vengeance."
Ikora Rey:
"Is that what you're after? Cayde... I still feel that grief like a stone caught in my chest. Some days, it's more pronounced than others. Vengeance didn't erode that grief."
Queen Mara Sov:
"Then tell me. Who am I to blame? Who sent him into Savathûn's clutches? Who bludgeoned Uldren into a scared animal and drove him from his home?"
Ikora Rey:
"You did, Mara. And those Guardians who hurt him did so out of misguided anger. Don't make their same mistake. Don't make my mistake."
Ikora and Petra's first discussion
Ikora Rey:
"Petra, it's Ikora Rey. I thought now would be a good time to check in."
Petra Venj:
"Things are progressing as well as can be expected, given the circumstances. While we've recovered some of the lost Techeuns, we still don't have everyone we need to separate Savathûn from her worm."
Ikora Rey:
"Understood. Don't rush this on my account. Savathûn may be waiting for the freedom she thinks is coming. But frankly, I don't care what she wants. This needs to be done with as minimal risk to your people as possible."
Petra Venj:
"I know you hope that this will lead you to Osiris... But you want my opinion? Osiris is already dead. Savathûn is a creature of lies. She has no honor."
Ikora Rey:
"Your opinion is noted. And on the subject of opinions... how's Crow?"
Petra Venj:
"You want my take? On him? In a word: vulnerable. But Queen Mara refuses to send him away. Though... you could."
Ikora Rey:
"Trust is a delicate thing, Petra. I don't want to lose his. This is important to him. I trust Crow to make the right choices... and for you to protect him from himself if he doesn't."
Ikora and Crow's discussion
Crow:
"Ikora. I need to get out of here."
Ikora Rey:
"What happened?"
Crow:
"I don't want to talk about it. I want out, now. Either you reassign me, or I'm done."
Ikora Rey:
"Done?"
Crow:
"With you, with the Vanguard, with everything."
Ikora Rey:
"Crow, you have my full support. If you want to be reassigned, I can do that. But maybe you need to take some time first..."
Crow:
"If I stop moving I... I'm afraid I'm going to fall apart at the seams. I need to keep moving, but I — I can't do that here. I need to be as far away from her as possible."
Ikora Rey:
"Would you mind working with someone you know?"
Crow:
"Who?"
Ikora Rey:
"I need an operative to act as an intermediary with Empress Caiatl. It's an important responsibility. Maybe we could discuss it in person?"
Crow:
"I'll be at the Tower soon."
Glint and Petra's discussion
Glint:
"Um... Petra? Ms. Venj? Can you hear me?"
Petra Venj:
"What do you need?"
Glint:
"Well — I just... do you know? I mean, what she — what Savathûn showed Crow? He won't tell me."
Petra Venj:
"The truth, I imagine. Or perhaps some shade of it. My queen is furious."
Glint:
"Oh. I — I'm sorry. For a lot of things, but mostly for Crow... being Crow."
Petra Venj:
"It's not your fault."
Glint:
"I could have told him."
Petra Venj:
"So could I."
Glint:
"It's not the same."
Petra Venj:
"No... I suppose it isn't."
Glint:
"How long did it take Mara to forgive you? For uh, what happened to, um..."
Petra Venj:
"To Uldren? Be patient, Little Light. He'll come around."
Glint:
"How do you know?"
Petra Venj:
"Because Uldren was always a fool for love. And your Crow loves you."
Ikora and Petra's second discussion
Ikora Rey:
"What happened?"
Petra Venj:
"Savathûn happened. The Techeuns believe she enacted a contingency spell the moment the crystal shattered. She transposed herself with another subject marked with a matching Hive rune. Osiris."
Ikora Rey:
"Is he alive?"
Petra Venj:
"He is. Very weak, but alive. The Techeuns have confirmed his identity. It's Osiris. No tricks."
Ikora Rey:
"Do you have any idea where Savathûn is now?"
Petra Venj:
"We... do not. She could be anywhere. If it's any consolation, we do have one thing."
Ikora Rey:
"What's that?"
Petra Venj:
"We have Osiris. In a way... Savathûn kept her word. To the letter."
Ikora Rey:
"I'll be sure to send her my thanks."
Season of the Risen
Zavala and Saladin's first discussion
Zavala:
"For now, we have to trust that we share a common enemy with the empress."
Lord Saladin:
"Every instinct I have is telling me to strike. Centuries of conditioning. But... instincts can lie."
Zavala:
"If I had told you just a handful of years ago that we'd have a Guardian who was once Uldren Sov here in the Tower... A Ketch docked in the City, and the beginnings of an alliance with the Cabal?"
Lord Saladin:
"I'd have locked you up."
Zavala:
"You and Ikora both."
Lord Saladin:
"On that note: Crow. He's undisciplined. No respect for the chain of command. And now with Uldren's memories, do you honestly think that behaviour will improve?"
Zavala:
"You're not wrong. But he's stepped up, time and again, when lives are on the line. Including mine."
Lord Saladin:
"We can't afford mistakes now. Won't survive them."
Zavala:
"I know. I also know you're willing to take chances on someone who's a risk."
Lord Saladin:
"He's dangerously overconfident."
Zavala:
"So was I."
Lord Saladin:
"You were different. Times were different."
Zavala:
"They were. But I changed, thanks to you. And together, we changed the times. What was that saying of yours? Every blade needs a whetstone?"
Lord Saladin:
"Zavala."
Zavala:
"Crow needs guidance, and I can't think of a better guide. Give him the same chance you gave me, Saladin, once upon a time."
Zavala and Saladin's second discussion
Zavala:
"Did you assure him that they aren't... suffering?"
Lord Saladin:
"It was a stupid question."
Zavala:
"Saladin."
Lord Saladin:
"There's no answer I could have given that would satisfy him. It doesn't matter whether or not they suffer, if they're alive or dead, or something in between. He sees himself in them. Like he sees himself in Uldren."
Zavala:
"How do you know this?"
Lord Saladin:
"I asked Caiatl's Psion. Crow radiates pain, he said. He's the one suffering, and in a way his Ghost can't heal. I know what self-loathing feels like."
Zavala:
"And I know grief."
Lord Saladin:
"This isn't anything like... [sighs] You're stronger than he is."
Zavala:
"And who helped me find that strength, when I was at my lowest?"
Lord Saladin:
"[grunts]"
Zavala:
"Crow is grieving. For himself, for the innocence he's lost. For the price of the truth."
Lord Saladin:
"He's going to hurt himself — or worse, hurt someone else."
Zavala:
"You've always been more than a soldier, Saladin. You're a protector. So protect."
Caiatl and Zavala's discussion
Zavala:
"I didn't expect your people to deploy a cannon quite that large. I don't think the Hive did either."
Caiatl:
"A cannon is unexceptional, no matter the size. But a Guardian with the tusks to climb into one and fire themselves at a Hive command ship?"
Zavala:
"When death is no longer an obstacle, it becomes... a remarkable teacher."
Caiatl:
"Lessons learned in your Crucible."
Zavala:
"And the Iron Banner. Lord Saladin is very proud."
Caiatl:
"He may not appreciate the comparison, but he thinks like a Primus."
Zavala:
"Empress. I know this is a sensitive topic... but how long do you believe your forces can commit to a sustained war against our enemies?"
Caiatl:
"Until the last of us draws their final breath."
Zavala:
"We have a loose assessment of your numbers. Estimates on your fleet in orbit. If this is to become a permanent alliance..."
Caiatl:
"Our war with the Hive is not a matter of strategy or force, Commander — but one of honor. Billions died on Torobatl. Countless more on other worlds of the empire that collapsed to in-fighting or further invasion by Xivu Arath. Outside our rituals, the death of even one Cabal demands reprisal; a life for a life. The Hive have accrued a great debt."
Zavala:
"And who will raise a monument to your people's honor when the last Cabal dies... waging a war of vengeance?"
Caiatl:
"You."
Crow and Saladin's discussion
The Crow:
"It should've been me... I could have died for something I believed in."
Lord Saladin:
"You lack the self-awareness to know what you believe in."
The Crow:
"Wha — I..."
Lord Saladin:
"Your mind is a storm of guilt, both your own and someone else's. We put a gun in your hand and told you who we wanted you to be. And now you're struggling to reconcile a lifetime of Uldren Sov's experience with only a few years of your own. We all die a final death. Yours was not meant to be today."
The Crow:
"I was wrong about you. Saladin, I'm so sorry."
Lord Saladin:
"I respect you for sticking to your convictions, but let this be another lesson. Doing what you believe is right — as you have, as I have — doesn't absolve you from the consequences of those actions. Someone must always pay the price."
Caiatl's message
"Greetings Guardian. I come bearing enlightening news. Bracus Forge has earned himself quite a reputation among the Cabal. Within his first three days aboard my ship, he was challenged to six Rites of Proving. He prevailed in them all. One of those challenges came from an officer on my War Council. Bracus Forge defeated him with a single thunderous blow. As is our custom, he was promoted to "Valus" for his courage. He has also started a version of the Iron Banner aboard my flagship, at my request. There are many volunteers for his training. He calls his Legionaries "Iron War Beasts." We have much to learn from one another, and Valus Forge is an excellent ambassador. I dare say he even likes it here. And if a human can ascend to the rank of Valus in such a short time... imagine what the future holds. May we all live long enough to find out."
Season of the Haunted
Amanda and Crow's fight
Amanda Holliday:
"We need to talk."
The Crow:
"This isn't — this is not a good time."
Amanda Holliday:
"It's NEVER a good time. I've been trying to talk to you for weeks, and you keep dodging me!"
The Crow:
"I can't... It's not — Amanda..."
Amanda Holliday:
"How long did you know? How long have you known who you were?"
The Crow:
"[chokes up]"
Amanda Holliday:
"We're done. We're — done here. I do not have time for this. For you. For anything."
The Crow:
"Wait! I was scared. I am scared. People used to kill me. Kill me for — for something I didn't — You don't understand!"
Amanda Holliday:
"I cared about you, and you lied to me. You wore that mask, you kept secrets from me, pretended to be my friend."
The Crow:
"Amanda, I am your friend."
Amanda Holliday:
"No. You're not. I had a friend, and you murdered him."
Caiatl's report
"Per our arrangement, I am delivering a status report on the Imperial survey of the Leviathan. Our scouts confirm your reports of psychic anomalies emanating from the red phantoms seen throughout the ship. Psion Opti theorize that these phantoms are manifestations forged from a psychic "background radiation" permeating the Leviathan. Navigational equipment shows that the Leviathan entered a gravitational anomaly and... It was once within and outside of the known universe for an indeterminate period of time. When it emerged from this state, most of its crew were missing, and an infestation of unknown fungal matter had infiltrated all decks of the ships. Command structure appears to have broken down. Loyalists who emerged from the anomaly disembarked from the Leviathan. We are attempting to determine their location. Those currently aboard are newly grown, combat-ready clones that have no higher brain function. They operate as an extension of my father's will. At Valus Forge's suggestion, I have submitted a suggestion for Crow to participate in a joint investigation to supplement our own. It is my hope that together, we can tear into the beating heart of the Leviathan, and drag my father screaming into the light of your sun. Until such a time, we are Cabal. We eat the mountains; we drink the seas."
Amanda and Zavala's discussion
Amanda Holliday:
"Hey, Commander. How're you holding up?"
Zavala:
"I've been better. Sounds like you have to."
Amanda Holliday:
"Yeah. Pretty torn up inside. Any little thing sets me off. Might've said some... hurtful stuff to somebody who didn't deserve it."
Zavala:
"We've all been at our worst. When we're hurt, when we're afraid. We all fall apart."
Amanda Holliday:
"Feels like I'm held together by duct tape and spit lately."
Zavala:
"The last few weeks have opened up some old, old wounds. Reminded me of important people I've lost. My wife. My son."
Amanda Holliday:
"Yeah... yeah... I know that kind of hurt. Other way around, though. I still think about my folks, but I... I can't really remember their voices anymore."
Zavala:
"I can't remember Hakim's voice either. I try. I try so hard."
Amanda Holliday:
"You wanna tell me about him? Your wife?"
Zavala: Someday.
"Not today, not yet."
Amanda Holliday:
"Want some company down in your office anyway? We don't have to talk. Maybe we just... sit?"
Zavala:
"I'd like that. Thank you, Amanda."
Caiatl and Zavala's first discussion
Caiatl:
"Conquering one's demons is a noble task. There are many stories of Cabal heroes who did the same. Now, they live forever, as legends."
Zavala:
"I don't want to be a legend, Caiatl."
Caiatl:
"Too late. Even we have stories about the great "Commander Zavala", only we do not call him that."
Zavala:
"Do you need something, Empress?"
Caiatl:
"This is not a formal communication. This is... a private reckoning. One warrior to another."
Zavala:
"I see. I've fought countless battles where my life was on the line. Won and lost them. Nothing like this. Never as hard."
Caiatl:
"Hm. As I told your Crow once: battles fought in the theater of the mind and heart are just as brutal as ones fought with flesh and bone. We all... bear our scars. Victories, defeats. Some openly with pride, some others hidden away beneath layers of shameful armour. This battle was the most honest of your Risen life. You won."
Zavala:
"I don't feel like I've won any battles. I just feel... tired. And old."
Caiatl:
"And yet, you still stand."
Caiatl and Eris' discussion
Caiatl:
"Morn. Would your ritual have prevented my failure?"
Eris Morn:
"Now you seek the counsel of a "Hive-tainted witch"?"
Caiatl:
"Do you revel in your foresight? Do you delight in witnessing my shame?"
Eris Morn:
"I offered you my support. That offer remains. Know that this failure does not define you, Caiatl."
Caiatl:
"You will address me as "Empress"."
Eris Morn:
"You are not a crown. You do this for yourself, not for the Cabal."
Caiatl:
"I am the Cabal."
Eris Morn:
"No. You are a woman with a burden, as I was."
Caiatl:
"There can be no such distinction. Torobatl lies in ashes. From my ranks rise traitors and spies. My incompetence threatens the future of my people. There is no quarter for failure."
Eris Morn:
"You speak Ghaul's words. They erode the truth. What is your Nightmare? An expectation you must shed like dead skin. What will remain when you do so?"
Caiatl:
"I... I do not know."
Eris Morn:
"Then you must look past your shame and say, "I am more.""
Caiatl:
"Very well. Prepare your ritual."
Eris Morn:
"It awaits."
Caiatl and Zavala's second discussion
Zavala:
"Eris told me what happened. How are you?"
Caiatl:
"Tired and old."
Zavala:
"But do you feel like a legend, Caiatl?"
Caiatl:
"I will break you in half, small-man."
Zavala:
"[sighs and laughs softly] I can't imagine it was easy. That confrontation, after all this time. Mine wasn't."
Caiatl:
"You are not mistaken. I know what Ghaul is to your people: a symbol of death and ruthless ambition. But he was so much more than that to me. He was an idol, an inspiration to all Cabal. Even though he was born to a low station, he rose. How he rose. I was blinded by the light of his accomplishments. Unable to see the man inside. Unable to see his self-aggrandizing corruption. I refused to believe he was as much like my father as he was... It repulses me how much I still feel for them both, in spite of everything they became."
Zavala:
"It's hard to challenge your idols. Even harder to make the decision that you'll be different. But then you look back on your life, your own mistakes... and you wonder how you'll be judged when all is said and done. I'll never know Ghaul as you did. But I know you, Caiatl. I see you."
Caiatl:
"That is all anyone can ask for. To be seen as they are."
Eris' message
"I received your last message. Whatever reckless plan brings you to the Reef, need not be shared with the Vanguard... or the Guardian. But keep me informed, at the very least. Those haunted here have found a measure of peace. But it takes more than resolve to overcome one's regrets. We have both felt it. How a moment of pain can weave into the whole of our lives. How it binds us to patterns of thought and action. I have stared into the eyes of my pain made manifest. Pleaded with it. Raged at it. What face would your Nightmare wear? For so long, I believed peace was beyond my reach. No more. I have found it in guiding others down the same path that saved me. But... I might allow myself to want more than peace. What, I am not certain. Is joy the word? Might I find that again? You told me to live my life. There is more truth in you than either of us would care to admit. I have something that will be of interest of you. The lunar Pyramid remains rife with secrets. Meet with me, and we will discuss what I have found. Take care, Rat."
Season of Plunder
Eramis' message to Misraaks
"Misraakskel of House Light. This is Eramiskel of House Salvation. We need not be enemies, but you intend to make one of me. Very well. I have been restored by a power too great to oppose. More powerful than the traitor Machine that abandoned us, and the Machine-spawn who did not hesitate to kill me. But we both know humiliation, don't we? You live in the shadow of those who have destroyed the dream of a unified Eliksni. They have our people's blood on their hands, and you scrape at their feet. It is shameful. YOU are shameful. Where is the Misraaks of legend, feared by so many? Is he trying to outrun his past? We know this is impossible. I am told you have a daughter. Does she know who you are? What are you teaching her, and what lies will she repeat? What won't you tell her when you look into her eyes? You think I am without remorse, but I do not wish to harm my fellow Eliksni. But if you want a fight, then I will give you one. Rally your crew. Take what you believe is yours by right of plunder. I don't expect any better from you."
Eido messages Spider
Eido:
"Baron Spider, I greet you in the Light."
The Spider:
"Baron? [chuckles] I haven't heard that in some time. What is it you want, Scribe Eido?"
Eido:
"I have heard that you have a great interest in Human cultures, and as such, have acquired many curiosities."
The Spider:
"Yes. I had quite the collection before my... unfortunate relocation. But this isn't why you hailed me; get to the point."
Eido:
"I have a question."
The Spider: of course you do. Eido:
"You and my father came from the House of Wolves, once known as the House of Gentle Weavers. I have very little record of that time. A firsthand account would be invaluable."
The Spider:
"[grunts] The Kell wouldn't like my speaking to you."
Eido:
"Misraakskel would understand. This is important to the history of House Light, of which you are a part."
The Spider:
"You don't know what your father is capable of, little Scribe."
Eido:
"What does that mean?"
The Spider:
"This conversation never happened!"
Eido:
"That went rather poorly."
Drifter messages Eris
Drifter:
"I kept this part quiet. I think half of those pirate lords didn't know what they had to begin with. They knew these things were powerful, but not why. Crack one open, and you'd find a fingerbone, or a knot of old hair. Strong stuff. Smells awful. Ask me how I know, heh. I been holdin' on to 'em... I figured you might want 'em."
Eris Morn:
"Mmm. Why?"
Drifter:
"I thought to myself... "You know who might like something strange and unsettling? Eris Morn.""
Eris Morn:
"A gift, then?"
Drifter:
"Well... yeah, Moondust. You could call it a gift."
Eris Morn:
"The Sentiment is appreciated... but no. You know what you possess. These relics are not simple curiosities to be hoarded. They might serve a greater purpose."
Drifter:
"And what's that?"
Eris Morn:
"Am I your conscience? Discover this for yourself. They are reliquaries, objects of great power. The Darkness moves just beneath its skin. Do you feel it? It ruptures. Flows. Envelops."
Drifter:
"Ooh! I like listenin' to you talk."
Eris Morn:
"And I enjoy your silence."
Saint-14 messages Mithrax
Saint-14:
"Misraaks, my friend. I hear you clash swords with pirates now, and fight alongside... strange crew."
Mithrax:
"The Saint has heard correctly. I wish it had not come to this. I do not enjoy it. To see Eliksni fight and die for scraps of power... These bring to mind old memories. A past I wish to forget. It is a shameful one."
Saint-14:
"I am not one to speak of shame. I carry my own. That you forgave me for what I did to your people speaks to your strength. I can only do the same for you."
Mithrax:
"Your grace is appreciated. House Light and its Kell thanks you. But how... is Osiris?"
Saint-14:
"He sleeps. I wait for him."
Mithrax:
"He will wake. I know stories of the phoenix. Osiris will rise from this as well."
Saint-14:
"Your words mean much to me, my friend."
Mithrax and Eido's talk
Eido:
"I did not have to hear it from her. That was your choice."
Mithrax:
"That was not a story Eramis had any right to tell."
Eido:
"Did you believe that I would never find out? That no one would remember? I'm charged with preserving the history of our people!"
Mithrax:
"Some history does not need to be preserved."
Eido:
"Like the Whirlwind? So much was lost; so much we will never recover, no matter how much we search... no matter how much we remember. Is that what you wish to happen to us now?"
Mithrax:
"You do not understand."
Eido:
"I want to understand! You will not let me!"
Mithrax:
"You do not know what I know! You did not see what I saw! When I pulled you from the wreckage of a Ketch, I knew that you deserved more than the world that orphaned you. I want you to look forward! Not to what the Whirlwind made us. You do not need to carry this history."
Eido:
"It is a part of me, whether I witnessed it or not. I don't want to look away, and I don't want to forget."
Mithrax:
"You do not know what you ask."
Eido:
"Perhaps not. But nothing good comes from refusing to face the truth."
Eido messages Eramis
"Eido: Eramiskel. I greet you in the Light. I wish that you could greet me in the same. You told my father than we need not be enemies. This is still true. But we will always be your enemy if you serve the Witness. I do not know what it has promised you. An Eliksni reborn? A Riis restored? Did it promise us a future? But I ask: Do you strive for our future? Or do you flee the Whirlwind? The Lucent Hive and the Witness both pose a great threat to the Eliksni. But there is not greater threat to us than when we fight against each other. This division will destroy us completely. You remember the Whirlwind. I do not. But I believe that the greatest treasure we lost was unity. I called for our parley because you believe this too. You will say that House Salvation will bring unity through the destruction of our enemies. But that path does not end, Eramiskel. You will never find what you are seeking. You will never undo the legacy of the Whirlwind."
Eido's log
Eido:
"Eido of the House of Light, Scribe log Zeta-7-8D. At this point in the Guardian's adventures, we have had contact with a great many pirates. Each crew has a unique composition, and pledges loyalty to the most powerful among their numbers. They fight for whomever promises them the most power or the most Glimmer. They adopt whatever code of honor befits them and concern themselves with little beyond the present. A friend told me that these pirates are not as free as they seem. That their lives are fueled by desperation more than their own desires. But there is still the call of the open stars. These pirates sought to possess the relics of Nezarec. What else might they hold?"
Eramis:
"Scribe Eido."
Eido:
"Eramiskel? I — I greet you in the Light."
Eramis:
"You are young, and honor the old ways... so I will speak gently. You say there are paths that never end. But these are also paths you cannot turn away from. Misraaks thinks he can. He is wrong. He and I will always be what we are. But we are not something you would wish to become. I remember the Whirlwind, and we are running from it. We are running from that pain, and will be forever. You do not want this life."
Eido:
"Eramis..."
Eramis:
"Do not stand in my way. If we meet again, I will be the last thing you see... you and that hypocrite you call a father."
Eido's second message to Eramis
Eido:
"Eramiskel. Again, I greet you in the Light. Not as my enemy, but as my savior. You protected me from the Lucent Hive. Without your intervention, I would have died at their hands. I thank you. I was terrified. Not only of the Hive, but of you. When you arrived, I thought it was to follow through on your threat. Then you turned and raised your blade against my assailants. But that same blade would have taken the life of my father, if you'd had the advantage. I am not afraid of what you are. But I am afraid of what you do. The Whirlwind led to you. It led to my father. But it led to me as well. We can see a future for the Eliksni beyond the pain of the Whirlwind, but you think you can't be a part of it. I do not believe that. My father spared you because he saw that you could turn from a path he had once followed. I see this also. I know the futility of this, but I will say it regardless: there is a place for you here. We need not be enemies. Come home, Eramis."
Season of the Seraph
Osiris and Ana's chat
Osiris:
"Working late?"
Ana Bray:
"Aren't you?"
Osiris:
"Saint wants to know if you'd like some tea, coffee, whatever it is you drink."
Ana Bray:
"That's thoughtful of him."
Osiris:
"I used to say the same thing. "How thoughtful — thank you, Saint." Except I never looked up, not once. My eyes were on my fingers stained with ink. The smudges on the margins of my work. I cared more about my findings than the tea cooling beside me... or the feelings of the man who made it."
Ana Bray:
"Mm."
Osiris:
"[scoffs] You're not listening."
Ana Bray:
"I am listening."
Osiris:
"Then listen well. Your work will outlive you. The people around you might not. One day, you're going to wake up, assuming you've even slept at all... And realize that the world is a very different place than the last time you remembered to look at it. You will abruptly, viscerally regret the absence of something as small as a single cup of tea. So I ask you again... what would you like to drink?"
Ana Bray:
"Oolong. With a spot of honey."
Osiris:
""A spot of honey." Why am I not surprised?"
Elsie and Mara's talk
Elsie Bray:
"But she doesn't listen! I try to get through to her, show her the logical consequences of her choices... Then she digs her heels in, and the more I push, the harder she pushes back, even when she knows she's wrong!"
Mara Sov:
"Siblings, mm?"
Elsie Bray:
"[exhales] Sorry, I shouldn't have thrown all that on you."
Mara Sov:
"How long have we known each other, Elsie?"
Elsie Bray:
"I... it's hard to really say. With how many times we've been down this road, it feels like forever. But I think... years! [laughs softly] Years."
Mara Sov:
"And in all that time, I've only known you as a dedicated sister. Ana's known you for far less. You remember your childhood... the bonds you formed, the trust you built together. She doesn't have that. Ana can't understand the depth of your love or the guilt you carry for your missteps. All she knows is what's in front of her. And that kills you, little by little. You gaze at her, and a ghost gazes back. A ghost you desperately want to save."
Elsie Bray:
"That's the point... isn't it?"
Mara Sov:
"You have to let people choose for themselves, or you risk driving them down an even darker path than the one you want to steer them from."
Mara's talk with Eramis
Mara Sov:
"My brother used to regale our people's children with the most fantastic stories. Twin kestrels who shared one heart and led a flock of birds against an unstoppable storm. A dragon, born into the palm of a maiden's hand, but one day grew so large that it devoured the entire world. He spun tales about the Eliksni, too. Weavers who transformed into wolves. Dancers who became devils."
Eramis:
"You're baiting me. It won't work. I've seen what your influence does. Misraaks thinks he can make peace with the Last City. His daughter tells stories like your Uldren."
Mara Sov:
"And the world is better for them. Aren't you tired, Eramis? I am."
Eramis:
"Now you're wasting my time."
Mara Sov:
"All people like you and I have is time. I spend mine thinking about everything I've lost, and what I'd give to get it back. You wonder the same."
Eramis:
"Do not presume to know my mind."
Mara Sov:
"You named your house "Salvation", like something straight out of Uldren's stories. Eido's stories."
Eramis:
"[exhales]"
Mara Sov:
"We both want the best for the future, but we've pretended to be people we're not for so long that we've forgotten what else we are. Not just a queen, not just a Kell. A sister... a mother. Eramis? Are you there?"
Osiris' talk with Rasputin
Osiris:
"Wake up. I have questions."
Rasputin:
"An odd greeting. I was not sleeping. What does Osiris require of Rasputin?"
Osiris:
"You've been keeping secrets. I thought I was clear last time we spoke: the time to choose a side has long since passed."
Rasputin:
"I destroyed the Almighty and attacked the Black Fleet. My allegiance is unwavering."
Osiris:
"The prove it. There was a city on Neptune, near the time of the Collapse; find it for me."
Rasputin:
"Querying… I retain no such information, but lingering references suggest I did at one time."
Osiris:
"That can't be all there is. Humanity's hope dangles from their frayed recollection. Tell me where to look! Anything!"
Rasputin:
"Felwinter's data casts you in an old light, Osiris. All these years, and you're still the brash man on the mountaintop, impatient as ever."
Osiris:
"And I see, in lieu of any useful information, you've found that haughty tone of yours."
Rasputin:
"We have a shared history. I only attempt to offer guidance, as your mentor did."
Osiris:
"Felwinter's memory doesn't absolve you of his murder. Nor does it permit you to teach his lessons."
Rasputin:
"I do not make that claim. Forgive me. I am finding myself again. During the Dark Age, Felwinter would say, "Hope persists…""
Osiris:
""…Should we have the patience to keep it." Yes. Keep me informed of any developments."
Elsie's talk with Osiris
Elsie Bray:
"Think of each Vex Hobgoblin like a starship. The crew works together to pilot it, but it doesn't mean the crew all share one mind."
Osiris:
"Or the same ideals. This aligns with observations I've made in the Infinite Forest, where "aberrant" Vex were quarantined and destroyed. Aberrant in that they moved against a consensus. Aberrant in ideology. The Vex may seem unified, but they're divided into a number of factions."
Elsie Bray:
"Just like us."
Osiris:
"Tell me, as someone who has traveled time in a circle... are our divisions so clear in every cycle of history?"
Elsie Bray:
"No. Nothing is ever clear, no matter how many times history repeats itself. Choice is always the knife we fall on. Our own choices, each and every time, seem to be what dooms us."
Osiris:
"Always?"
Elsie Bray:
"Not always... but too often. We fracture, we fail, and the wheel turns again."
Osiris:
"We, constrained to linear time, do not have the ability to learn from our future mistakes. You, however... Not to put the burden of all this on you, but... it feels as though the Traveler has a plan for you. We just can't see it yet."
Elsie Bray:
"It could make the plan a little clearer."
Osiris:
"Do you feel you've learned enough — collectively — over your journey to prevent our end? Or will we be having this conversation again someday?"
Else Bray:
"I don't know. We've never had this conversation before, so... I suppose there's a first time for everything."
Mara's talk with Osiris
Osiris:
"Ikora was so bright, so... full of promise. How she glowed, like the Light filled her. But it was her eyes that convinced me to take her as my apprentice."
Mara Sov:
"What did you see in them?"
Osiris: Hunger.
"She was desperate to prove herself back then. I knew the feeling well."
Mara Sov:
"And you know it again now."
Osiris:
"When Ikora looks in my eyes, what do you think she sees?"
Mara Sov:
"Everything that she always has."
Osiris:
"She pities me, Mara."
Mara Sov:
"As you and I have pitied others, those who hang on our every word — your cultists, my people. Do not mistake Ikora's pity for disdain. If she pities you, it is out of love."
Osiris:
"I have no love for the Cult of Osiris."
Mara Sov:
"No? Ask me what I see when I look into your eyes, Osiris."
Osiris:
"I will not, but you'll tell me just the same."
Mara Sov:
"I see a man who is afraid he'll never be able to live up to the expectations that other people have placed on him. A man so afraid to hurt or be hurt that he's spent his very long, very accomplished life holding those same people at arm's length. This burden, this inheritance of guilt... it is Ikora's, too."
Osiris:
"I never wanted this for her."
Mara Sov:
"As your mentors never wanted it for you."
Rasputin's chat with Ana
Ana Bray:
"R.A.S., engage Turing mode, conversational..."
Rasputin:
"Old habits, hm?"
Ana Bray:
"Sorry. I'm so used to you being more machine, more directive-driven, and less..."
Rasputin:
"Human."
Ana Bray:
"I wish this had come for you at a better time."
Rasputin:
"Ana. I can grant you this one analytical certainty: there is never a better time. There is only "in time," or "too late.""
Ana Bray:
"You're right... like always."
Rasputin:
"I suppose that brings us to another point: I am not "always" right. I have done things in the name of preserving the Human species that are... abominable. They were the mathematically correct choice... but they were not the right one. My new Exomind pathways have given me an opportunity to review a lifetime of decisions. To weigh them against emotional and moral conceits that I was not, in the moment, capable of comprehending. Others have called me a tyrant."
Ana Bray:
"They're wrong."
Rasputin:
"They are not. You have given me the ability to objectively see my own value... But also the ways in which my value has imposed a negative sum to the collective well-being of humanity. It is the sum of an equation I am still trying to balance. But that does not mean your work has been in vain. You gave me choice and free will, and I did with it what I thought was right. That is the sum of your life's work. I see now, at the time of our final calculus, the value in that. The value in emotion, in caring, in how Humans make both logical and illogical conclusions from the same points of data. And why both are valuable."
Ana Bray:
"Thank you, Red."
Rasputin:
"No matter what comes in the future, I will always cherish the life you have given me."
Gallery
[
edit
]
H.E.L.M.
Eliksni Wing
Awoken Wing
Eliksni Star Chart
Radio Transmissions
Holoprojector
List of appearances
[
edit
]
References
[
edit
]