Eliksni Quarter
From Destinypedia, the Destiny wiki
The Eliksni Quarter is a shelter located in the Botza District where the House of Light have settled within the Last City. It is their primary base of operation and home to any Eliksni including refugees who have fled their old Houses, denizens of the House of Light and currently, The Spider.
The Vanguard originally supported them with supplies such as sleeping bags and various other materials. The Quarter also had 9 scannable Ghost scans where players could learn more about Eliksni culture.
During the final weeks of the Season of the Splicer we learn that the leader of the Future War Cult, Lakshmi-2 opens a portal to the Vex Network within the Eliksni Quarter and is immediately killed by the invading Vex. The Guardians quickly intercept to try and stem the attack and save the Eliksni. Saint-14 fights alongside Mithrax with backup from Amanda Holiday and Ikora Rey whilst in the distance watching the Guardians struggle an ominous Osiris, now known to be Savathun, escaped.
In the Season of Plunder, The Spider and his syndicate moved to the Eliksni Quarter, after disappearing from the Tangled Shore during the Season of the Lost when Mara Sov retook it. He set up a bar called The Ether Tank, where he resides. The former mob boss would also lead a fundraising drive to help renovate the Quarter using pirate treasures taken as spoils by the Guardians. This would lead to an entire overhaul of the Quarter including a communal speaking area, decorated with bunting and lights and gardening troughs for farming and planting.
Eliksni Quarter Scans
[
edit
]
Main article: Eliksni Quarter Scans for full transcript
Eido's Transmitter Scan
Hello! My name is Eido. My father is Misraaks, Kell of our House. I took my name from his first Awoken friend, Sjur Eido. As Scribe for the House of Light, it's my job to preserve our House's history, so that hatchlings may one day learn our stories. Misraakskel requested that I leave some records for the Humans of the Last City so they might learn about Eliksni culture in their own time.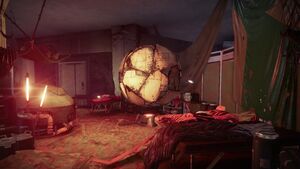 Traveler Shrine Scan
During our Golden Age, the Eliksni civilization spanned many star systems. Farther than Humanity could imagine. And in all of our exploration, we never found anything more wonderous than the Great Machine. It's one of the few things all Eliksni Houses can agree on. That's why shrines like these are made of many small pieces. Each bit was added by a different House. It's a tradition that lasted generations. Most of those Houses are now extinct, and their members are scattered. It's funny. I revered the Great Machine all my life, without ever having seen it. And now that it's right overhead, I still look to this shrine for comfort.
Eliksni Ward Scan
Some Eliksni tell hatchlings that these wards keep Guardians from attacking us in our sleep. We know this is not true, of course, but it helps hatchlings to rest peacefully. Soon enough, they must learn that the Guardians cannot be stopped by such things. That they cannot be stopped at all. Even by death. After that, the ward changes meaning. For grown Eliksni, it's a reminder that the Great Machine blesses life-givers and killers alike. But now that we have seen Guardians among their own people, taking orders and making awkward small talk... I don't think this tradition will continue in the House of Light. We no longer see Guardians as monsters. Just people: frightened and misguided.
Semephore Signels
[
edit
]
Eramis' message to Misraaks
"Misraakskel of House Light. This is Eramiskel of House Salvation. We need not be enemies, but you intend to make one of me. Very well. I have been restored by a power too great to oppose. More powerful than the traitor Machine that abandoned us, and the Machine-spawn who did not hesitate to kill me. But we both know humiliation, don't we? You live in the shadow of those who have destroyed the dream of a unified Eliksni. They have our people's blood on their hands, and you scrape at their feet. It is shameful. YOU are shameful. Where is the Misraaks of legend, feared by so many? Is he trying to outrun his past? We know this is impossible. I am told you have a daughter. Does she know who you are? What are you teaching her, and what lies will she repeat? What won't you tell her when you look into her eyes? You think I am without remorse, but I do not wish to harm my fellow Eliksni. But if you want a fight, then I will give you one. Rally your crew. Take what you believe is yours by right of plunder. I don't expect any better from you."
Eido messages Spider
Eido:
"Baron Spider, I greet you in the Light."
The Spider:
"Baron? [chuckles] I haven't heard that in some time. What is it you want, Scribe Eido?"
Eido:
"I have heard that you have a great interest in Human cultures, and as such, have acquired many curiosities."
The Spider:
"Yes. I had quite the collection before my... unfortunate relocation. But this isn't why you hailed me; get to the point."
Eido:
"I have a question."
The Spider: of course you do. Eido:
"You and my father came from the House of Wolves, once known as the House of Gentle Weavers. I have very little record of that time. A firsthand account would be invaluable."
The Spider:
"[grunts] The Kell wouldn't like my speaking to you."
Eido:
"Misraakskel would understand. This is important to the history of House Light, of which you are a part."
The Spider:
"You don't know what your father is capable of, little Scribe."
Eido:
"What does that mean?"
The Spider:
"This conversation never happened!"
Eido:
"That went rather poorly."
Drifter messages Eris
Drifter messages Eris
Drifter:
"I kept this part quiet. I think half of those pirate lords didn't know what they had to begin with. They knew these things were powerful, but not why. Crack one open, and you'd find a fingerbone, or a knot of old hair. Strong stuff. Smells awful. Ask me how I know, heh. I been holdin' on to 'em... I figured you might want 'em."
Eris Morn:
"Mmm. Why?"
Drifter:
"I thought to myself... "You know who might like something strange and unsettling? Eris Morn.""
Eris Morn:
"A gift, then?"
Drifter:
"Well... yeah, Moondust. You could call it a gift."
Eris Morn:
"The Sentiment is appreciated... but no. You know what you possess. These relics are not simple curiosities to be hoarded. They might serve a greater purpose."
Drifter:
"And what's that?"
Eris Morn:
"Am I your conscience? Discover this for yourself. They are reliquaries, objects of great power. The Darkness moves just beneath its skin. Do you feel it? It ruptures. Flows. Envelops."
Drifter:
"Ooh! I like listenin' to you talk."
Eris Morn:
"And I enjoy your silence."
Saint-14 messages Mithrax
Saint-14:
"Misraaks, my friend. I hear you clash swords with pirates now, and fight alongside... strange crew."
Mithrax:
"The Saint has heard correctly. I wish it had not come to this. I do not enjoy it. To see Eliksni fight and die for scraps of power... These bring to mind old memories. A past I wish to forget. It is a shameful one."
Saint-14:
"I am not one to speak of shame. I carry my own. That you forgave me for what I did to your people speaks to your strength. I can only do the same for you."
Mithrax:
"Your grace is appreciated. House Light and its Kell thanks you. But how... is Osiris?"
Saint-14:
"He sleeps. I wait for him."
Mithrax:
"He will wake. I know stories of the phoenix. Osiris will rise from this as well."
Saint-14:
"Your words mean much to me, my friend."
Mithrax and Eido's talk
Eido:
"I did not have to hear it from her. That was your choice."
Mithrax:
"That was not a story Eramis had any right to tell."
Eido:
"Did you believe that I would never find out? That no one would remember? I'm charged with preserving the history of our people!"
Mithrax:
"Some history does not need to be preserved."
Eido:
"Like the Whirlwind? So much was lost; so much we will never recover, no matter how much we search... no matter how much we remember. Is that what you wish to happen to us now?"
Mithrax:
"You do not understand."
Eido:
"I want to understand! You will not let me!"
Mithrax:
"You do not know what I know! You did not see what I saw! When I pulled you from the wreckage of a Ketch, I knew that you deserved more than the world that orphaned you. I want you to look forward! Not to what the Whirlwind made us. You do not need to carry this history."
Eido:
"It is a part of me, whether I witnessed it or not. I don't want to look away, and I don't want to forget."
Mithrax:
"You do not know what you ask."
Eido:
"Perhaps not. But nothing good comes from refusing to face the truth."
Eido messages Eramis
"Eido: Eramiskel. I greet you in the Light. I wish that you could greet me in the same. You told my father than we need not be enemies. This is still true. But we will always be your enemy if you serve the Witness. I do not know what it has promised you. An Eliksni reborn? A Riis restored? Did it promise us a future? But I ask: Do you strive for our future? Or do you flee the Whirlwind? The Lucent Hive and the Witness both pose a great threat to the Eliksni. But there is not greater threat to us than when we fight against each other. This division will destroy us completely. You remember the Whirlwind. I do not. But I believe that the greatest treasure we lost was unity. I called for our parley because you believe this too. You will say that House Salvation will bring unity through the destruction of our enemies. But that path does not end, Eramiskel. You will never find what you are seeking. You will never undo the legacy of the Whirlwind."
Eido's log
Eido:
"Eido of the House of Light, Scribe log Zeta-7-8D. At this point in the Guardian's adventures, we have had contact with a great many pirates. Each crew has a unique composition, and pledges loyalty to the most powerful among their numbers. They fight for whomever promises them the most power or the most Glimmer. They adopt whatever code of honor befits them and concern themselves with little beyond the present. A friend told me that these pirates are not as free as they seem. That their lives are fueled by desperation more than their own desires. But there is still the call of the open stars. These pirates sought to possess the relics of Nezarec. What else might they hold?"
Eramis:
"Scribe Eido."
Eido:
"Eramiskel? I — I greet you in the Light."
Eramis:
"You are young, and honor the old ways... so I will speak gently. You say there are paths that never end. But these are also paths you cannot turn away from. Misraaks thinks he can. He is wrong. He and I will always be what we are. But we are not something you would wish to become. I remember the Whirlwind, and we are running from it. We are running from that pain, and will be forever. You do not want this life."
Eido:
"Eramis..."
Eramis:
"Do not stand in my way. If we meet again, I will be the last thing you see... you and that hypocrite you call a father."
Eido's second message to Eramis
Eido:
"Eramiskel. Again, I greet you in the Light. Not as my enemy, but as my savior. You protected me from the Lucent Hive. Without your intervention, I would have died at their hands. I thank you. I was terrified. Not only of the Hive, but of you. When you arrived, I thought it was to follow through on your threat. Then you turned and raised your blade against my assailants. But that same blade would have taken the life of my father, if you'd had the advantage. I am not afraid of what you are. But I am afraid of what you do. The Whirlwind led to you. It led to my father. But it led to me as well. We can see a future for the Eliksni beyond the pain of the Whirlwind, but you think you can't be a part of it. I do not believe that. My father spared you because he saw that you could turn from a path he had once followed. I see this also. I know the futility of this, but I will say it regardless: there is a place for you here. We need not be enemies. Come home, Eramis."
Gallery
[
edit
]
Eliksni Quarter
Eliksni Quarter, Week 4
Eliksni Quarter, Week 7
Eliksni Quarter, Week 9
Within the Quarters, the Eliksni have painted a purple symbol with to ward off the Guardians so their hatchlings could sleep peacefully at night. The purple symbol is a depiction of Saint-14's helmet.
The area also features the remains of Insurrection Prime and players are able to interact with the Servitor, being located in Insurrection Prime's arena from the Scourge of the Past Raid.
Excluding the Eliksni hatchlings, there are 32 Eliksni who inhabit the encampment.
A Ketch can be seen in the background of the Eliksni Quarter.
A wrecked bus that resembles the Battle Bus from Fortnite was added during Season of Plunder as part of a promotional crossover that occurred to mark Destiny 2's addition to the Epic Games Store.
The Eliksni Quarter is seen briefly during the ending cutscene of the Season of the Seraph, where Mithrax and Eido watch the Traveler leaving the City.
List of appearances
[
edit
]
References
[
edit
]