Season of the Chosen
From Destinypedia, the Destiny wiki
Season of the Chosen
Start date:

February 9th, 2021

End date:

May 11th, 2021

Previous season:
Next season:
 
"I'll sharpen my gilded knife, and see you both on the battlefield."
Season of the Chosen was the thirteenth season of Destiny 2, which lasted from February 9, 2021 to May 11th, 2021. It features the Cabal proposing an alliance with Humanity to purge the Hive from the system.
Description
[
edit
]
THE NEW EMPRESS:
With the Pyramids and Xivu Arath destabilizing the system, Empress Caiatl, leader of the Cabal and daughter of Calus, seeks an alliance. But when she demands Zavala's obedience, negotiations collapse, and Guardians must become the tip of the spear that strikes at her growing war council.
Welcome to the H.E.L.M.
Designed as the ultimate Vanguard staging ground, the spaceport provides the resources Guardians need to face the most powerful of incursions. Here, the War Table has been set. Meet with Zavala, acquire the Hammer of Proving, and orchestrate an honorable victory.
Activity: Battlegrounds
The fallout from the failed treaty has resulted in Cabal forces taking up arms on multiple destinations – prepared to defend the glory of the Empire. In this three-player matchmade activity, Guardians will engage in ritual combat against Caiatl's chosen warriors.[1]
Overview
[
edit
]
This new season brings with it a new three-player matchmaking activity: Battlegrounds, in which the Guardians will challenge Caiatl's champions in ritual combat. This activity will be overseen from the H.E.L.M., a Vanguard staging ground in The Last City which will include a war table and an updated Umbral Decoder. The Guardian Games will also return this season as each class fights for the honor of proving themselves the best.[1]
Seasonal Roadmap
[
edit
]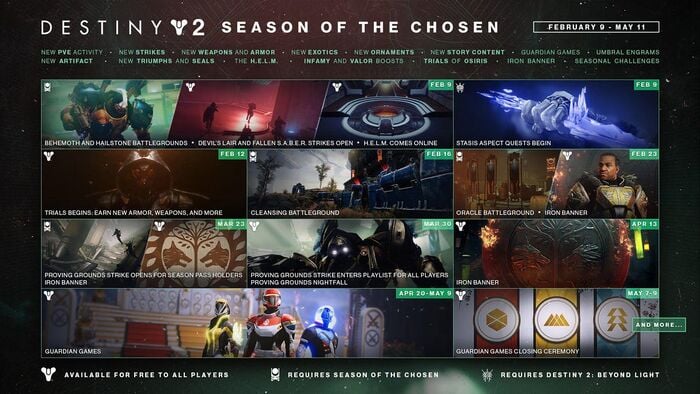 Features
[
edit
]
New Story Mission
[
edit
]
New Activity: Battlegrounds
[
edit
]
New Strike
[
edit
]
Remastered Strike
[
edit
]
New Lore Books
[
edit
]
New Exotics
[
edit
]
Appearances
[
edit
]
Marketing
[
edit
]
Promotional Images
[
edit
]
---
References
[
edit
]
 

Destiny series

Year One

Year Two

Year Three

Year Four

Year Five

Year Six

Year Seven

Year Eight

Year Nine

Year Ten

Bold italics indicate games. Italic text indicates expansions and content updates.