Grenade Launcher
From Destinypedia, the Destiny wiki
"Ah. Yeah. Grenade Launchers don't get enough credit. Good way to bust up a crowd."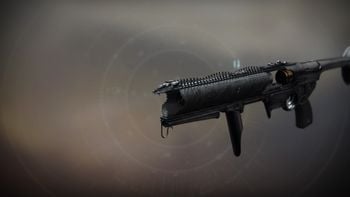 Grenade Launchers are a class of Weapons featured in the Destiny series. They are tubular, heavy-duty firearms that fire grenades one after another. This makes them an ideal choice for besieging enemy positions. Breech grenade launchers fall under the Special category (with the exception of Fighting Lion), while drum ones fall under the Heavy category.
Special Grenade Launchers fall under one of 3 archetypes: wave frame, double fire, and lightweight. Wave frame grenade launchers fire grenades that detonate into a linear wave of energy when it contacts the ground, similar to a Thermite grenade, while lightweight frames detonate on impact or when it hits a target, and double fire frames allow 2 grenades to be loaded in a magazine. Heavy Grenade Launchers fall under one of the 4 archetypes: adaptive, precision, rapid fire, and compressed wave frame. Adaptive frame grenade launchers have a balanced stock, while rapid fire frames fire grenades, compressed wave frames behave similar to wave frame grenade launchers used by Special Grenade Launchers, and precision frames have grenades that detonate after bouncing on a hard surface.
List of grenade launchers
[
edit
]
Special
[
edit
]
Uncommon
[
edit
]
Special
[
edit
]
Special
[
edit
]
Legendary grenade launchers
[
edit
]
Special
[
edit
]
Primary
[
edit
]
Special
[
edit
]
List of appearances
[
edit
]