Sniper Rifle
From Destinypedia, the Destiny wiki
This article is a stub. You can help Destinypedia by expanding it.
"The dangers present beyond the City's walls cannot always be met head-on. The accuracy and power of the Sniper Rifle offers the best option for precise ranged attacks. Caliber and make differ, but a good sniper can always remove key threats."
— Grimoire Description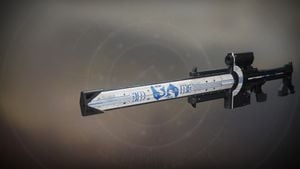 Sniper Rifles are a class of Weapons featured in the Destiny series. They are long-range marksman weapons meant for picking off important enemies at a far distance with powerful headshots. However, there are only a select few snipers that can kill a Guardian's super with full health in one shot.
Year One
[
edit
]
Common/Rare
[
edit
]
Legendary
[
edit
]
Year Two
[
edit
]
Uncommon
[
edit
]
Legendary
[
edit
]
Black Spindle (Obtained after completing the alternate ending to the story mission "Lost to Light" on Heroic difficulty within the time limit or by completing the Deathsinger encounter in the 390 light version of Crota's End)
Zen Meteor (Obtained from Exotic special weapon Engrams)
Year Three
[
edit
]
Uncommon
[
edit
]
Legendary
[
edit
]
Destiny 2

[

edit

]
Uncommon
[
edit
]
Legendary
[
edit
]
List of appearances
[
edit
]
Special weapons
Year 1
 

Sidearms

Legendary

Exotic