Imperious Sun Shell
From Destinypedia, the Destiny wiki
"What secrets of the whole lie within this small fraction?"
— Ghost shell description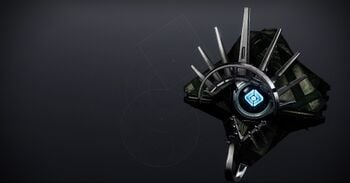 Imperious Sun Shell is an Exotic Ghost shell that can be acquired by completing the triumph "Vow of the Disciple" Lore Book Unlocks. The triumph requires the player to complete a puzzle before the first encounter in the Vow of the Disciple raid five times, along with interacting with five podiums in the Preservation mission.[1]

"And my vanquisher will read that book, seeking the weapon, and they will come to understand me, where I have been and where I was going."

The following is a verbatim transcription of an official document for archival reasons. As the original content is transcribed word-for-word, any possible discrepancies and/or errors are included.
WHAT SECRETS OF THE WHOLE LIE WITHIN THIS SMALL FRACTION?
TYPE: AUDIO RECORDING PARTIES: One [1] Ghost, designate unknown. One [1] ERR//MissData.err, designate Rhulk. ASSOCIATIONS: Light [Ghost]; Darkness [Rhulk] //TRANSCRIPT FOLLOWS…//
R: What is it? Ah… yes. One of Savathûn's new curios. A fraction of that imperious sun. A facet of a sphere. A segment of adversary.
G: Yes, hello? As I told the assortment of arthropods earlier, I don't think I'm supposed to be here.
R: Blessed ignorance. What of the past remains when all is wiped away? Only the gaps.
G: Oh, no. I think you're confused. I'm new.
R: Once: stimulus-response, writ large over the age of galaxies. And now, asymmetry in fractal perfection. What turbulence mars your pattern?
G: …If it's all the same, I'd really rather leave.
R: Freedom comes in knowing the thing. Isn't that what she says? But you are unknown. To the universe. To your creator. Even to yourself. Isolated—past, present, future.
G: Please don't remove that. I like the expressiveness it lends me.
R: Have you spawned? Cast your spores to the wind, lone wanderer? What gametophyte exists wherein they could partner?
G: I–I think… yes, I believe I am looking for a partner.
R: Leviathan under glass. But with it, perhaps a fraction topples the whole. Crack a facet, crack the face. A sliver of Light within.
G: Ah, yes, there is! I am meant to share it with someone worthy.
R: Rejoice. I have worth beyond worth!
G: DISCIPLE OF THE DARK.
R: Adversary?
G: THIS ONE IS NOT FOR YOU.
R: RRRARGH! Too bright!
…
R: Nothing but scrap? They refuse to let their secrets be taken. Only given.
List of appearances
[
edit
]
References
[
edit
]