Bladedancer
From Destinypedia, the Destiny wiki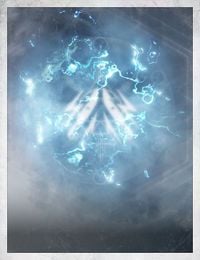 "The Bladedancer's interpretation of Arc Light is a reflection of the Hunter herself. Seeking targets to sink Light—or a knife—into."
The Bladedancer is an Arc-based Hunter subclass.
There's something to be said for the blade. A knife won't jam. A knife won't run dry. A knife is very, very quiet.

Leave the noise and fire to others. There's work to be done, out there in the dark - monsters that deserve death, delivered quickly, silently, and without mercy.
Upgrades
[
edit
]
"Beautiful lethality, relentless style."
— Class Description
Tier 1—Grenades
[
edit
]
Flux Grenade—an explosive grenade which deals additional damage when attached to enemies
Skip Grenade—a grenade which splits on impact, creating multiple projectiles which seek enemies
Arcbolt Grenade—a grenade that chains bolts of lightning to nearby enemies
Tier 2—Movement
[
edit
]
Double Jump—jump a second time after leaving the ground
Higher Jump—upgrades Double Jump for even greater height
Better Control—upgrades Double Jump for better directional control while in the air
Blink—a short distance teleport that replaces Double Jump
Tier 3—Super
[
edit
]
Arc Blade—charge your blade with Arc Light and consume your foes with lightning
Showstopper—press during Arc Blade to damage nearby enemies
Razor's Edge—press during Arc Blade to unleash a destructive wave of energy that travels along the ground
Vanish—press during Arc Blade to disappear from sight
Tier 4—Melee
[
edit
]
Blink Strike—a powerful melee attack with extended range
Backstab—hitting an enemy from behind with Blink Strike causes significantly more damage
Escape Artist—hitting an enemy with Blink Strike grants brief invisibility
Fast Twitch—reduces the cooldown of Blink Strike
Tier 5—Training 1
[
edit
]
Path Forgotten—training focused on toughness and speed
Path Forbidden—training focused on battle recovery and speed
Path Unknown—training focused on battle recovery and toughness
Tier 6—Perks 1
[
edit
]
Fleet Footed—increases maximum sprint speed and extends slide distance
Quick Draw—weapons ready immediately
Shadowjack—increases the duration of invisibility effects
Tier 7—Training 2
[
edit
]
Way of the Drifter—training focused on all attributes
Way of the Fearless—training focused on toughness at all costs
Way of the Nomad—training focused on maximum battle recovery
Tier 8—Perks 2
[
edit
]
Encore—killing an enemy with Arc Blade extends its duration
Stalker—gain invisibility after crouching in place for a short time
Hungering Blade—kills with Arc Blade and Blink Strike immediately regenerate health
Bladedancers do not appear in Destiny 2 and are replaced by Arcstriders.
The central ability tree of Nightstalkers in Destiny 2 may have been inspired by the Bladedancer subclass.
List of appearances
[
edit
]
References
[
edit
]