Seraph Cipher
From Destinypedia, the Destiny wiki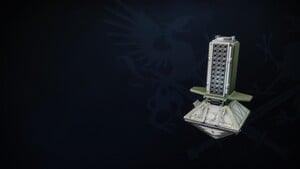 "A custom-built encryption tool for classified communication with the Warmind."
— Artifact flavor text
The Seraph Cipher is a Seasonal Artifact for the Season of the Seraph.
Seasonal Artifact mods
[
edit
]
Column 1
[
edit
]
Column 2
[
edit
]
Grenade Launcher Holster (Leg): Gradually reloads your stowed Power Grenade Launchers over time. Multiple copies of this perk stack to reduce the time taken to fully reload.
Legacy Ambush (Helmet): Increases the duration and effectiveness of the Ambush Origin Trait and the Bray Inheritance Origin Trait.
In-Flight Compensator (Helmet): Increases the airborne effectiveness of all equipped weapons.
Bow Dexterity (Arms): Faster ready and stow speed for Bows.
Mobile Retrofit (Leg): +5 Mobility.
Column 3
[
edit
]
Hand Cannon Targeting (Helmet): Improved target acquisition, accuracy, and aim-down-sights speed for Hand Cannons.
Pulse Rifle Loader (Arms): Increases reload speed of Pulse Rifles.
Energy Diffusion Substrate (Chest): Gain a small amount of resistance of all damage dealt to you by combatants. Additional copies of this mod will increase this effect.
Sharp Shooting (Helmet): Greatly increases the duration and effectiveness of the Tex Balanced Stock Origin Trait and the Veist Stinger Origin Trait.
Resilient Retrofit (Chest): +5 Resilience.
Column 4
[
edit
]
Unstoppable Grenade Launcher (Arms): When you ready or reload a Grenade Launcher, for a short period, that weapon stuns Unstoppable Champions. Strong against Unstoppable Champions.
Counter Charge (Combat Style): Become Charged with Light whenever you or a member of your fireteam stuns a Champion.
Advance Scout (Class Item): Champions you stun take additional damage from teammates.
Lord Kelvin's Basilisk (Class Item): Void and Stasis grenades cause disruption, delaying ability regeneration and lowering damage output. Strong against Overload Champions.
Low Energy Superconductor (Class Item): Stasis and Arc melee abilities stun unshielded combatants. Strong against Unstoppable Champions.
Column 5
[
edit
]
Passive Aggressive Guard (Class Item): Receive less damage from combatants that are close to you while you are wielding a Glaive.
Weakened Clear (Class Item): When using a Grenade Launcher, damaging a boss, damaging a Champion, or breaking a combatant's shield reloads your stowed weapons and weakens the combatant.
Monochromatic Maestro (Class Item): Dealing damage with elemental abilities grants increased damage to weapons of the same element for a short duration. Dealing damage with elemental weapons grants increased damage to abilities of the same element for a short duration.
Solo Operative (Class Item): While you are the only member of your fireteam, you deal increased damage to all combatants.
Lucent Finisher (Class Item): Defeating a Lucent Hive Lightbearer or Champion with your finisher spawns Heavy ammo for you and your allies.
A custom-built encryption tool for classified communication with the Warmind.
V022NTS714ASD000 GRAY STRATA DECLARATION
AI-COM/RSPN: ASSETS//SUBTLE//WARWATCH ADDENDUM//IMPERATIVE
ACTIVE EVALUATION DIRECTIVE
This is a SUBTLE ASSETS IMPERATIVE.
This is an INTERNAL COMMUNICATION.
ATTN: SEMIAUTONOMOUS OPERATIVE USERS
Summary of ORDER 7089267872 is as follows:
Contact established via proxy (ABRAY).
Deputization of qualifying agents: COMPLETE.
Access to DVALIN FORGE experimental ordnance and armor: GRANTED.
Ad hoc situational analysis and tactical response efforts: AUTHORIZED.
GALATEA REFLEXIVE to generate novel function per provided parameters.
MISSION JUSTIFICATION: Potential degradation of trust across external designations. Hypothesize that reinforcement of trust requires physiologically proximate assets to conduct prolonged social interaction.
MISSION PARAMETERS:
Integrate with CENTRAL ASSETS for all PALISADE IMPERATIVE subroutines.
Submit classified INTERNAL COMMS directly to AI-COM/RSPN.
Receive encrypted INTERNAL COMMS from AI-COM/RSPN.
If ARCHANGEL is SILENT, operate per GALATEA REFLEXIVE parameters.
SERAPH PROTOCOL initiated.
I have placed my trust in you. Earn humanity's trust for me.
STOP STOP STOP V022NTS714ASD007
List of appearances
[
edit
]
References
[
edit
]