Submachine Gun
From Destinypedia, the Destiny wiki
This article is a stub. You can help Destinypedia by expanding it.
"And this here's your crowd control. Full-auto, close range. Good for givin' yourself some breathin' room."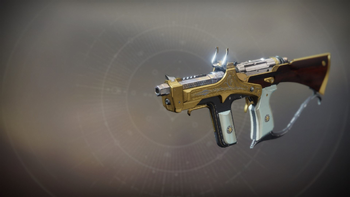 Submachine Gunsare a class of primary Weapons featured in the Destiny series. They are compact, fully automatic firearms capable of hosing down multiple enemies at close range. Their fast fire rates lend them well to that role.
Destiny 2

[

edit

]
Uncommon
[
edit
]
Legendary
[
edit
]
List of appearances
[
edit
]