Spicy Ramen Shop
From Destinypedia, the Destiny wiki
Spicy Ramen Shop

Type:

Restaurant

 
"Spicy Ramen has been a staple here in the Tower for as long as I can remember. Highlighting an incredible combination of flavors and spices, this is one of the best recipes the Golden Age has to offer. Not even the Red Legion could bring down these golden noodles swimming in rich, flavourful broth."
— The Official Cookbook
Spicy Ramen Shop is a chain of restaurants found in the Last City. They specialise in making Japanese ramen dishes consisting of wheat-flour noodles served in a bowl of broth and various other ingredients and spices.
Overview
[
edit
]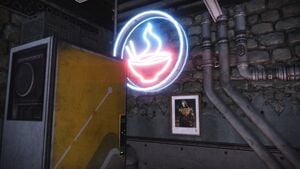 The shop was a personal favourite of Cayde-6 who regularly ate meals there and developed a friendship with a fellow customer named Jimmy.[1] Cayde once gave the Guardians a coupon to try out the Spicy Ramen, however the coupon expired decades ago. Following the death of Cayde, the ramen shop by the Bazaar District celebrated the life of their favourite customer by displaying an image of him inside the shop.
The shop is also frequented by Amanda Holliday and when she once thought of Cayde, Zavala suggested they go out to eat as she deserved a break. Amanda quickly thought of ramen which brought a smile to the Commander as he also missed his presence.[2] Within the Vanguard vault is a secret Spicy Ramen vending machine belonging to Zavala.
As the House of Light integrated themselves within the Last City, one Eliksni ventured into a ramen shop and ordered a "spicy five star" ramen. Pleased by the meal, the Eliksni offered a small model of the Traveler as compensation, but the meal was given for free as the Eliksni was a new customer.[3] Ramen bowls and chopsticks can also be found within the Eliksni Quarter, suggesting that ramen has become a staple food among the Eliksni to consume.
Drunken Noodle Ramen Bar
[
edit
]
Whilst Spicy Ramen is enjoyed by many citizens alike, the restaurant has competition called Drunken Noodle Ramen Bar. The establishment serves sake and often visited by Rehnpeir and his patrons.[4] As the Crow got ready to start a new life inside the Last City, he wondered what food he would eat as he was tired of everything tasting like gun oil and Ether. Osiris recommended that he tries Drunken Noodles and to order the "Long-Boy Special" as he personally found them delicious.[5]
Lore: Spicy Ramen Coupon
[
edit
]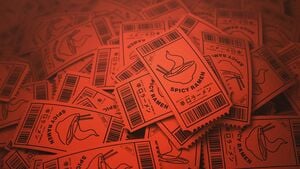 Spicy Ramen. Large. 5 stars. Extra dumplings.
What can I say? A classy order for a classy Exo. I'll try to make time to explain why Spicy Ramen is the one and only ramen shop that you and yours will ever want to eat at.
First, the food. Those fresh golden noodles swimming in rich flavorful broth. Wouldn't surprise me if it was a Golden Age recipe. That combination of salt and the spice just—BAM!—hits you right in the mouth zone. And those pork dumplings? W-O-W! Don't get me started on those dumplings. Where did they even find the pork?
And how about that ambiance? There's the City. Love the City. And the people walking around. Who doesn't like people?
Cons? Heard folks say the Glimmer prices are a bit high. Look, I get it. Unlike yours truly, maybe you aren't sitting on a pile of Glimmer. If you need to scrape Glimmer together maybe we can work something out, I've got some caches that need to be found that are muy caliente… I'm getting sidetracked here. Look, if you know me, or know my chicken… well, maybe not the chicken, but if you know me—and trust me, I know me—you will love Spicy Ramen. Just tell them I sent you. Give them this coupon. I'm good for it.
Make sure you tell them that I sent you. Cayde-6. Sounds like spade but with a C. Capital C. +6. C-A-Y-D-E. Six (not seven).
—Cayde-6
Spicy Ramen Recipe
[
edit
]
Cooking information:
Difficulty: Medium
Prep time: 1 1/2 hours
Cook time: 1 hour
Yield: 4 servings
Dietary notes: Dairy-Free


Spiced Chicken:
3 tablespoons Shichimi Togarashi
1 teaspoon salt
6 boneless, skin-on chicken thighs


Broth:
2 quarts Dashi Stock
3 dried shiitake mushrooms, plus 10 fresh shiitake mushrooms, stems removed and sliced
3 teaspoons canola oil, divided
1 leek, white and light green parts only, diced
5 cloves garlic, minced
1 1/2 cups kimchi, cut into bite-size pieces
2 tablespoons kimchi juice
1 tablespoongo chujang
3 tablespoons red miso
3 tablespoons soy sauce
Salt and pepper


Accompaniments:
4 pieces nori (optional)
4 servings ramen noodles, cooked
6 slices bacon, cooked and chopped
4 Ajitsuke Tamago, cut in half
3 scallions, sliced
Bean sprouts (optional)
Hot sauce (optional)


For the spiced chicken:
1. Combine Shichimi Togarashi and salt in a small bowl, and rub onto the chicken thighs.
2. Heat a pan with 2 teaspoons of canola oil over medium-high heat. Place 2 teaspoons canola oil the chicken thighs, skin-side down, and cook until it turns golden brown, about 5 to 8 minutes.
3. Flip and cook until the chicken is cooked all the way through, about 5 minutes. Cut into strips.


For the broth:
4. Place Dashi Stock with dried shiitake mushrooms in a 3-quart sauce pan only, diced over medium-high heat. Bring to a simmer for 10 minutes. Remove the 5 cloves garlic, minced mushrooms. Set the broth aside.
5. Place a large pot with 2 teaspoons of the canola oil over medium-high 1 tablespoon gochujang heat. Add the fresh shiitake mushrooms, and cook until the edges are crispy, about 8 minutes. Transfer the mushrooms to a plate.
6. In the same pot, add another teaspoon of canola oil. Add the leeks and garlic, and cook until softened, about 3 minutes.
7. Add the kimchi, kimchi juice, gochujang, red miso, and soy sauce, and cook for about 4 minutes. Add the dashi broth and the crisped mushrooms. Bring to a simmer for 10 minutes. Season with salt and pepper if needed.
8. To serve, place a piece of norion the side of a bowl and a serving of ramen noodles. Top with a portion ofchicken thighs. Add a fourth of the 3 scallions, sliced cooked bacon in the center.
9. Add a fourth of the broth with vegetables. Top with 2 Ajitsuke Tamago halves, scallions, and bean sprouts. Top with additional hot sauce of your choice.

Personnel
[
edit
]
Customers
[
edit
]
Gallery
[
edit
]
Spicy Ramen Shops
Spicy Ramen, Misc
The Spicy Ramen recipe was transcribed from the Destiny Official Cookbook.
References
[
edit
]