Harbinger (Reef superweapon)
From Destinypedia, the Destiny wiki
"So the Queen calls, as only she can. [...] Behind the Queen's ship, the Harbingers awaken."
— Ghost Fragment: Fallen 4[1]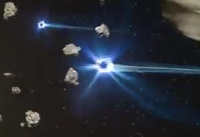 The Harbinger Minds, or Harbingers, are mysterious entities used as superweapons by the Awoken of the Reef. They are described as "trophies from an ageless war", and are controlled by the Techeuns and Mara Sov, though it seems that this control may be tenuous.[2][3] Each Techeun has her own Harbinger,[4] and bonding with it is a part of their training.[5] As weapons, they had little finesse and had the potential to cause enormous collateral damage; as a result, they could not be deployed near allied forces or civilian populations.[6] Their use as weapons may be gravitic in nature; during the Battle of Saturn, asteroids and Tombships were drawn in after their trails.[7]
Overview
[
edit
]
The Harbingers seem to be sentient beings; the Awoken would summon them in the Spine of Keres to speak, persuade and listen to them, and Shuro Chi remarks they whispered "strange songs in languages we all felt we should know".[4] Their destruction in the Taken War is referred by her as "death" and she mentions there is only one Harbinger left, only Mara knowing its location. They are described as "ageless, unfettered minds, twining through the mist like ribbons on the wind".
History
[
edit
]
Reef Wars
[
edit
]
The first known use of the Harbingers was when the Queen "awoke" them for the opening salvo of the Reef Wars, destroying Ceres and half of the Wolf fleet stationed there, including their Kell, Virixas.[8] During the Siege of Pallas the Queen was reluctant to use them, as doing so would have destroyed both the defending Awoken fleet and killed the entirety of its civilian population.[6] Instead, a Reef-manufactured illusion of their presence broke the siege, scattering the dismayed Fallen.[9]
Taken War
[
edit
]
The Harbingers were last deployed against Oryx's fleet at the Battle of Saturn. This was in accordance with a plan that "overcame death and spanned universes" devised by the Queen, in which all but the eldest Harbinger would be sent against the Dreadnaught to burrow into its hull and "have children."[3] On summoning, they devastated many Hive warships and Tombships, but apparently failed to harm the Dreadnaught. Oryx, the Taken King then activated the Dreadnaught's main weapon and destroyed the Awoken fleet. Uldren believed the Queen and the Coven had overstepped themselves in challenging Oryx's power, as it was "not bound to anything the Origin Libraries even sought to describe".[10] In truth, the Harbingers had done exactly as the Queen planned, and allowed her to enter Oryx's throne world when his weapon killed her.[11]
Vestiges of the Harbingers lingered around Saturn's moons,[12] and a sample was collected for Petra's use.[13]
Gallery
[
edit
]
List of appearances
[
edit
]
References
[
edit
]