Cassini
From Destinypedia, the Destiny wiki
This article is a stub. You can help Destinypedia by expanding it.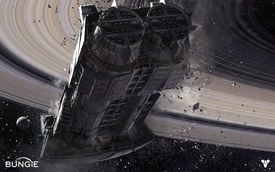 Cassini refers to a fleet of damaged ships floating around Saturn.[1][2] The ships may be remains of human ships from the Golden Age.
Cassini is likely a reference to the Cassini–Divide, one of the main gaps in Saturn's rings. This gap between the outer and inner ring system gives the planet's rings their distinctive 'double hooped' appearance.
The picture of the Cassini derelict was shown by Bungie around Destiny's release, but it does not appear anywhere else in the game. There is a mention of Cassini Library located in the New Pacific Arcology on Titan in the mission Utopia, but it has been probably named after the aforementioned gap in Saturn's wings.
Cassini fleet is possibly the same as the First Fleet, led by Captain Drystan Cor.[3][4]
List of appearances
[
edit
]
References
[
edit
]