Arcadia-class
From Destinypedia, the Destiny wiki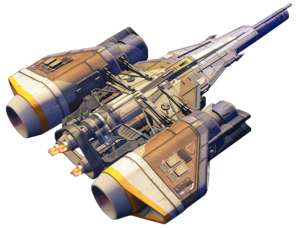 "Arcadians were the most common jumpships during the Golden Age, used for both terrestrial and planetary excursions. Their remains have been reported around most Earth-based space ports."
Arcadia is a class of jumpships. It has a flat, triangular-like shape with an elongated front. These were the most commonly used ships during the Golden Age, both for terrestrial and planetary journeys.[1]
During the Red War, the Arcadia jumpships were actively engaging Red Legion Harvesters and Threshers during both the attack on the City and the counter-attack headed by the Vanguard.
Throughout their service with the Guardians, the Arcadia has been seen in the hands of various owners such as Lord Saladin, Commander Zavala, Cayde-6, and Ikora Rey, all with their own personal touches. At least one model of the jumpship has been modified by SIVA.
Known Arcadia-class ships
[
edit
]
Specifics
[
edit
]
Arcadian ships are a relic of the Golden Age. Their hulls and baseline tech have been salvaged for scrap for decades. With the right modifications, any ship capable of reaching post-atmospheric standards is worth repairing, and for many, the Arcadia ships often offer a Guardian their chance to step into the black.
Craft Specs
[
edit
]
Average Length: 20.3 Meters
Wingspan: 16.6 Meters
Average Weight: 19.8 Tons
Maximum Range: 37 Astronomical Units
Engines: Variable (refurbishment dependant)
Modifications
[
edit
]
Firming Brackets - Top-Centre
Booster Cowling - Rear-Engines
The Queen of Hearts, personal Arcadia-class ship of Cayde-6, was recreated by Amanda Holliday following his death and was obtainable by Guardians that preordered Forsaken.
In the Cosmodrome Bungie Ridealong Livestream, the Lead World Artist Rob Adams states that the ship The Guardian finds after being revived for the first time belonged to a Guardian who was stranded in the Cosmodrome.

This is not referenced in-game, however, the surroundings indicate that someone tried to repair the ship long ago.
Gallery
[
edit
]
References
[
edit
]