Project Niobe
From Destinypedia, the Destiny wiki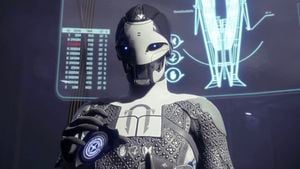 Project Niobe was a secret Black Armory experiment to aid Humanity by combining the Armory's weapon-enhancing phase technology with the artificial frame and digitized consciousness of the Exo, which in other words creates a walking, talking forge.[1][2]
During the Collapse, Henriette Meyrin in an effort to save her fatally injured daughter would upload her daughters consciousness into an experimental Exo frame to become Ada-1.[3]
At some point, Siviks, Lost to None would scour through the Black Armory Papers to seek the secrets of Project Niobe, an initiative to develop and produce enhanced Black Armory prototypes.[4][5]
Later Ada-1 was grateful towards the Guardian for recovering the Obsidian Accelerator, a missing Exo upgrade which enabled her weapon-upgrading abilities using Obsidian Radiance.[6]
List of appearances
[
edit
]
References
[
edit
]