Martin O'Donnell
From Destinypedia, the Destiny wiki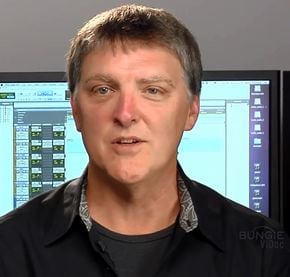 Martin O'Donnell was Bungie's Audio Director and a composer of Destiny's musical score. He is known largely for the scores he composed for Bungie's previous projects, such as Oni and the Halo series. For Destiny, he collaborated with composer and producer Michael Salvatori as well as Paul McCartney.
During the development of Destiny, it was suggested that O'Donnell compose the score for the entire Destiny franchise all at once. Work began in 2011. However, O'Donnell was perturbed when Activision used its own music for the E3 2013 Destiny trailer, believing it had usurped creative control. Bungie CEO Harold Ryan and the rest of management agreed and filed a complaint with Activision, but the publisher overruled it. Furthermore, neither Bungie or Activision were keen on his releasing Music of the Spheres separately from the game. O'Donnell was given a poor employee review in the spring of 2013 in light of his tweeting during the game's E3 presentation that the music was not Bungie's, threatening fellow employees in an attempt to keep the trailer from being posted online and interrupted press briefings. In lieu of his next review in February 2014, Bungie drafted a termination agreement. Under the proposed agreement O'Donnell would continue working on Destiny until work was complete — no later than July 31 of 2014. Considering the deadline unrealistic — sound design could not be completed until the game was in a largely finished and bugless state — and feeling some of the clauses in the agreement, including one that would see him forfeit stock ownership and give up his rights as a company shareholder, O'Donnell declined their proposal but agreed to continue working.[1]
In April 11, 2014, he was fired by Bungie.[2][3] O'Donnell launched two lawsuits, one against Ryan, the other against Bungie as a whole. By September, 2015,the arbitrator of the second suit determined that Bungie had violated its contract by forcing O'Donnell to surrender his stock and forego participation in the company's profit sharing plan upon his termination, and was awarded payment and stock.
O'Donnell has since founded his own games studio.[1]
References
[
edit
]
^ Twitter: MartyTheElder (@MartyTheElder: "I'm saddened to say that Bungie's board of directors terminated me without cause on April 11, 2014.")