Grimoire
:
Allies/The Exo Stranger
From Destinypedia, the Destiny wiki

"And my vanquisher will read that book, seeking the weapon, and they will come to understand me, where I have been and where I was going."

The following is a verbatim transcription of an official document for archival reasons. As the original content is transcribed word-for-word, any possible discrepancies and/or errors are included.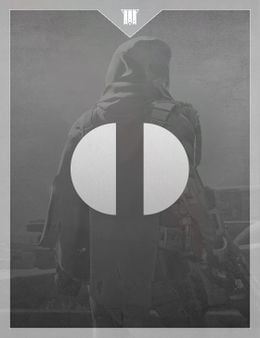 The Exo Stranger subsection of the Grimoire covers subjects related to the Exo Stranger.
The Exo Stranger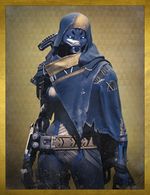 Stories of an Exo who walks in the Darkness without a Ghost have long haunted the Tower. Legends say this anomaly dissolves in and out of the world, intangible and elusive, as if she is a visitor from somewhere beyond.
Some believe she's the last of an ancient Exo squadron, fighting a long-forgotten war. Others dismiss her as a hallucination caused by exposure to Vex technology. But there are those who maintain that her intervention saved their lives - or averted unspeakable catastrophes.
Ghost Fragment: The Exo Stranger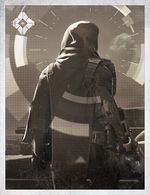 I stand here now and now and now many times, this view, this ground...
This is where I always choose to stand. I put my feet where I put my feet before and where I will again and I look at the sky.
Great things moving, rendered small with distance, lesser things not moving, watching me.
I always stand here, resolute. Then fall back to that point, there, where everything shatters...
(The sky isn't special here, certainly no better than any other sky, but it's the view I know best.)
The silent avalanche begins. Rock and dust. Falling chaos. Machines, as a rule, hate chaos.
Our enemies outflank us from below, above, left, right, before, beyond. The Traveler - shattering.
There are always the dead. Their names shift.
Sometimes I think I see myself among the dead.
But I am resolute.
Ghost Fragment: The Exo Stranger 2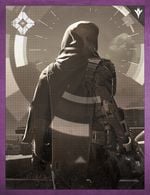 [Scattered field notes captured on an archaic transmission band]
RECORD 084-BRIDGE-10.7
Right When this time, wrong Where. The world so big on the horizon — wasn't expecting it. As it happens, something's here that's not supposed to be, other than myself. Will return.
RECORD 092-BRIDGE-08.1
Configuration worked, mostly. Arrived under the surface, surrounded. Too slow to return, barely fought to a vantage point. Yes there is dark evil here, and not the one we chase. Suggest no other attempts without more care.
RECORD 120-BRIDGE-05.3
They are feral on the surface but their intent is complex behind the teeth and claws. More is shared with the machines than common enemies alone.
RECORD 142-BRIDGE-07.4
An unexpected extraction. These Guardians stopped some dark ritual before I could reach it. Tearing the Light away... like the Garden. Too similar to go uncharted.
RECORD 142-BRIDGE-08.1
This attempt was precise — landed meters and minutes from prior ritual. Confirmed the extraction was extinguished. The Little Light mentioned Venus, we may have another.
RECORD 167 - BRIDGE - 5.2
Successfully observed Guardian discovery of Hive on Luna. No evidence today of knowledge past Vex breaches here. Delay in return command is a liability to solve before engaging this close again.
RECORD 312 - BRIDGE - 3.3
Watching Guardian-Hive engagements confirms a trajectory toward Earth. This Moon is theirs — a breeding ground, their black heart, perhaps. Different from that we know, but seems to be that same dark end I see us fall to over and over.
RECORD 472 - BRIDGE - 2.1
I've followed this Light as far back as it goes. Let the Little One guide me through Fallen as I puzzle out what the Hive want in the bones of this broken Cosmodrome.
RECORD 473 – BRIDGE - 1.2
Back to the Temple, again, but this time the Little one knows I'm here. I have seen the failures of so many, but none have been as interesting. Preparing to engage...